Broken Glass: Father Of Wearable Computing Allegedly Assaulted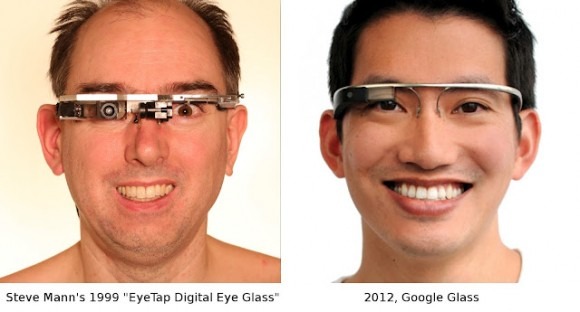 Wearable computing pioneer Steve Mann has allegedly been attacked by employees of a French McDonald's after sporting his own version of Google's Glass AR headset, with the EyeTap eyepiece grabbing snapshots of those involved. Mann, who led MIT's Wearable Computers group and has been exploring mediated reality technologies for several decades, claims that while on holiday in Paris with his family he was challenged by staff at the fast food chain, who ripped up his medical documentation about the headset and then attempted to pull it from his head. Mann's system is "permanently attached and does not come off my skull without special tools."
Update: Official McDonald's statement after the cut.
According to Mann's account, he had taken documentation explaining this fact – and the research behind the wearable computer – to France in case of any issues with museum, restaurant or other staff. Several staff at the McDonald's restaurant apparently reviewed the information at different times, with the first employee suggesting that there was no problem with the researcher wearing the headset.
"Because we'd spent the day going to various museums and historical landmark sites guarded by military and police, I had brought with me the letter from my doctor regarding my computer vision eyeglass, along with documentation, etc., although I'd not needed to present any of this at any of the other places I visited (McDonald's was the only establishement that seemed to have any problem with my eyeglass during our entire 2 week trip)" Steve Mann
However, after ordering food, three further employees from the restaurant reportedly approached Mann and tried to pull the EyeTap headset off of him. He attempted to placate them by showing them the same documentation that had satisfied their colleague, but they destroyed it. "After all three of them reviewed this material, and deliberated on it for some time, Perpetrator 2 angrily crumpled and ripped up the letter from my doctor" Mann writes. "My other documentation was also destroyed by Perpetrator 1."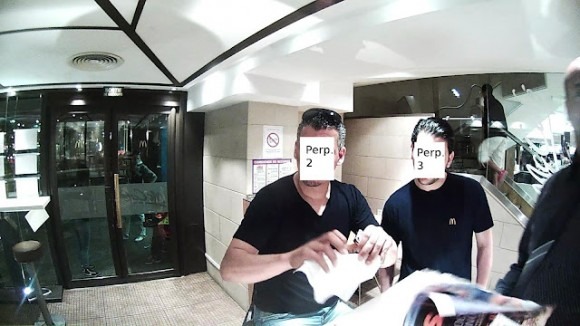 Mann's own EyeTap system captured what could end up being evidence. The wearable is designed to store what would normally be buffered and deleted transitory images in the case of physical damage, and when the McDonald's employee supposedly grabbed at the headset, it triggered this recording function.
"The computerized eyeglass processes imagery using Augmediated Reality, in order to help the wearer see better, and when the computer is damaged, e.g. by falling and hitting the ground (or by a physical assault), buffered pictures for processing remain in its memory, and are not overwritten with new ones by the then non-functioning computer vision system ... As a result of Perpetrator 1's actions, therefore images that would not have otherwise been captured were captured. Therefore by damaging the Eye Glass, Perpetrator 1 photographed himself and others within McDonalds" Steve Mann
Mann attempted to contact McDonald's but has been unsuccessful at speaking to someone about the incident. "I'm not seeking to be awarded money" he writes, "I just want my Glass fixed, and it would also be nice if McDonald's would see fit to support vision research."
It's not the first time Mann's mediated reality technology has caused problems. Airport security damaged some of the equipment back in 2002 after allegedly forcibly removing it and causing over $50,000 of damage. With Google's Glass headed to market in the not-distant future, incidents where wearable computing bumps up against privacy concerns look likely to increase as society catches up with technology.
Update: McDonald's has so far given the following comment: "We take the claims very seriously, are in process of gathering info & ask for patience until all facts are known." We've reached out to the company for more details.
Update 2: McDonald's has given SlashGear the following statement:
"We strive to provide a welcoming and enjoyable experience for our customers when they visit our restaurants. We take the claims and feedback of our customers very seriously. We are in the process of gathering information about this situation and we ask for patience until all of the facts are known."
More on Steve Mann and his AR research here.
[via Avram Piltch]