"We don't have to worry about autonomous cars," so says Elon Musk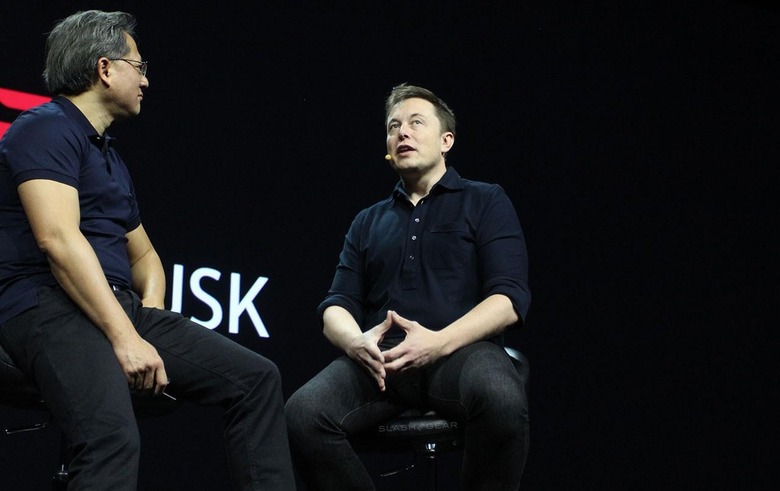 This morning at GTC 2015, Tesla Motors CEO Elon Musk spoke onstage with NVIDIA CEO Jen-Hsun Huang about car autonomy. Huang began with the "juicy stuff," as he called it. "You were quoted as saying artificial intelligence is more dangerous than nuclear weapons," suggested Huang to Musk, "...like a demon. How do you consolidate and rationalize that with deep learning's potential?" Musk replied that autonomous cars weren't really in the scope of what he was speaking about – not with his warning about artificial intelligence, anyway.
"We don't have to worry about autonomous cars," said Musk. "Doing self-driving is easier than people think."
"There used to be elevator operators, but now we've developed circuitry so they go where you want to go. In the distant future, they may outlaw driven cars because they're too dangerous."
Huang responded: "If we have the right intelligence, we don't have to make cars that heavy because they don't need to survive the same collisions, can we relax some of those laws?"
"If you can count on not having an accident," said Musk, "you can get rid of a lot things, though we're still some time away from that."
"Capacity of cars and trucks is 100M a year and there are 2B on the roads now, so it could take 20 years for the whole base to be transformed. Similarly, it would take 20 years to replace the world's fleet of cars with electric."
Have a peek at our GTC 2015 tag portal for more information on the future of graphics technology and drop in on our Car Hub for more Tesla, smart vehicles, and more.