WD's redesigned MY Book World Edition NAS now with 2TB green drive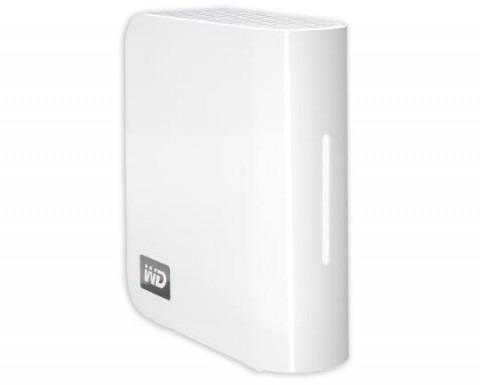 Today's external backup drives aren't simple as it used to be, many are trying too hard to incorporate as a media server, or media hub with remote sharing as a networked-attached storage. A straightforward and affordable one-click, plug-n-play achieve solution has turned into a high dollar multimedia server with complicate setup. If you know your way to around t a backup scheduling and don't mind extra steps to attach an external drive, there are plenty of cheap solution available; otherwise, check out this newest WD's MY-BOOK World edition NAS server with many promises to deliver simple setup at reduced power.
The redesigned My Book World Edition incorporates company's latest eco-friendly 2TB Caviar Green hdd with cooler operation and consumes 33-percent less power. Setting up the automatic continuous backup drive now offers a simple plug-and-play operation. Also, it's compatible with DLNA or UPnP-enabled media player like your PS3, Xbox 360, digital frames, thus storage and media sharing is accessible via PC or your Mac system, as well as your game console, and are fairly easy to stream thanks to its wired and wireless connectivity.
The new 1TB My Book World Edition is available now at $229, while the 2TB (single disk drive) is expected to launch later this month at $449.99.
The new My Book World Edition network hard drives feature:

* Automatic, continuous backup for all the computers on your network;

* Simple file recovery for lost or damaged files;

* Centralized storage and sharing for all your family's digital content;

* Best-in-class performance;

* Easy access to all your data from anywhere, anytime;

* Works seamlessly on networks with both Windows and Mac computers;

* Media server capability with DLNA 1.5 and UPnP certification to stream content to XboxBOX 360, Playstation3, wireless digital picture frames and connected audio receivers;

* Centralize and stream music collection to a Mac® or Windows® PC using iTunes software;

* Remote sharing of personal content like photos or documents with family and friends;

* USB 2.0 Utility Port to turn any USB drive into an instant network drive or extra capacity for the My Book World Edition;

* Cooler, quieter, eco-friendly design with WD Green Power Drives which run cooler, quieter and consume up to 33 percent less power1;

* Capacity gauge to see at a glance how much space is available on your drive;

* High-speed data transfer with Gigabit Ethernet; and,

* 3-year limited warranty.