Western Digital 2TB Green Caviar Gets Official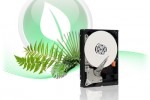 So the timing was off, the much-rumored 2TB Caviar didn't arrive two weeks ago as suggested from the leaks; but it's here nevertheless. Western Digital has let the cat out of bag, announced the staggeringly huge 2TB Caviar Green storage, claiming world's highest capacity single disk drive in an industry-leading 500GB per platter (400 GB/in2 areal density) design with its Perpendicular Magnetic Recording technology.
The massive 2TB Caviar Green hdd is company's third generation CaviarPower technology product with eco-friendly features. It packs and combines many advance features such as IntelliPower, IntellSeek, StableTrac and NoTouch ramp Load technology to yield a low operating temperature, low energy consumption and an ultra quiet yet highly durable drives. Its energy savings claimed of up to 4-5 power watts over the much typical desktop drives.
The new Western Digital Caviar Green series ranges from 1, 1.5 to 2TB capacities, the largest drive, WD20EADS, has a suggested retail of $299.00 and it's available now at select resellers and distributors.
LAKE FOREST, Calif. Jan. 27 /PRNewswire-FirstCall/ — WD (NYSE: WDC) today announced the first 2 terabyte (TB) hard drive – the world's highest capacity drive and the latest addition to WD's popular, environmentally friendly, cool and quiet, WD® Caviar® Green™ hard drive family. This new 3.5-inch platform is based on WD's industry-leading 500 GB/platter technology (with 400 Gb/in2 areal density) with 32 MB cache, producing drives with capacities of up to 2 TB.

"While some in the industry wondered if the end consumer would buy a 1 TB drive, already some 10 percent of 3.5-inch hard drive sales are at the 1 TB level or higher, serving demand from video applications and expanding consumer media libraries," said Mark Geenen, President of Trend Focus. "The 2 TB hard drives will continue to satisfy end user's insatiable desire to store more data on ever larger hard drives."

WD Caviar Green is one of the most successful product lines in the company's recent history with its third-generation GreenPower™ technology, now providing 2 TB of proven reliable storage for today's high-resolution files and graphics. WD Caviar Green drives are designed for use in USB/FireWire®/eSATA external hard drives, desktop computers, workstations, and desktop RAID environments.

"Saving power without sacrificing storage capacity is what consumers want, and what many businesses are requiring today. With the launch of the new WD Caviar Green 2 TB hard drive, customers receive the additional capacities needed to operate today's highly advanced programs and high-resolution digital files while using less power than typical drives with similar performance and capacities," said Jim Morris, WD senior vice president and general manager of client systems.

Rock Solid Mechanical Architecture, Cool, Quiet Hard Drives

A number of advanced technologies enable the speed, capacity and performance of WD's Caviar Green 1.5 TB and 2 TB hard drives. Those include: StableTrac™, which secures the motor shaft at both ends to reduce system-induced vibration and stabilize platters for accurate tracking during read and write operations; IntelliPower™, which fine-tunes the balance of spin speed, transfer rate and caching algorithms designed to deliver both significant power savings and solid performance; IntelliSeek™, which calculates optimum seek speeds to lower power consumption, noise, and vibration(1); and NoTouch™ ramp load technology, which is designed to ensure the recording head never touches the disk media resulting in significantly less wear to the recording head and media, as well as better drive protection while in transit.