Newest WD SSD gets heatsink option to un-throttle performance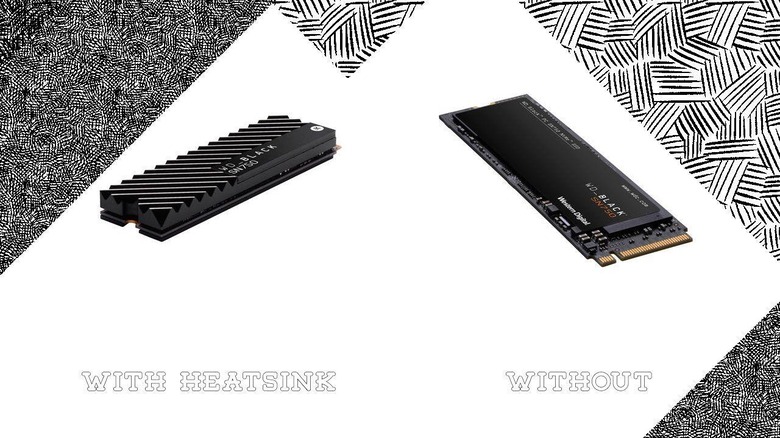 The WD Black SN750 NVMe SSD was revealed this week with an aim to take on the most performance-hungry PC gaming rigs. It'll do this with up to 2TB capacity on a single-sided M.2 form factor ...which is super duper, BUT, the version we're interested in is the one with an integrated heatsink. There'll be versions with the heatsink and versions without, the versions without will be released first, then the heatsink second.
Western Digital spoke about how traditional NVMe SSDs "are designed to throttle performance in order to keep the drive's operating temperature within acceptable parameters." WD wanted to solve the problem of current most-awesome PCs requiring higher performance (mostly for gaming), so they spoke with the folks at EKWB. EKWB works in PC cooling technology.
With EKWB, the WD Black SN750 NVMe SSD will be released with a heatsink. The versions of the WD Black SN750 NVMe SSD with a heatsink will range in sizes from 500GB to 2TB. These versions are estimated to be made available in "Spring 2019" – which, based on the weather right now outside my window, might as well be "Never." I must assume that Spring 2019 will be around April elsewhere in the USA and the rest of the world, but we'll see.
• Read perf: Up to 3,470 MB/s for 500GB and 1TB model
• Write perf: Up to 3,000MB/s for 1TB model
• IOPs: 515,000 random-read and 560,000 random-write (for 1TB model)
(On perf above, per WD: "One megabyte per second (MB/s) = one million bytes per second. Based on internal testing; performance may vary depending on host device, usage conditions, drive capacity, and other factors.")
This SSD offer a five-year limited warranty with up to 600TBW endurance for the 1TB model and up to 1200TBW for the 2TB model (coming soon). For the WD Black SN750 NVMe SSD 2TB model, estimated availability is February of 2019 – so, next month. The least expensive model will be 250GB at $80, while the most expensive will be around $500 – for the 2TB edition.