Watch out Google: Samsung's Galaxy brand has eclipsed Android

It would appear that the Samsung brand push of the name "Galaxy" associated with their Android-toting smartphones and tablets is working so extremely well that this week the hardware name has become more popular than the software. Having a peek at the findings analyst Benedict Evans has found with a few search term trends in Google's own search engine, it's made clear that as the Android search term has risen, so has the term Galaxy. In November of 2012 it's shown that Galaxy was searched more than Android for the first time either term was relevant in search terms across Google's history.
It's important to note that the term "galaxy" does benefit in some way from the fact that it's a non-brand word as well as a brand, but so too is the word "android." It's also clear that the term "galaxy" has risen along essentially the same path as "Samsung Galaxy" and right along with "android", making non-brand searches essentially irrelevant. The eclipse (however small it may be) shows that Samsung is making a massive impact on the way people see the smartphone universe.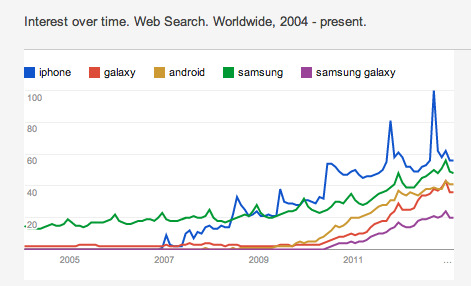 Below we've gone ahead and added the term "Droid" to the mix here instead of Evans' chart's term search with "iPhone". What you're going to see is that Verizon and Motorola's push to turn the Android universe into a DROID brand association has been far, far less successful in the long run. Back Before 2011 rolled around, the term "DROID" was just as popular and at several points more popular than Galaxy. After July of 2010, DROID was never again as popular a search term as Galaxy.

View this information set in Google Trends now!
This sort of analysis is far from perfect, of course, and really only measures how often the average citizen looks up a term they're interested in. That does translate quite well to the power of the brand when it comes down to it, of course, this shown in recent earnings reports from Samsung, Motorola, and Google. The big G recently purchased Motorola outright and is being tipped at the moment as working to create a new "X Phone" device to pump up the Android brand as well as the perceived power of the Motorola manufacturing process.
Now we've only to see how well Google is at branding Motorola and bringing Android along for the ride – soon and very soon!