Watch: man surfs with dirt bike, rides across ocean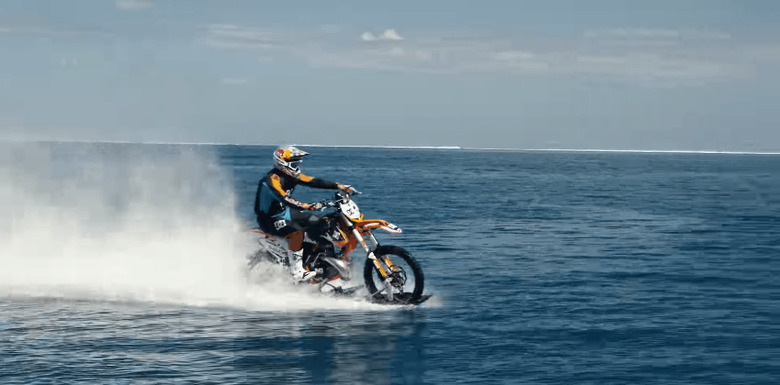 If you thought GoPro's video of a man flying like a superhero down a mountain and through a split rock was impressive, DC's new video will blow your mind. Titled 'Pipe Dream', the video shows the successful conclusion of one man's two-year pursuit: to surf with his dirt bike. He took to the waves in full motocross getup, helmet and all. He also blasted his way over the ocean on the motor bike, dumbfounding a few people in the process. Full video after the jump!
On Sunday, DC released a video on its YouTube channel showing Robbie Maddison's 'Pipe Dream' come true. Says DC, he made history by riding a dirt bike on waves in Tahiti, using it as one would a surf board. He does this in full dress, further lending to the contrast between land and water and the line he is blurring.
It starts with him zipping across puddles and down a stream, eventually over the beach and onto the ocean's surface. Says DC, he took his dirt bike through the 'unchartered saltwater terrain of the Pacific Ocean in French Polynesia." The waves, specifically, were in Papara and Teahupoo.
This is the result of two years of work, it though they don't go into details about how this was pulled off, it appears the dirt bike has been equipped with a special rear tire and a pair of flat boards, the combination of which allows it to zip across the water without sinking.
The video itself is incredibly well done, but you can check out some awesome stills on DC's website as well.
SOURCE: YouTube