Watch Intel's stunning CES 2018 drone light show right now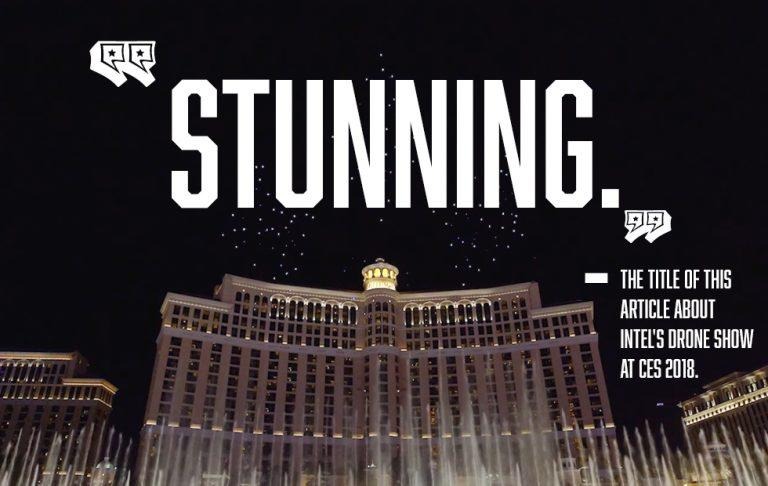 Intel wanted to do something interesting with a whole bunch of drones, and they landed on Las Vegas. A lovely show of lights in more than 4 billion color combinations flew over the Fountains of Bellagio, making a mockery of the pitiful, legendary water show below. Intel's first showing came on the 8th of January at 9 and 11 PM, then showed from the 9th until the 11th at both 8PM and 10PM, entertaining hundreds of viewers below.
Intel's presentation was what they called "an entirely new entertainment concept" that used hundreds of "Intel Shooting Star drones" controlled by a single pilot below. Each of the drones in this show was custom-built for entertainment just such as this – and you can bet your biffy this won't be the last place we see them in action.
The Intel Shooting Star Mini drone was built specifically for indoor light show experiences. In this case, Intel was given special authorization to fly – specifically over this one casino hotel at these specific times.
Intel included the following note with their presentation of the drones themselves: "This device has not been authorized as required by the rules of the Federal Communications Commission (FCC). This device is not, and may not be, offered for sale or lease, or sold or leased, until authorization is obtained."
Intel's Shooting Star Mini Drones have set several records over the past several years. In October of 2016, Intel set the Guinness World Record title for Most UAVs airborne simultaneously from a single computer outdoors in Hamburg, Germany. Intel's previous record before that was 100 drones outdoors less than a year before that.
At CES 2018, Intel set the Guinness World Records title for Most UAVs airborne simultaneously from a single computer indoors. That's what you're seeing in the video above. Intel did this with 100 Intel Shooting Star Mini drones on the 7th of January, 2018.
OF NOTE: Similar drones – the slightly larger version, non-mini, Shooting Star drones – flew over the Super Bowl during the Lady Gaga halftime show in 2017. This is not the first time a Gaga x Intel collaboration has lit up the night.