Watch Huawei CEO go off-script at CES 2018 right now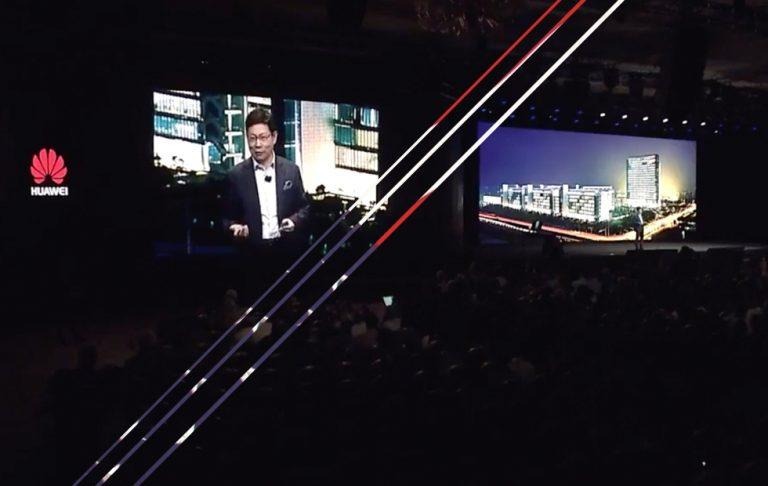 Huawei CEO Richard Yu presented the Mate 10 Pro at CES 2018 this week in a fairly standard, teleprompter-led way. Until the end of his presentation. After revealing the pricing and release information about the company's newest phone, Yu spoke for five minutes about he sees as the tragedy that is the United States lock-out of Huawei smartphones on the nation's biggest carriers.
At CES, Yu gave a 5-minute speech that seemed to have been inserted into the event at the last minute. Almost as if it wasn't supposed to be like it was. Yu spoke about the United States in the present, China in the past, and how it was a bummer that consumers in the USA didn't have the same access to Huawei that they did other products. As The Verge's Vlad Savov said, "It might have been just another clumsy presentation, but at the end of it, a little bit of genuine passion came to the surface."
"Everybody knows that in the US market, over 90 percent of smartphones are sold by carrier channels," said Yu. "You know, at Huawei, we have the best technology and the best innovation. Last year on the Mate 9, we received very good consumer feedback.... Consumers really loved these products. The Mate 10 Pro is an, even, much better product."
"A lot of people don't know Huawei, at this time we can't get selected by these carriers," said Yu. "It's a big loss for us, and also for carriers, but the more big loss is for consumers, because consumers don't have the best choice."
Yu went on to speak about the nature of the situation as he and Huawei saw it, mentioning the trust they had from Chinese carriers, emerging markets, global carriers, European carriers and Japanese carriers. "We are serving over 70 million people worldwide," said Yu. "We've proven our quality, we've proven our privacy and security protection."
The Trump Effect
At this moment in history I hesitate to suggest that any off-the-cuff speech and/or leadership is good. I say this because Donald Trump was elected President of the United States at the end of 2017. Trump's constant unscripted word-vomit sessions have turned the United States into a laughing stock – and have led us down a path that might come to war with North Korea.
Was Yu's speech in the same danger zone? I think is a different enough situation that I nearly didn't mention Trump at all. Especially since Huawei seems to have okayed Yu's speech in advance of the keynote. Whilst speaking in the last 5 minutes of the Huawei presentation, the screen behind Yu read: "Something I Want to Share." If Huawei hadn't approved of Yu speaking off-script, there would be no such message.
Also in stark contrast with Trump, Yu is very much in control of the words that come out of his mouth. While Trump's speeches were (and continue to be) largely stream-of-consciousness, Yu's contained full sentences. Yu has a far greater grasp on English than Trump.
US Gov thinks China is a threat
Also regarding overseas threats: Our government is more concerned with China. According to a The Information article in which they suggest U.S. Senate and House intelligence committees sent letters to the FCC regarding the supposed security threat Huawei posed in working with US-based mobile data providers. A segment from that article follows:
The AT&T deal died a few weeks after members of the U.S. Senate and House intelligence committees wrote to the Federal Communications Commission raising concerns about reports that Huawei had struck a deal with a major telecommunications carrier. The Dec. 20 letter, reviewed by The Information, cited an intelligence committee report on the Chinese firm's alleged ties to the Communist Party and China's intelligence and security services. "Additional work by the Intelligence Committees on this topic only reinforces concerns regarding Huawei and Chinese espionage,"
According to Android Police, Verizon is now also part of this party. Verizon, they suggest, is also "facing the same pressure" felt by AT&T.
We'll see whether these companies feel the "pressure" enough to back out of future profits, or if Huawei's US-based operations will go no further. For now, it looks like Huawei will need to stay off-contract, open, and available through several non-carrier sources.