Watch GE's huge GE9X jet engine ace its first flight test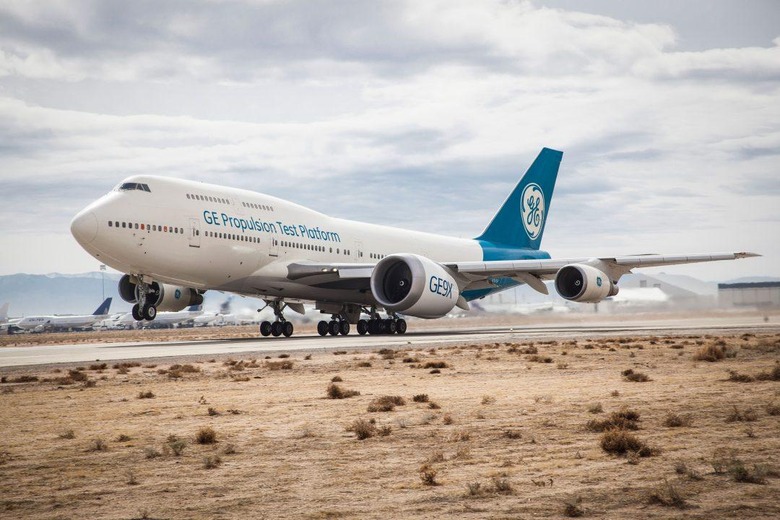 The world's biggest jet engine aced its first test flight, with GE Aviation's huge GE9X looking seriously out of place on the wing of a Boeing 747. Set to power Boeing's upcoming 777X aircraft, the engine had completed numerous ground trials, but this was the first of many tests which took it airborne.
Certainly, the GE9X isn't going to be mistaken for the 747's regular engines. Its sheer size makes sure of that: it has a 134-inch diameter fan, the largest of any commercial jet engine, with a composite fan case and 16 fourth-generation carbon fiber fan blades. That puts it resolutely in the 100,000 pound thrust class.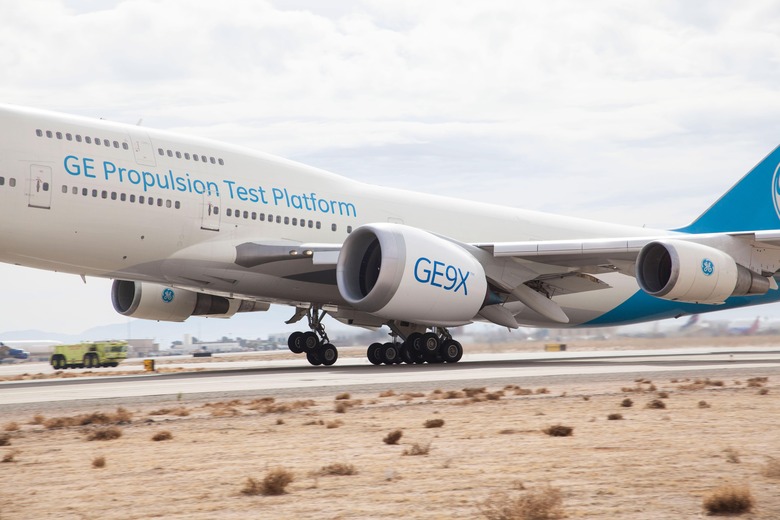 However it's arguably not so much the size and power as it is the efficiency which has Boeing excited about the engine. According to GE Aviation, it's the most fuel-efficient jet engine it has ever produced, at lease on a per-pounds-of-thrust basis. Compared to the GE90-115B, which powers the Boeing 777-300ER, it's expected to be 10-percent more efficient at burning fuel. It's also said to be 5-percent better at specific fuel consumption versus any twin-aisle engine available.
Emissions are also down. The GE9X will be GE's quietest ever engine – again, on a per-pounds-of-thrust basis – as well as having the lowest NOx emissions. That's in part down to the third-generation TAPS III combustor the company has used.
"Today's flight starts the beginning of the GE9X flight test campaign that will last for several months," Ted Ingling, general manager of the GE9X program at GE Aviation, said of the trial, "allowing us to accumulate data on how the engine performs at altitude and during various phases of flight." The test began at around 10:40am Pacific, and lasted for more than four hours. "During the flight," GE Aviation explains, "the aircraft and engine completed the entire test card and validated key operational and functional characteristics enabling the test campaign to progress in subsequent flights."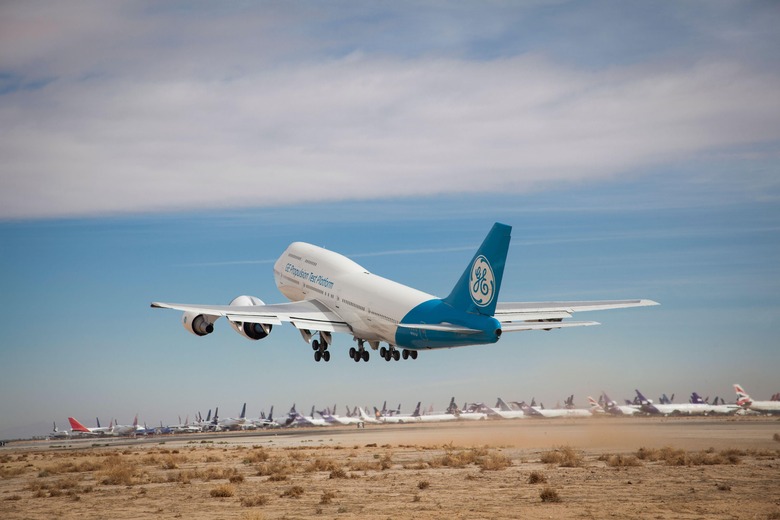 The Boeing 777X is the aircraft-maker's new passenger jet, following the 777 and 787 Dreamliner models. Expected to be the largest and most efficient twin-engine jet so far, it will seat up to 425 depending on configuration, and have a range of up to 8,700 nautical miles. At as much as 252 feet long, and with a 236 foot wingspan with its folding wing-tips extended, it'll also offer improvements inside.
Boeing says the cabin should be wider and brighter, with the latter benefiting both from larger windows and new lighting fixtures. Numerous airlines have already signed up for the aircraft, including Lufthansa, Cathay Pacific, Emirates, and Qatar Airways. It's expected to go into operation at the end of 2019.