Watch a drone's rotors obliterate food in slow-motion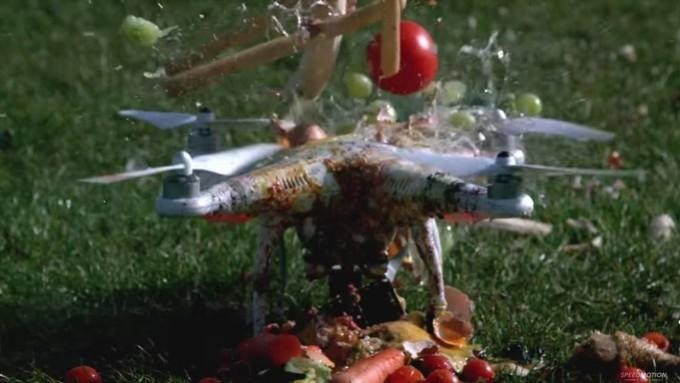 Your quadcopter doesn't have to be very big for its' rotors to do serious damage. Fortunately, there aren't many reports of injuries caused by quadcopters, though some cases have started cropping up. To show off just how powerful the rotors are, a team took a bunch of raw food and pitted them against a DJI Phantom Micro, recording the fibrous, messy carnage in slow-motion.
The video was created by Speed Motion Films and published on the team's YouTube account last week. According to Speed Motion, a $60,000 DJI Phantom Micro drone was used, making the very end of the video all the more cringe-worthy (and seemingly unnecessary, but who knows what all that egg goo and juice did to the model's innards).
An assortment of food was used, starting with softer things: popcorn and the like. The rotors held up as the task grew harder, though — they cut their way through a container of yogurt, sausages, a cucumber, tomatoes, raw whole eggs, carrots, and more. All in glorious 1500fps super-slow-motion.
It's easy to see why many drones are sold with rotor guards — they could easily take out a finger, eye, or seriously cut through flesh when operated at full speed. Do you have a drone of your own? Don't forget to register it with the FAA's newly created — and dubiously private — drone registry!
SOURCE: Digg