Wacom may be having a ball putting digital pen technology into bestselling mobile devices like the Galaxy Note II, but that doesn't mean the company has forgotten its artistic roots. Fresh to the catalog is the Cintiq 13HD, a 13.3-inch Full HD graphics tablet intended for digital artists on the move. Based around a 1920 x 1080 wide-angle display mounted on an adjustable, three-position detachable stand, the Cintuq 13HD promises the flexibility of its bigger Cintiq siblings, but at a more affordable cost and scaled to fit in your bag.
That's not something you could really say about Wacom's existing Cintiq models, the 22HD, 24HD, and 24HD touch, which kick off at a desk-bound 22-inches. In contrast, the Cintiq 13HD display is 14.75 x 9.75 x 0.5 inches and 2.65 pounds, and simply hooks up to your laptop as a second display.
Once you've done that – via the native HDMI, or DVI, VGA, or Mini DisplayPort with the right adapter – you get a 2048-pressure-level pen, 16.7m color support, and tilt recognition. The pen itself comes with nine different nibs – five standard, three felt, and one stroke – as well as a desk stand and a carry case. It has two side switches and an active eraser, as well as the pressure-sensitive nib.
Around the body of the 13HD there are four user-assignable shortcut buttons, the functions of which can automatically change depending on the active app, and a 4-position customizable rocker ring and home button. The screen itself has 250cd/m2 brightness and covers 75-percent of the Adobe RGB color gamut.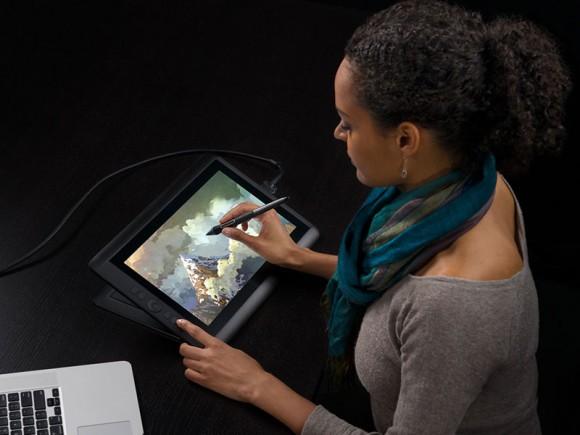 As well as detaching the stand to use the new baby Cintiq in your lap, you can prop it up at one of three angles – 22-, 35-, and 50-degrees – and a regular USB 2.0 data connection is included in the three-in-one cable which also handles display signal and power.
The Wacom Cintiq 13HD will go on sale in early April, priced at $999 in the US and £749.99 in the UK.