Wacom Bamboo tablets get official: multitouch and pen input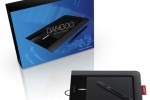 Wacom have finally got around to officially announcing [pdf link] their Bamboo Touch multitouch tablet, a week after at least one person was able to pick one up from their local Best Buy.  The Wacom Bamboo Touch is one of the company's second generation of the Bamboo line, which also includes the Bamboo Pen & Touch, which responds both to a pen stylus (for accuracy) as well as fingers.  The tablet automatically switches between the two modes, depending on whether the user has touched the surface with their finger or if the stylus nib is near.
Finally there's the Bamboo Fun Pen & Touch, which has both multitouch and pen-input and is slightly larger together with being aimed at the home and art markets, and the Bamboo Pen, which lacks the multitouch support.  Different models are supplied with different app packages, including handwriting recognition and art software such as ArtRage and Photoshop Elements for the pen-enabled Bamboo tablets, and a search tool for all models.
All of the new models will be available from early October 2009.  UK pricing starts from £49.99 for the Bamboo Pen, £59.99 for the Bamboo Touch, £74.99 for the Bamboo Pen & Touch, £89.99 for the Bamboo Fun Pen & Touch small, and £169.99 for the Bamboo Fun large.  In the US, the Bamboo Pen & Touch will be $99, while the Bamboo Pen and the Bamboo Touch will each be $69.
Press Release:
Get a feel for Bamboo's new multi-touch technology

Wacom introduces first interactive tablet combining multi-touch and pen input, ushering in a more intuitive, simple and inspiring way to work with computers

Thursday 24th September: Wacom today announces Bamboo second generation – the first interactive tablet that merges multi-touch functionality with pen tablet technology in a single device. Based on current consumer trends and the introduction of touch devices such as the Apple iPhone, Bamboo provides a simple and spontaneous way of using a computer. It is operated by either multi-touch (finger-based input) or the digital pen when tasks require more accuracy and precision. Four different products are introduced in this range – Bamboo, Bamboo Fun, Bamboo Pen and Bamboo Touch.

Bamboo is aimed at consumers who use computers as part of their digital lifestyle to communicate, share and create content. It enables anyone to be creative. It is the perfect tool for self-expression and personalisation when producing everyday documents, presentations and blogs, or when communicating with friends, colleagues and family through social networking tools such as Facebook and Twitter.

Merging pen and touch technology into one device brings the best of both worlds, making it even easier, quicker and more fun to use a computer. With Bamboo second generation, a simple tap with a finger on the digital pad will select an icon, open a menu or start an application. In addition, a gesture using two fingers enables users to simply rotate an image or document, flip through a digital photo album or presentation, scroll through a blog or an excel sheet and zoom in and out of a photo or map.

The advanced pen technology built into Bamboo means that the pen is still central to the Bamboo experience. A few simple strokes with the pen can add a doodle, signature or comment to any digital document. The process is similar to using a traditional pen and paper and provides pinpoint accuracy, helping users to easily draw natural strokes or retouch digital images, enhancing anyone's creative flair. It is the ideal tool to activate pen-based functions of current operating systems and to use with creative software that supports pressure sensitivity.

Users can alternate between the touch and pen functions easily and quickly. If the finger is in contact with the tablet surface, touch works. If the pen tip is brought near the surface, touch is automatically turned off and pen input works instead.

The Bamboo experience is enhanced through Bamboo Dock and Bamboo Minis, an ever-increasing series of small but useful applications that enable users to do anything from digital doodling and sketching, to adding handwritten notes to a map or playing addictive little games.

Bamboo second generation is ultra slim (8.5 mm), optimised for right and left-handed use and provides an integrated pen holder for useful storage of the new and lightweight digital pen. In addition, there are four customisable short cut keys.

Bamboo

With a sleek, black design Bamboo offers pen and multi-touch input in a single device and is ideal for consumers in the home office or workplace. It can be used to customise emails, letters, spreadsheets, presentations and documents with signatures, notes, doodles and scribbles. In addition, it simplifies navigating around the computer and the Internet. Bamboo is priced at £74.99.

Bamboo Fun

Styled in silver and also combining pen and multi-touch input, Bamboo Fun comes in two sizes – small and medium. It is a versatile device ideal for consumers who are keen to develop their creative skills. Users can easily produce more natural and authentic-looking paintings, sketches and drawings as well as retouch, improve, manage and share digital photographs. Bamboo Fun Small and Medium are priced at £89.99 and £169.99 respectively.

The range is completed by the Bamboo Touch (touch input only) and Bamboo Pen (pen input only) which cost £59.99 and £49.99. All prices include VAT.

Software

Each product of the range (except Bamboo Touch) offers Bamboo Scribe – a powerful handwriting recognition; Bamboo Explore – an advanced search tool for Windows and Bamboo Space – an online application to collect and share ideas. In addition, Bamboo Pen comes with ArtRage; Bamboo Fun Small offers ArtRage and Photoshop Elements; Bamboo Fun Medium comes with ArtRage, Photoshop Elements and Painter Essentials.

Bamboo works with current Windows and Mac operating systems including Windows 7, Windows XP, Windows Vista, Mac OS 10.4, 10.5 and 10.6.