VYE S37 - too big to be a true UMPC?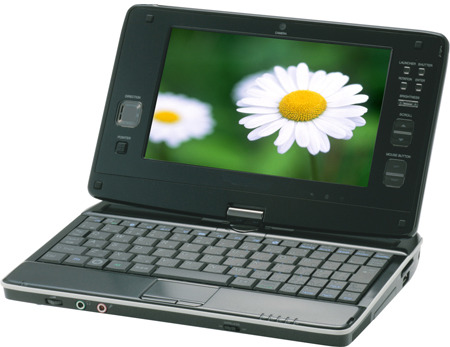 What do you call a grown-up UMPC?  That's the question over at jkOnTheRun, where a dishevelled Kevin Tofel has taken delivery of a VYE S37 from import specialist Dynamism.  Based on a platform by Kohjinsha - who have featured regularly on SlashGear's pages for their ultra-compact convertible Tablet PCs – the S37 is nonetheless its own beast, with upgraded specifications pushing the device into the ambiguous mid-ground between pure UMPC and ultra-portable laptop.
 https://www.youtube.com/watch?v=oM0B3N0jH2M
The VYE certainly has the memory of a grown-up machine – 1GB of RAM as supplied, 2GB supported, and a fulsome 120GB hard-drive – but the Intel A110 processor seems underpowered at a mere 800MHz.  Like most "official" UMPCs the screen measures 7-inches, and runs at a usable 1024 x 600; there's also b/g WiFi, Bluetooth 2.0, a 1.3-megapixel webcam and 80-key QWERTY keyboard.
It's the inclusion of the keyboard that edges the S37 into dubious territory.  Measuring 8.58 x 6.42 x 1.0 inches and weighing in at 2.17lbs you can see from Kevin's video that it's a fair chunk of device.  My own feeling is that it's a little too big to be a true UMPC, and the comments at jkOnTheRun appear to echo that.
Kevin promises a full review after some intensive use over the next week or two, so we'll see how it compares to his everyday UMPC companion, Samsung's Q1P.
VYE S37 arrives a day early [jkOnTheRun]