VW's SEAT gets first automaker app into Apple's CarPlay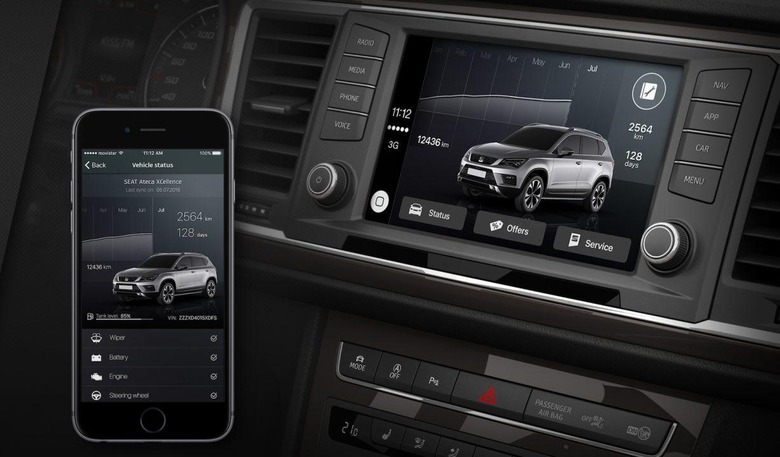 CarPlay may be Apple's attempt to redress the dashboard in an iOS outfit, but Spanish automaker SEAT has managed to squeeze a little of its own tech into the iPhone-powered infotainment. The company has launched a CarPlay compatible version of its SEAT DriveApp, which allows vehicle data and servicing information to be checked while still within Apple's interface.
That may not sound like a big deal, but so far Apple has proved fairly restrictive about just what third-party apps and content it'll allow in CarPlay, something which has extended even as far as the manufacturers of the cars themselves.
CarPlay lacks a specific App Store of its own, and there is just a small handful of non-Apple software – like Spotify and Pandora – which gets to put an icon on the big-button display.
Even automakers, even as they've increasingly moved to support CarPlay, have been kept out of the loop. Until now, the most you'd see of the actual vehicle's systems was a button to exit Apple's system and jump back into the native infotainment UI.
SEAT's app, though, can be loaded while you're still within CarPlay, though right now the uses are fairly basic. From DriveApp owners can see their historical usage of the car, distance traveled per month, and current status of things like the fuel tank level, wipers and battery, and when the next service is due.
The automaker, which is part of the Volkswagen group, says that the app is already available in Spain and will roll out in due course to all countries where SEAT cars are sold.
While that doesn't mean much for the US specifically, it does represent a turning point for CarPlay in general. While some car companies, like Volvo, have used workarounds to show both CarPlay and their own systems simultaneously – in Volvo's case, by splitting the large, portrait-aspect touchscreen in cars like the XC90 and S90 into two, one half showing Apple's system and the other its own – it now looks like we'll see much smoother integration moving forward.
That's good news for automakers and, presumably, good news for Apple too: the more you can do within CarPlay's walls, of course, the more time you spend interacting with your iPhone and, so the research theory goes, the safer you are versus using a smartphone in your hand.
Back in May, at Google I/O 2016, Hyundai demonstrated how it would put its own apps into Android Auto, Google's rival system to CarPlay for those with recent Android smartphones.