VW's Cross Coupe GTE is a big blue moody monster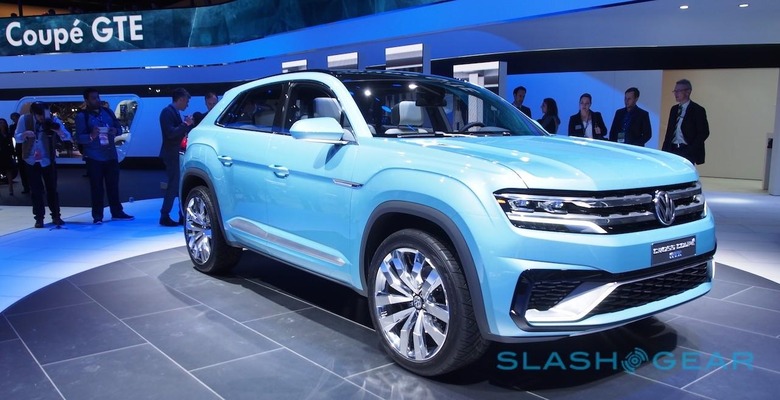 After Volkswagen served up its vision of the dashboard of tomorrow at CES last week, the company has another high-tech concept car in the shape of the Cross Coupe GTE for Detroit. The German company's interpretation of homegrown design for American tastes, the concept takes a crossover body and then hunkers it down with a more aggressive stance, while under the hood there's a hybrid powertrain that pairs a V6 gas engine with two electric motors, for a total of 355 hp and 280 lb-ft of torque.
In the metal, it's an imposing car. The slab-sided proportions and sharp crease lines would probably make it overly aggressive, if VW hadn't finished it in this particular "Grand Pacific Glacier" shade of blue; as it is, it looks lighter on top of its huge wheels.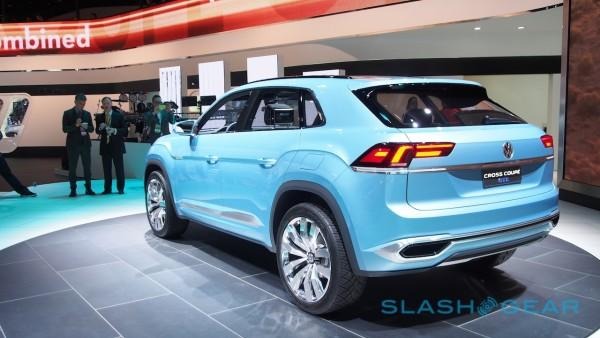 VW's corporate face gets a cleaner, more sweeping look, with aluminum trim that spans the grill between the LED headlights. They're echoed with trapezoid LED taillights, while the aluminum bracketing in the lower vents are balanced at the rear with oversize tailpipes.
Those exhausts will only be used part of the time, however, thanks to VW's hybrid powertrain. On the conventional side, there's a 3.6-liter six-cylinder engine good for 276 HP and 258 lb-ft of torque; however, VW has also fitted two electric motors, one good for 54 HP and 162 lb-ft of torque and the other for 114 HP and a 199 lb-ft.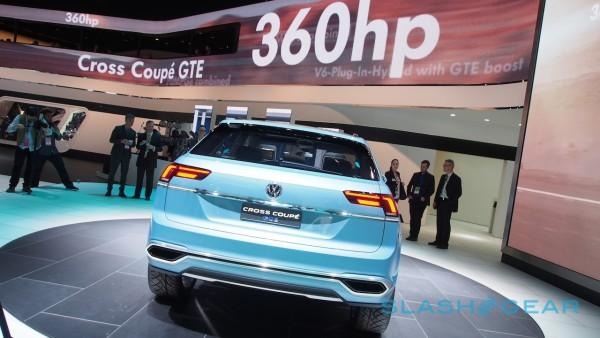 Pushing a sizable crossover like this – even one with "Coupe" in its name – is going to tax any electric system, though, and the Cross Coupe GTE can only run twenty miles at most in full electric mode. After that, the gas engine kicks in.
Inside, there are more of the high-resolution, expansive touchscreens that so impressed us in the Golf R Touch. Up top in the center stack is a 12.1-inch panel for infotainment, while below it a second, 10.1-inch screen is dedicated to things like HVAC.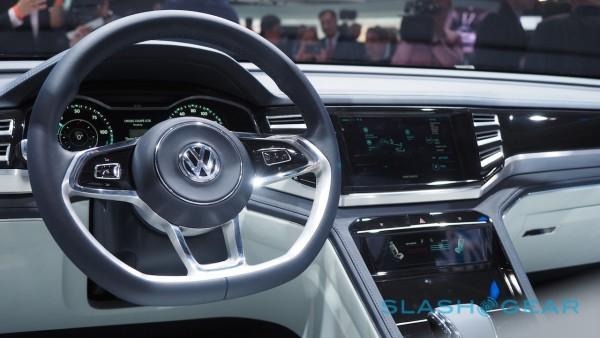 Volkswagen isn't giving any hints on production plans for the Cross Coupe GTE, saying only that the car gives hints to its future design directions. By that measure, we can expect crisper lines, shorter overhangs, and a more "hewn from solid steel" appearance that we might previously have associated with its Audi stablemate.