VW Tiguan GTE Active Concept Shows Hybrids Can Be Tough, Too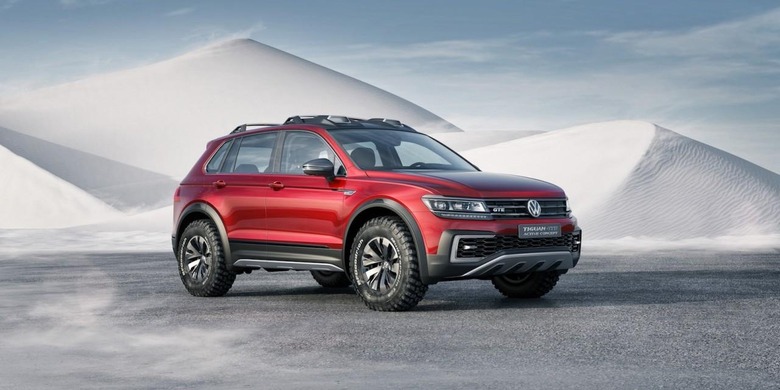 Volkswagen arguably couldn't have picked a better auto show to reveal its "extreme off-road" SUV than snow-filled Detroit in January. The new VW Tiguan GTE Active Concept may look like the Tiguan production car, but under the sheet metal is one of Volkswagen's most ambitious plug-in hybrid drivetrains so far, while on the inside there's a serious dashboard upgrade to be found.
The concept uses a turbocharged TSI gas engine – good for 148 HP and 184 lb-ft of torque – paired with two electric motors, themselves contributing 54 HP at the front wheels and 114 HP at the back. The front electric motor is integrated with the 6-speed dual-clutch DSG transmission.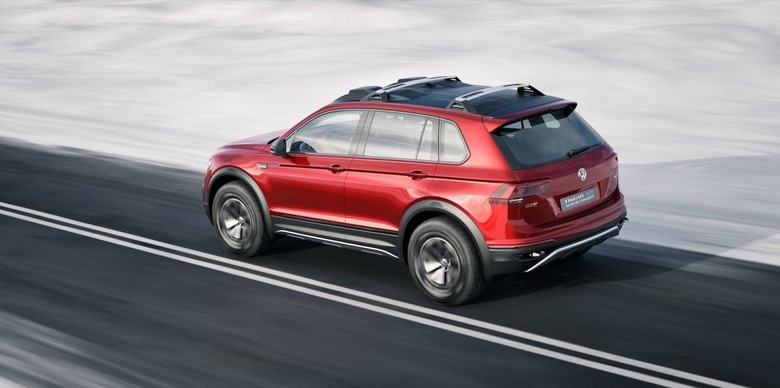 Altogether that's 221 HP and, if all are operating simultaneously, the Tiguan GTE Active Concept is full 4MOTION all-wheel-drive. However, since that sort of Detroit-ready traction isn't necessary all the time, there are other ways of using the various methods of propulsion.
By default, only the electric motor on the rear wheels is active, but push a little harder and the front electric motor kicks in too. Altogether, the SUV is good for up to twenty miles of zero-emissions driving, and a top EV-only speed of 70 mph.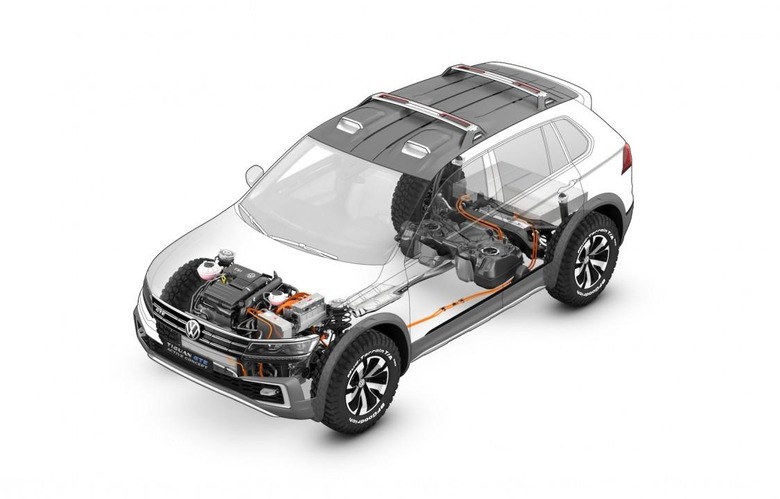 For true hybrid mode, meanwhile, the TSI engine can be started up and serves as a generator for the rear electric motor. The car can automatically switch between gas engine and electric motors, based on what the charge in the 12.4 kWh li-ion battery pack is.
In gas-only mode, the front wheels alone are driven.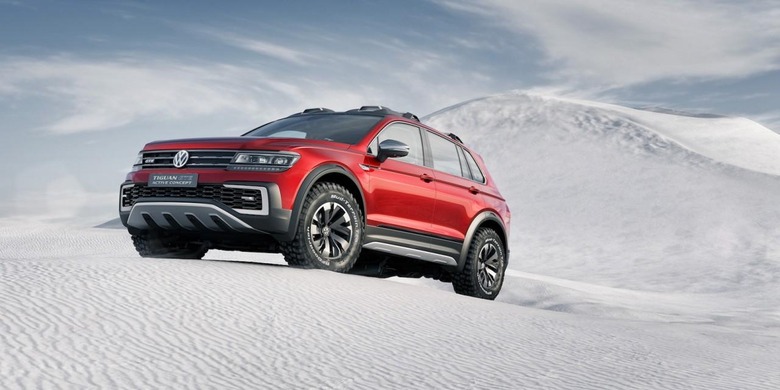 Although it's clearly a Tiguan from the outside, the clearances have been raised to give more off-road flexibility. Ground clearance under the axels is up from 7.1 to 8.9 inches, while maximum clearance increases from 7.9 to 9.6 inches.
Similarly, approach and departure angles have been increased, and the maximum ramp angle for overcoming road bumps is up too. A solid matte aluminum underbody guard has been fitted, as well as a beefier body-kit.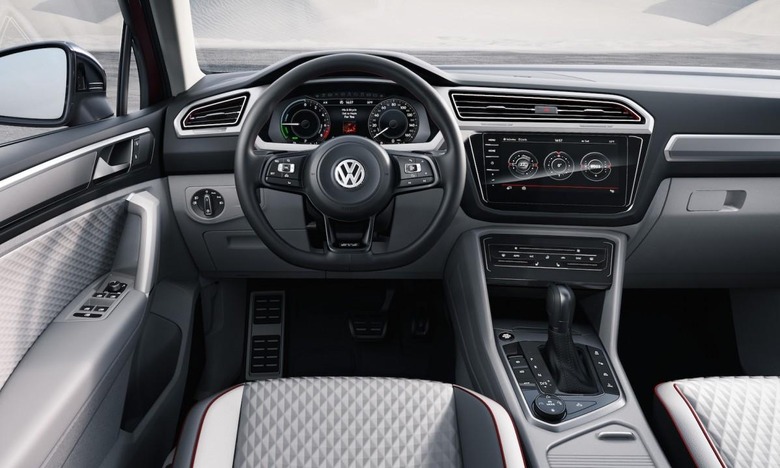 On the inside, the modular infotainment platform (MIB) and its 9.2-inch 1280 x 640 touchscreen can be controlled by gestures – we saw something similar in the Golf R Touch last year – and has a customizable interface.
As well as showing one single app, it can be split into various tiles for media, phone, off-road info, Android Auto, Apple CarPlay, or other smartphone-tethered apps.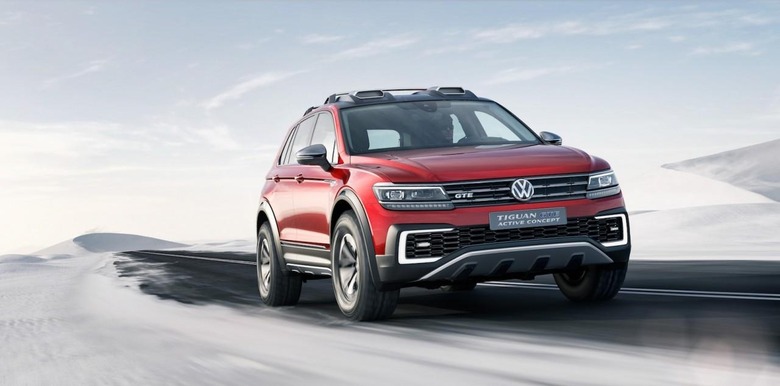 No word on production plans at this stage, but with the second-generation Tiguan headed to the US in 2017 and VW putting renewed attention on its drivetrain options that aren't diesel, we wouldn't be surprised to see this hybrid system show up sooner rather than later.