VW puts Glass to work as wearables prove enterprise promise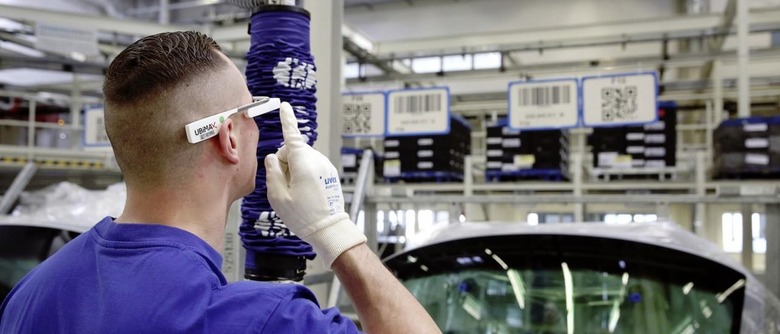 Wearables like Glass may have struggled in public, but Volkswagen is all-smiles with its trial of "3D smart glasses" in car manufacturing. The automaker has kicked off tests to see whether head-mounted computers can speed up parts picking, with employees at its Wolfsburg plant in northern Germany relying on the wearables to not only guide them around the vast number of components that go into a modern vehicle, but make sure they pick up the right piece.
The Glass hardware is running custom software by German company Ubimax, which specializes in wearables for industrial use. According to the firm, VW's particular implementation – which is also using Vuzix M100 headsets – runs Ubimax xPick, though it also offers maintenance and inspection platforms, quality assurance systems, two-way remote expert assistance, and software for medics.
VW isn't the first automaker to turn to wearables like Glass in the hope of streamlining production. Both BMW and Mercedes-Benz parent Daimler are also Ubimax customers; other big names in electronics and logistics include Samsung and DHL.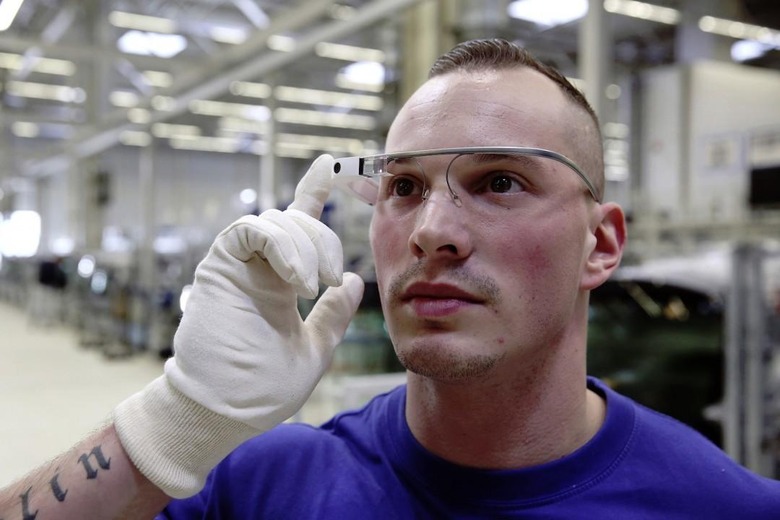 In Volkswagen's trial implementation, around thirty wearables are in rotation among employees. The headsets show both part numbers and storage location information in the head-up display, with the camera used as a barcode scanner.
Glass can thus direct an employee straight to the right place to find a part, and then warn them if they're picking up the wrong item using a simple red/green color scheme. Control is via either touch or voice.
The trial is expected to run for around three months, and participation is voluntary. Right now, those dealing with VW windshields and driveshafts are taking part, but the company says that positive feedback has led to other divisions expressing an interest too.
Update: Ubimax tells SlashGear that VW's three month trial is in fact complete, and that the wearables are in full use now.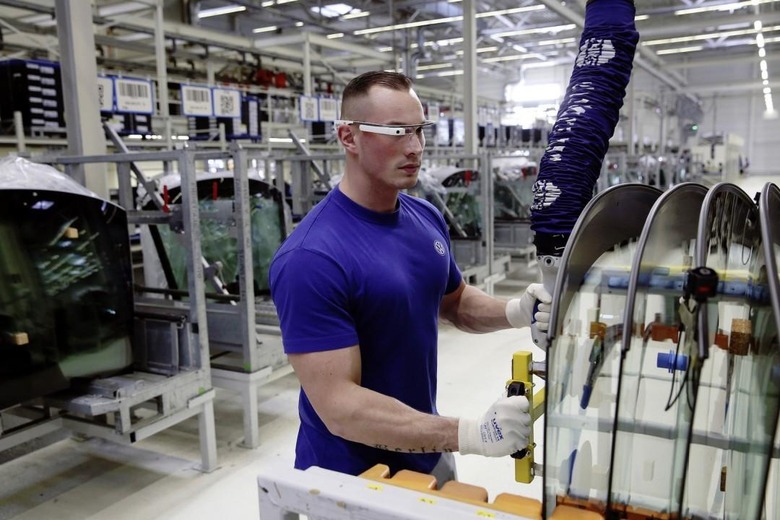 Enterprise implementations of wearables, particularly when head-worn, are generally seen as a far more straightforward market to break into compared to consumer sales. With less of a focus on style and public acceptance, and a few specific tasks at which the devices much succeed at, it's no surprise that Google is tipped to already be testing out its upcoming enterprise version of Glass in a number of businesses.
That's not to say consumers aren't going to get new hardware too, but according to the latest batch of leaks the form-factor and interface will be a departure from Glass as we know it.
One of the new models Google is said to be developing does away with the display altogether, and relies solely on voice commands and feedback, potentially making for something more discrete to wear – akin, possibly, to a Bluetooth headset – and less intrusive in daily interactions.
SOURCE Volkswagen
MORE Ubimax