VW Microbus EV reborn: 5 things you should know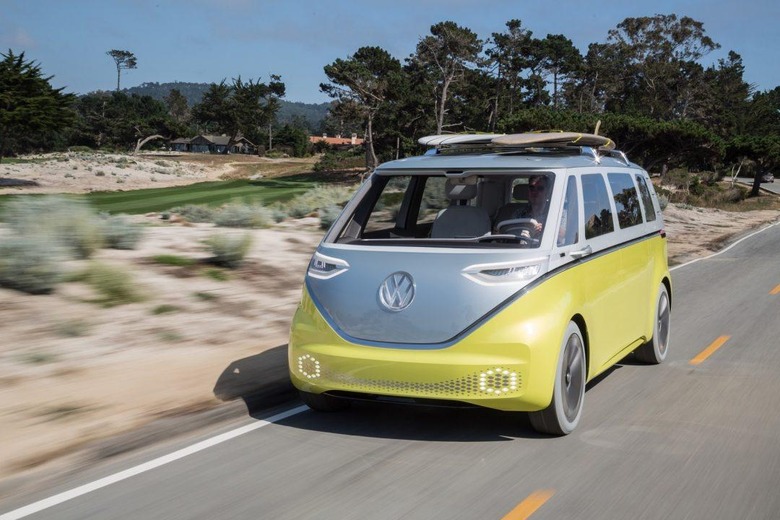 You have to wonder why it's taken Volkswagen so long to reboot the Microbus, but come 2022 the iconic shape will return to the roads. This isn't the same van that came to epitomize the swinging sixties, mind: previewed by the VW I.D. BUZZ concept, it's an all-new interpretation of flexible motoring atop an all-new electric platform. That's a lot to get excited about, so here's what you need to know.
It's based on Volkswagen's big new platform for the future
The Volkswagen Group is big on "platforms": common architectures that can underpin a surprising variety of cars. That's why the Audi TT is based on the same underlying "MQB" architecture as the VW Golf and Tiguan. Common components and build processes simplify production, not to mention make things cheaper overall.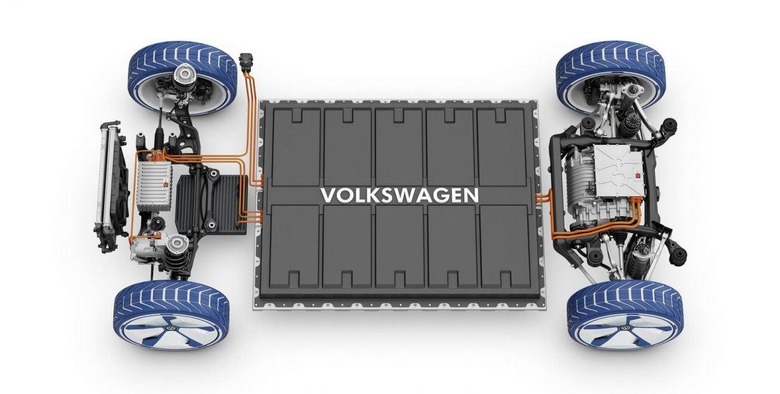 The rebooted Microbus will use a brand new platform, which Volkswagen has dubbed the Modular Electric Toolkit, or MEB (the initials are taken from the German version of the term). It's a matrix of common parts that VW started working on in 2015, intended to bring the same practicality and affordability of production to the mass-market roll out of electric vehicles. While it won't replace the MQB, which will still be used for the gasoline and diesel models VW still expects to be making for the foreseeable future, it'll be increasingly important as EVs gain market share.
It'll be practical-retro
You could make a convincing argument that the Microbus design is perfect for an electric vehicle. After all, VW's MEB platform is intended to fill the wheelbase under the floor with batteries, while the motors are integrated into the axles front and rear. In the case of the I.D. BUZZ, that means all of the powertrain is effectively sandwiched into a slice underneath a massive, empty space.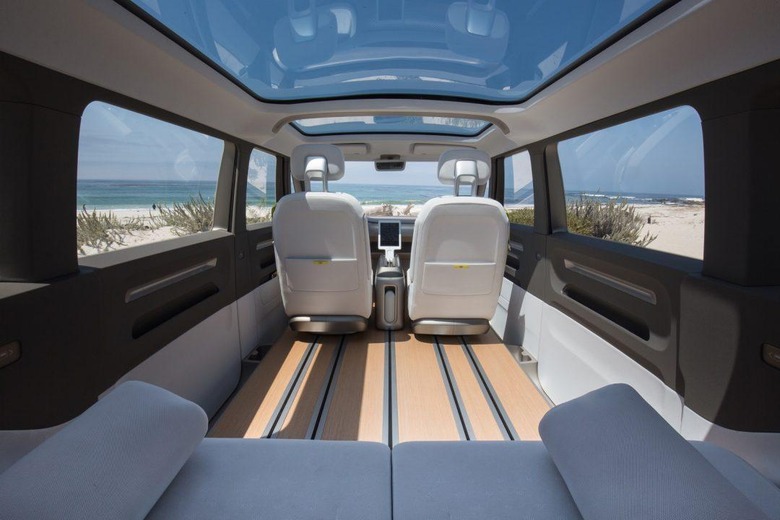 Indeed, VW is saying that you'll get the interior room of a full-sized SUV, only with the overall footprint of just a midsize SUV. If the concept is anything to go by, they'll be putting significant emphasis on making the cabin super-flexible, too. That means sliding, rotating, and removable seats, perfect for carrying up to eight people or a mixture of passengers and their luggage.
What we do know is that there'll be another version of the production I.D. BUZZ alongside the consumer one. Aimed at those wanting a zero-emissions way to carry cargo, the I.D. BUZZ CARGO will be targeted more at business users, particularly those working in dense urban spaces.
This could be a seriously powerful Microbus
The original VW Microbus managed 30 horsepower back in 1950. Volkswagen's 2017 I.D. BUZZ concept, meanwhile, mustered a heady 369 HP. That's courtesy of the MEB's flexibility for which wheels are driven: the platform supports both rear- or all-wheel driver variations.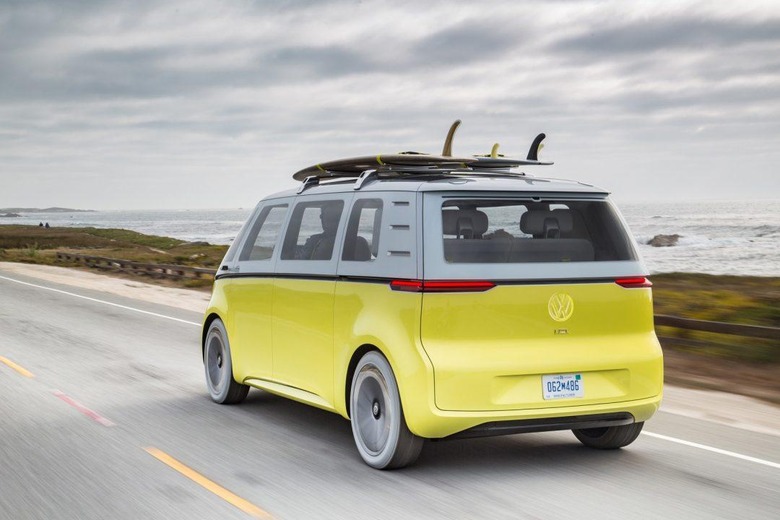 VW isn't saying what sort of horsepower or torque the production I.D. BUZZ will offer at this stage, though there's room for a few possibilities. It sounds like AWD will be an option not the default, suggesting that there'll be an entry-level model with RWD only, while those looking for more power and traction can step up to having all the wheels driven. That will also introduce a variety of horsepower levels.
Range is the big question
EVs are known for their instantaneous torque, so the production I.D. BUZZ should be fairly perky from a standing start. Of course, the other big question about electrified vehicles is range. Again, VW isn't saying much about the production Microbus, though the concept gives us a few hints of what to expect.
All that wheelbase space allows the I.D. BUZZ concept to fit a 111 kWh battery pack, 11 kWh more than the largest-capacity Tesla Model X. That, VW has suggested, would be sufficient for "nearly 300 miles of estimated range" out on real roads. Of course, the Microbus concept, although drivable, probably hasn't been put through that sort of production-level testing.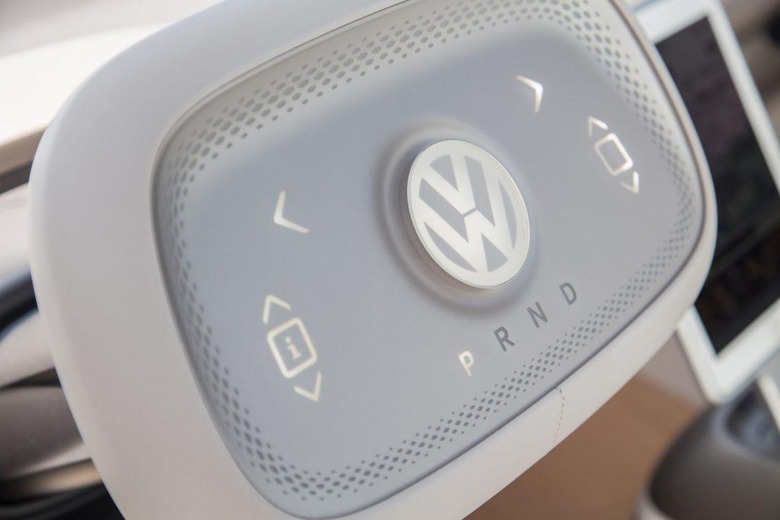 The flip side to range is recharging. Volkswagen is putting its hopes in its fast-charging system, which will use a hefty 150 kW supply. With that plugged in, the promise is around an 80-percent charge in just half an hour.
The reality will vary depending on just where you're trying to recharge, mind: no home is currently set up for 150 kW. Expect that to – slowly – trickle out to public stations over time, but for most it'll be a case of leaving the Microbus plugged in while it's not being driven so as to keep the battery as topped-up as possible. The VW Group has plans for wireless charging too, though it's unclear if the Microbus will be compatible. Even if it is, expect rates lower than what you'd get from a compatible plug-in charger.
Don't expect a self-driving Microbus... at least not at first
The I.D. BUZZ wasn't just VW's attempt to bring the Microbus styling and powertrain up to date. It also previewed the company's vision of autonomous driving, with a steering wheel that retracts into the dashboard allowing the driver to turn their chair 180-degrees and catch up with their passengers. Meanwhile, expressive "eye" headlamps help the AI that's responsible for keeping the Microbus on the right track communicate with other road-users and pedestrians.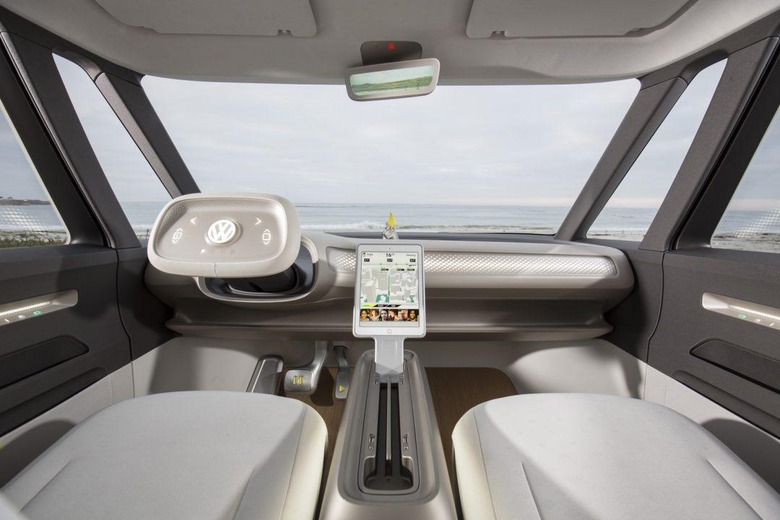 That's the theory, anyway. In reality, that vision of autonomous motoring – which Volkswagen has dubbed I.D. Pilot – won't be ready for the I.D. BUZZ's production debut. In fact, the automaker is hoping to have it ready for 2025. It's unclear whether early models of the production Microbus will support upgrading to I.D. Pilot support, as Tesla is claiming its EVs will when its self-driving system is ready for prime time, once the technology is mature.
Instead, the promise is Level 3 autonomy. That means the Microbus would be able to do "conditional automation" according to the SAE levels: think a step beyond the combination of adaptive cruise control and lane-keeping that some cars offer today. In short, the Microbus will be able to take over in some situations, but the person behind the wheel will have to be prepared to take over at any time.