Demand for the VW ID.3 electric car was so high, the system crashed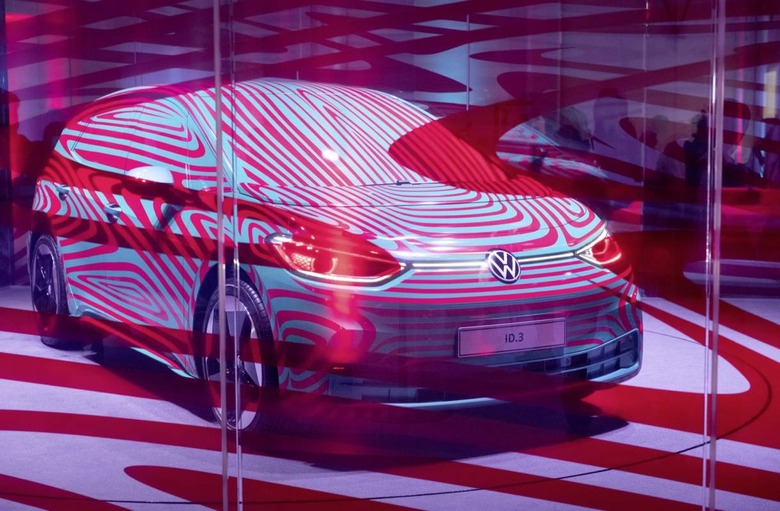 Volkswagen's ID.3 may not be expected to arrive until mid-2020, but that didn't stop a flood of reservations and would-be owners overwhelming the automaker's systems this week. VW revealed the ID.3 – the first of its all-electric cars to be based on the new MEB EV platform – on Wednesday, and within 24 hours more than 10,000 registrations, complete with deposit, were made.
VW is taking a 1,000 euro ($1,124) from potential buyers of the ID.3 in order to stake their place in line. The initial car will be the ID.3 1ST, a special edition version of which the automaker says only 30,000 will be produced.
"Sometimes, the IT systems are unable to handle the large number of users accessing the system at the same time," Volkswagen said in a statement. "This leads to long waiting times and interruptions in the registration process in some markets. Volkswagen is working hard to eliminate the hitches."
Despite that, more than a third of the total build run of the ID.3 1ST edition cars now seem to have potential owners. Although the regular ID.3 will have a starting price under 30,000 euro ($33,700) before any relevant subsidies or incentives, the ID.3 1ST will start from under 40,000 euro ($44,980) the company says. It'll have the mid-range battery, good for an estimated 261 miles of driving based on the European WLTP cycle.
The entry-level car will have roughly 205 miles of range, while a top-spec version with the biggest battery will push that up to around 342 miles. US range figures on the EPA cycle have not been shared, and indeed may not be calculated at all. Volkswagen of America has previously said that it does not intend to bring the ID.3 to the US, betting instead that American drivers would prefer the production version of the ID. CROZZ electric crossover.
The 30,000 production run – which will be shared across 29 European markets initially – is only the tip of the iceberg. VW says that its Zwickau factory currently has around half of the roughly 1,500 robots for EV body production installed, as the automaker converts the facility over to one solely dedicated to electric vehicles. Conversion of the first line in final assembly is expected to take place there in the summer.
That hasn't stopped more than 200 pre-production ID.3 cars from having already been manufactured there. By the end of 2020, only electric cars will be produced at Zwickau, with up to 1,500 for both VW and the other nameplates in the group expected to roll off the line each day. Eventually, the plant will be capable of producing 330,000 vehicles on the MEB platform each year.