VW I.D. VIZZION bets you'll swap your steering wheel for luxury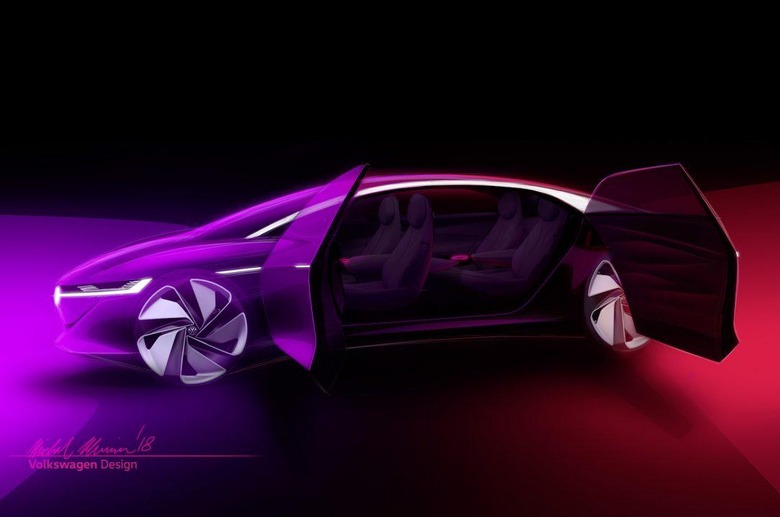 Volkswagen is adding a new, even smarter model to its I.D. family of all-electric concepts, with the VW I.D. VIZZION previewing its, well, vision of tomorrow's autonomous transportation. While the concept car may not be an outlandish coupe or a go-everywhere SUV, it does have what's arguably an even tougher challenge ahead of it. Persuading people that driverless vehicles can still forge an emotional connection.
It's no small issue. The arguments in favor of removing flesh & blood participants from the driving process are numerous, which advocates pointing out that autonomous cars will eventually be safer and more convenient than the vehicles we have today. However there's more to driving than getting from point A to point B, and those who get pleasure from the process have been skeptical about whether handing over the reins to a robot car will be quite as appealing.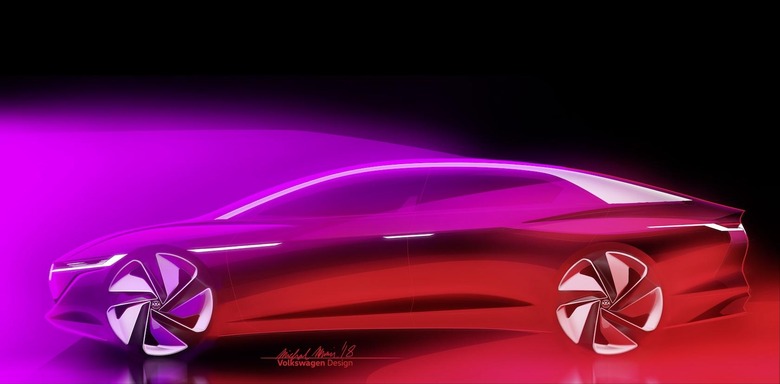 VW's idea to address that is the I.D. VIZZION, a concept that previews its strategy for what a premium self-driving sedan might look and feel like. Set to make its debut at the Geneva Motor Show 2018 in a few weeks time, it does away with the steering wheel altogether in favor of a "digital chauffeur" and a more cosseting cabin.
On the outside, the exterior shape is defined largely by Volkswagen's goal to have a capacious cabin. That makes for a big car, too: over 16 feet 9 inches in length, in fact. With 225 kW of proposed power, from a 11 kWh lithium-ion battery, the top speed of the I.D. VIZZION would be 112 mph, while range – with braking regeneration factored in – would be up to 413 miles on a single charge. Two electric motors are used, for all-wheel drive when the conditions require it.
Inside, though, you won't need to concern yourself with propulsion. Rather than a steering wheel and traditional controls, there are merely four plush seats and plenty of space. Although there are interfaces in the center console, that runs the length of the cabin, VW envisions riders interacting instead with a virtual host.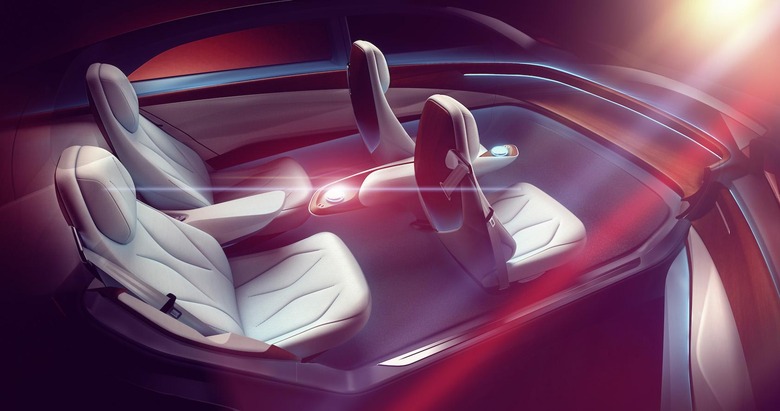 That can be by voice or gesture control, though the host will already have a good idea of destination and other preferences through ties into each passenger's smartphone. That could include knowing whether you'd rather have dim ambient lighting and no background noise so as to use your commute time to get some more sleep, or alternatively to pick up on where you left off at home with your latest streaming movie or TV show.
It's not the first time we've seen automakers experiment with high-end cabin design as a way to repurpose transit time when people aren't required to handle the actual driving. The Mercedes-Benz F 015 Luxury in Motion, for example, has a similar overall shape to the I.D. VIZZION, with a wide, pillar-less entrance through front and rear hinged doors and four, lounge-style seats inside. However, while Volkswagen did away with the steering wheel altogether, the F 015 had a retractable wheel that would allow a driver to choose when to hand over chauffeur duties.
For VW, it's the fourth of the I.D. family of concept cars. That group is already working up for its first transition into production, with the VW I.D. set to hit international markets as an all-electric compact hatchback in 2020. That'll be followed by the I.D. CROZZ, an electric crossover SUV, and then the I.D. BUZZ sedan. When the I.D. VIZZION might be practical depends, of course, on more than just the feasibility of electrified drivetrains, since it'll need both dependable autonomous systems and the regulatory environment in which to deploy them commercially. Still, we're likely to hear more about Volkswagen's approach there in Geneva in early March.