VW Atlas five-seat SUV to get New York preview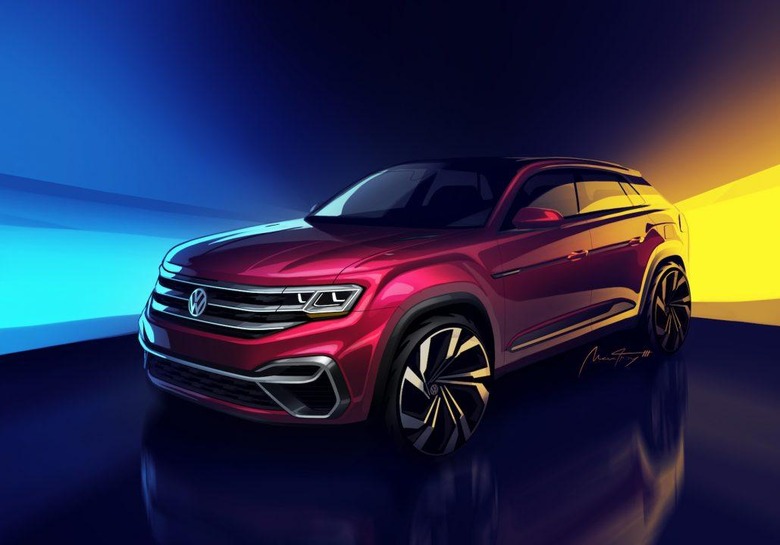 Volkswagen's seven-seat Atlas SUV is spawning a new version, with VW confirming that a five-seater Atlas is set to arrive in dealerships. Expected to be previewed in concept form at the New York International Auto Show 2018 next week, the new Atlas will be built at the automaker's Chattanooga plant, though that's not the only American connection.
Indeed, like the seven-seat Atlas, this new model is being built resolutely with American drivers in mind. The original Atlas was VW's attempt to take on Ford, Chevrolet, and other domestic automakers in the family SUV space. The existing VW Tiguan was too small, and the Touareg too expensive: what was required was a large SUV with a small price tag.
Just how successful the Atlas has been at that is questionable, mind. In February 2018, for example, VW sold 4,766 of the cars; in the same month, Ford sold 18,106 Explorer SUVs, the vehicle that's probably Volkswagen's prime competition. One possibility VW seems to be chasing is that a five seat version of the Atlas might help close that gap.
The new Atlas will be based on the same MQB platform, its modular front-engine layout which supports both front- and all-wheel drive configurations. It's a surprisingly flexible architecture, in fact. While it's the basis of the huge Atlas, the MQB also underpins far smaller cars, like the Volkswagen Golf and Audi TT.
What VW plans to show off at the NYIAS next week will be a concept version of the new car, though it's unlikely to stray too far from what will turn up on showrooms. VW's sketch shows the hallmarks of most concept designs, including bulging wheel arches and oversized alloy wheels. The reality is likely to be a far more restrained version, smoothing out some of the more slab-sided cues of the current Atlas to go with its reduction in seats.
The big question will be around the car's price. Currently, the 2018 Atlas 7-seater starts at $30,750, undercutting the 2018 Explorer. The five-seat 2018 Edge, though, starts at $29,315 for FWD models. Unfortunately, price is one detail that VW is unlikely to have to share in New York next week.