2018 VW Atlas First Drive: A 7-seater SUV to dethrone Explorer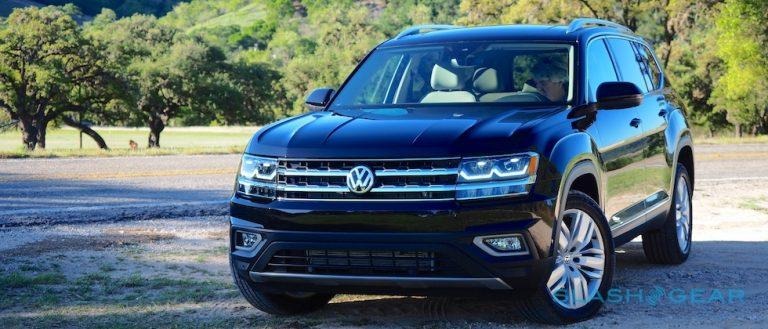 The 2018 Atlas is long-overdue: VW has needed a proper, 7-seater SUV for some time. More than that, it's needed a proper, 7-seater SUV that is built with the American market foremost in mind. The Tiguan is too small; the Touareg too expensive: enter the Volkswagen North American Region (NAR) and a big SUV that, while it'll be sold elsewhere in the world, really has America's best-selling Ford Explorer in its crosshairs.
In operation for about a year now, VW NAR is basically a self-contained automaker – covering the US, Canada, and Mexico – with the autonomy to make decisions for the region. It's the team responsible for shaping the 2018 Atlas to American tastes and, courtesy of a $900m investment from VW, will begin production of the SUV in Chattanooga, TN, alongside the Passat. While the Atlas took its initial inspiration from the CrossBlue concept of 2013, from there it grew in size and scope.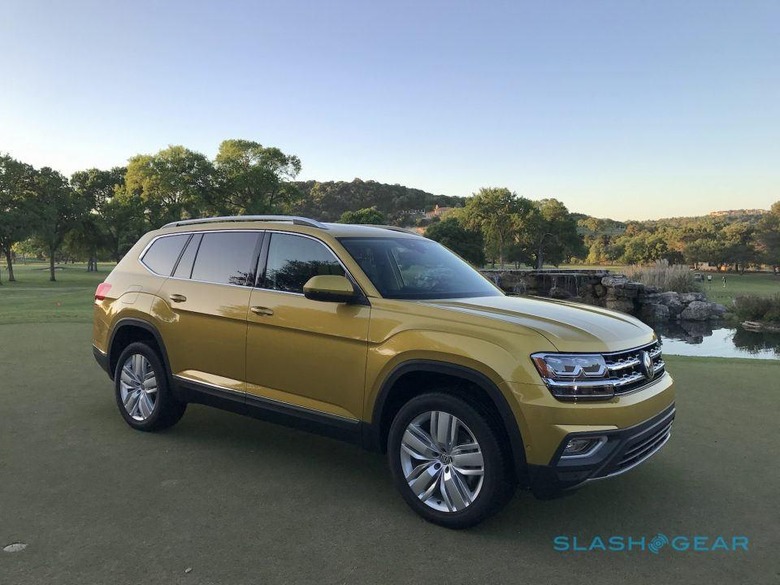 Photos struggle to do the Atlas justice. At first glance it's a slab-sided affair, blocky and bulky. VW's decision to make the "halo" color a metallic yellow certainly makes it eye-catching, but I found darker colors did a better job of picking out the creases and sculpt-lines that make the big SUV more interesting.
The hood, for instance, has deep furrows for emphasis, while the strong shoulder line and bulked-out arches are a little reminiscent of Bentley's Bentayga. Detailing in the full-LED front lights is exceedingly pleasing; at the rear, optional LED tail lights benefit from some sharp shifts in bodywork angling, that catch the light nicely. It may not have the elegance of Mazda's CX-9, but it's a design that grows on you.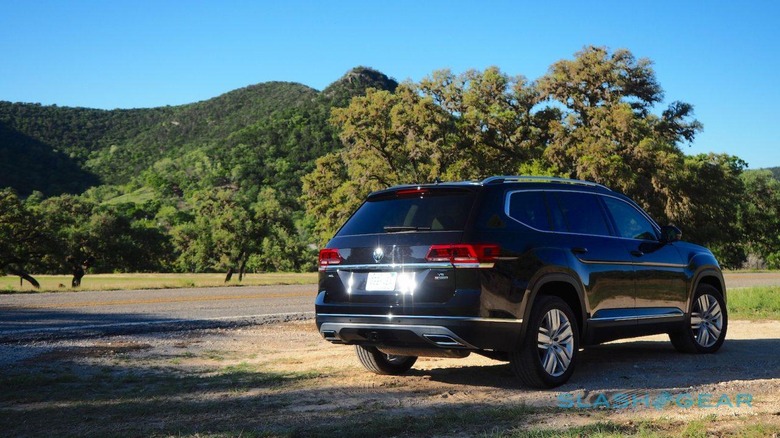 While you'd probably not guess to look at it, the Atlas is based on Volkswagen's MQB platform, the same as you'll find underpinning the Golf and which the automaker will use for the upcoming 2018 Tiguan expected to debut later this year. MQB has shown its stretchy potential with the Atlas' 198.3 inch length and 117.3 inch wheelbase: there are a couple of fixed points across all MQB cars, like the front axle, pedal box, and engine positioning, but otherwise VW is free to manipulate the remaining dimensions at will. More importantly, it can set any MQB-compliant production line to assemble any MQB-based car, opening up valuable flexibility to meet demand.
VW has two engine options for the Atlas. The entry-level is a 2.0-liter TSI turbocharged four-cylinder poached from the Golf GTI, with 235 horsepower and 258 lb-ft. of torque. Those who wouldn't dare consider a big SUV without at least six cylinders – hello, America – get the 3.6-liter V6 from the Passat, here good for 276 horsepower and 266 lb-ft. of torque.
The power figures may be similar, but your hand may be forced one way or another by whether you need all-wheel drive or not. VW will have both FWD and AWD versions of the Atlas, but you can only have AWD with the V6. Now, that may not be an issue in California, but plenty of places have the sort of weather where the idea of a FWD SUV is a nonstarter. While the 2018 Atlas starts at $30,500 (plus destination), that gets you FWD and the four-cylinder; the cheapest AWD version begins at $33,700.
There's a reasonable amount of driver-assistance and active safety tech, though much of it you'll have to pay for. As standard, you get a reversing camera and automatic post-collision braking. SE trim adds blind-spot monitoring and keyless entry and engine start; opt for the SE Technology package and you add forward collision warning and autonomous emergency braking with pedestrian monitoring, lane-keep assistance which will nudge you back in line, and adaptive cruise control. The Atlas will also counter-steer if you try to change lanes and trigger the blind spot warning.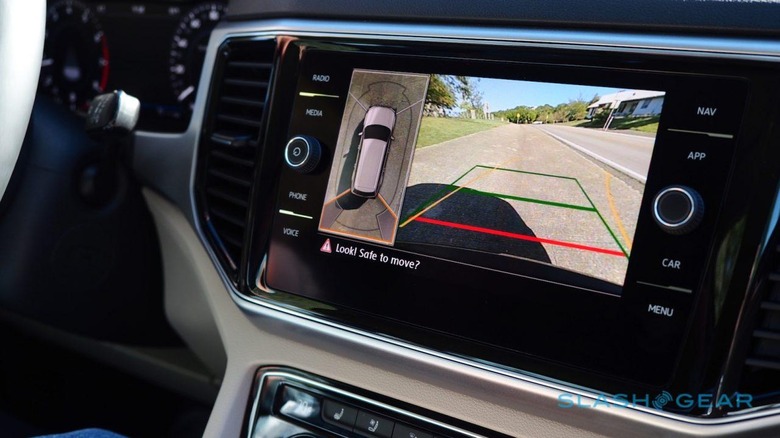 The Atlas SEL Premium adds Park Assist, which takes over steering to guide you into parallel and perpendicular spaces; unusually, it can drive forward or reverse into the latter. All models get Driving Mode Selection, with a choice of Eco, Normal, Sport, and customizable Individual modes that tailor engine, transmission, steering and – if fitted – adaptive cruise control settings. A knob around the Driving Mode Selection button switches into the Snow, Offroad, and Custom Offroad programs for more tricky conditions.
Volkswagen's route of choice didn't prove demanding with any arduous terrain or troublesome weather. Instead, I stuck with either the Normal or Dynamic drive modes, and with the standard 8-speed transmission in either Drive or Sport. VW expects most Atlas buyers to go for the V6 when it hits dealerships in May – indeed, the four-cylinder won't arrive until around August – and it's an engine that suits the SUV well.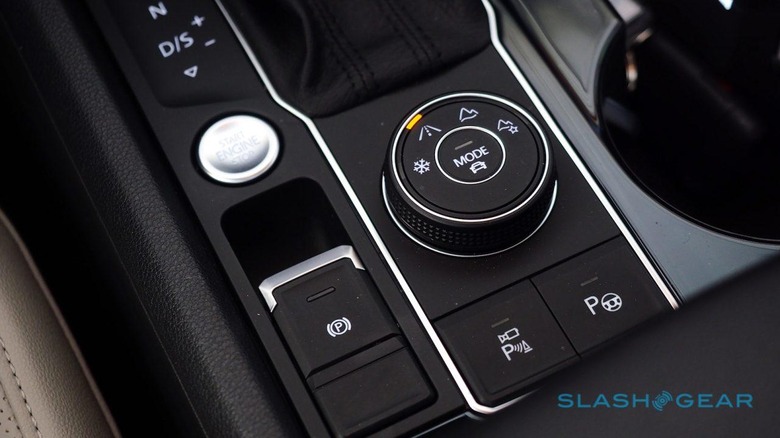 Pick-up is smooth but insistent, and the lack of engine noise in Normal drive mode belies how eager the Atlas can be. Keeping up in highway traffic isn't an issue; nor is that all-important 50+ mph surge for overtaking. In fact, long stretches of road are the Atlas' forte, with precise steering that quickly brings the wheel back to center rather than tramlining across ill-kept asphalt.
As for the corners, I had expected physics to show its hand, but the Atlas does a surprisingly good impression of a Golf. This may be VW's biggest model, but push it harder than you might the typical SUV and it's impressively flat as it turns. There's no bucking or bobbing on bumpy or undulating roads, either; the whole thing is admirably composed.
Switch into Dynamic drive mode – which automatically puts the transmission into Sport, too – and you discover the V6 can actually sound decent, too. The Atlas is no hot hatch, but neither is it dreary: the engine note and exhaust gurgle are positively eager to get to the school run. We'll have to wait and see how the four-cylinder holds up to the not-inconsiderable 4,502 pound bulk, mind.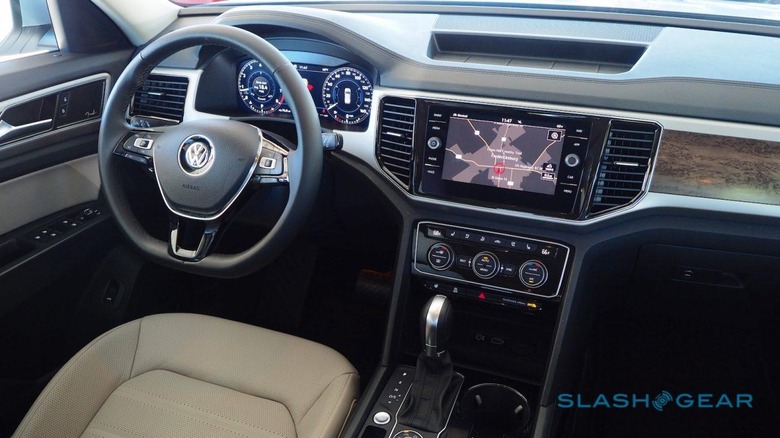 At speed there's a little wind noise in the cabin, though VW tells me it's working on tweaking the side mirror design to iron that out. Road noise, despite the 20-inch wheels, is also minimal. In general, it's a peaceful and comfortable place. Entry-level S and S Launch Model cars get cloth seats; SE, SE Technology, and SEL get leatherette; if you want actual leather, you'll need the SEL Premium.
As standard, the Atlas gets seven seats with a three-seater 60/40 split bench in the second row. That slides fore and aft 7.7-inches. However, on Atlas SE trim and above, it can be switched for a pair of captain's chairs – a $625 option – for a total of six seats.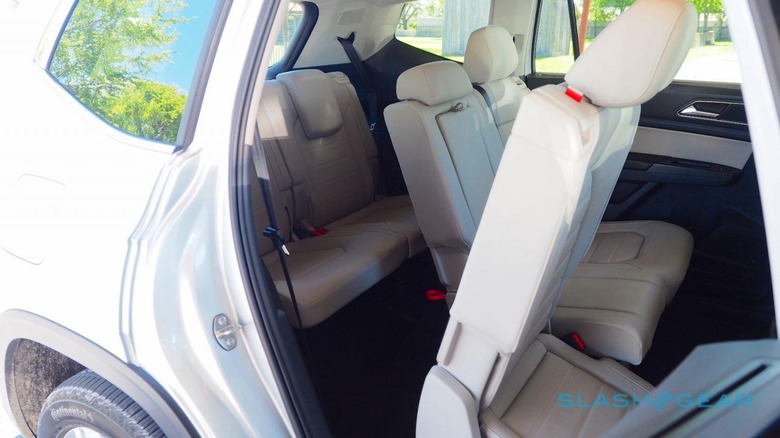 I'd been skeptical when VW claimed even full-grown adults could fit in the third row, but was pleasantly surprised. For a start it's easy to get back there: a simple-to-use latch on the second row seats sends them tilting and sliding forward with a single hand, even if there's a child's car seat installed, leaving a decent sized space to climb through without undue contortions. Once there, with the second row in its forward position I had a couple of inches space for my knees in the rear-most seats. Now, at 5'8 I'm not the tallest person out there, but shoulder room was good and, complete with dedicated AC vents, it didn't feel like I was jammed in the luggage space.
As for that cargo space, with all the seats in place there's enough for a few cases. Dropping the third row flat is a simple matter of pulling the Velcro-tethered release cords. Then, things get a lot more spacious. With the second row collapsed too, the Atlas is positively cavernous. A power liftgate comes with SE Technology trim and above; SEL and above get easy-open, where waving your foot under the rear bumper causes the liftgate to open automatically.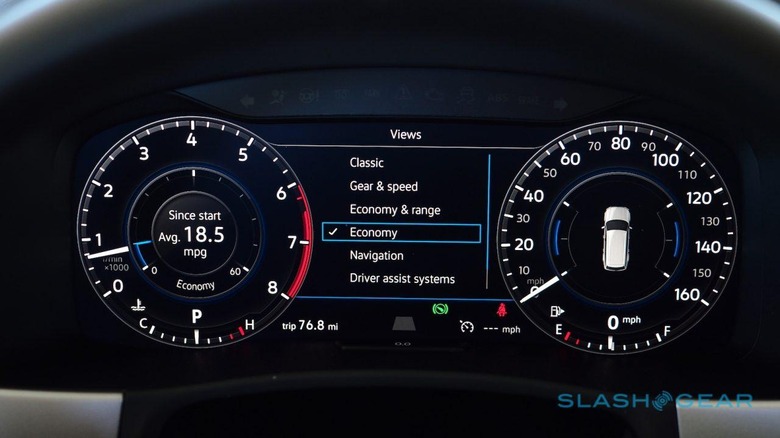 The dashboard is straightforward. On all but the entry-level car there's an 8-inch infotainment touchscreen in the center console, which variously handles multimedia, the standard-fit Apple CarPlay and Android Auto, and the car's settings, along with navigation if optioned. It's responsive, debuting VW's latest MIB2 infotainment platform and, happily, has a dedicated volume knob along with a navigation dial that makes quick map adjustments more straightforward.
On the top-spec SEL Premium you find Volkswagen's Digital Cockpit. Replacing the analog speedo and tachometer – and the small LCD they flank – with a full, 12.3-inch screen, it's VW's version of Audi's Virtual Cockpit. The layout is different from the Audi system, but the ethos of adjustable digital dials, large map previews, and other customizable graphics are the same.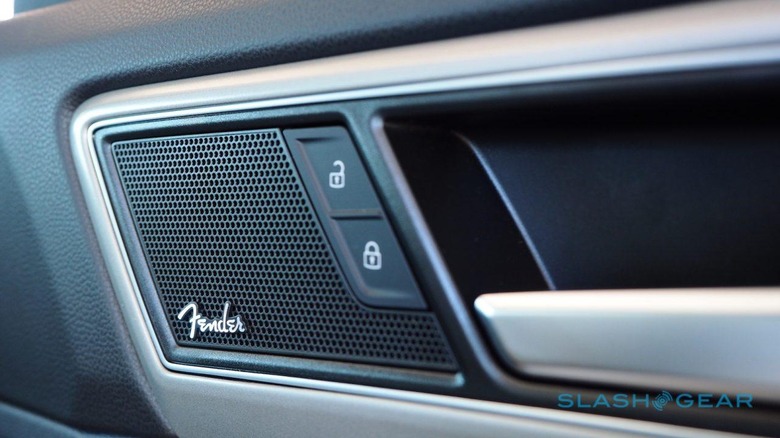 Also in the SEL Premium is the Fender Premium Audio system, that spreads its 480W across twelve speakers. Perhaps more important for families are all the cubbies and cup holders: a grand total, VW told me proudly, of 17 places to put your various cups and bottles. A 12-liter bin is in-between the front seats, under the armrest. Still, some rivals are more imaginative with their storage, hiding bins under the floor and in other locations. I'm also not terribly impressed by some of the hard plastics that show up in the lower dashboard and lower door trim, while the faux-wood and aluminum strips in the SEL are fooling nobody.
One thing you won't find on the order sheet is any sort of rear-seat entertainment package. Volkswagen took the conscious decision not to offer built-in headrest screens or fold-down monitors, given such systems tend to be infrequently purchased and quickly outdated. Instead, there's a universal tablet mount option, with extending arms that can hold iPads and Android slates of various sizes on the rear of the front seat headrests.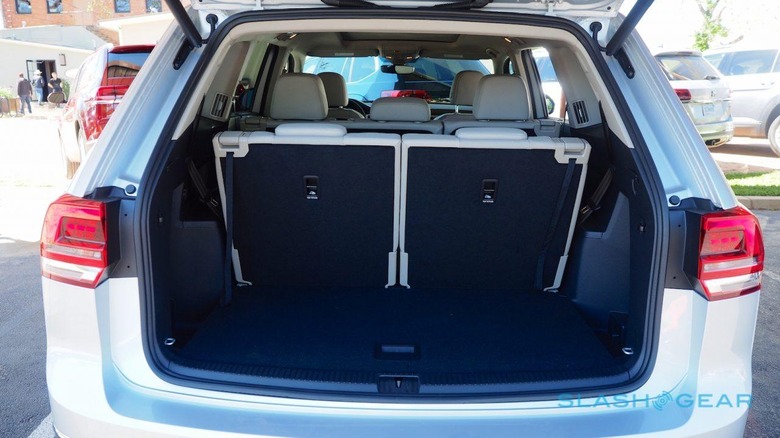 I can't say I argue with that approach – most families have their own tablets preloaded with media to keep the kids occupied – though I'm disappointed that there's no integrated WiFi hotspot. That was originally on the cards for Atlas, but now VW is working on an aftermarket system instead. I'm told we should think along the lines of a portable mobile hotspot docked into the SUV in some way. That would, presumably, allow you to to remove it and use it elsewhere, which could be handy when camping.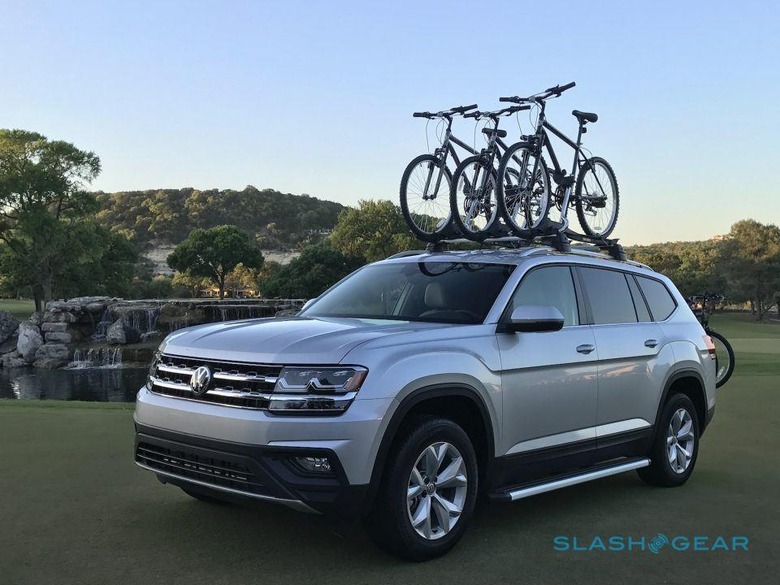 Volkswagen's well-publicized diesel woes of late have kept another option off the spec sheet: a turbodiesel engine. It seems like a no-brainer for the Atlas, but even if the hardware is out there waiting to be used, politically it's just not the right time. There's no plug-in hybrid, either – VW says it's "always looking" at the possibility, but has nothing to announce now – and though the preliminary 17 mpg City and 23 mpg Highway economy figures for the V6 are expected to be approved as-is by the EPA, I'm told they're conservative and it shouldn't require a hair-shirt driving style to meet or exceed them.
As for positioning, the Atlas slots in underneath the Toureg: a maxed-out Atlas SEL Premium comes in at around $50k with the Captain's Chairs, while the Toureg starts at $50k. VW says the more expensive SUV will certainly be sticking around in the US for the 2017 model year; after that, its future is uncertain. There's no question that Atlas is better suited to how most American families use their SUVs, from the more flexible cabin to the 5,000 pound towing capacity (on the V6 with the factory hitch; an aftermarket hitch on the 4-cylinder or V6 will only be rated for 2,000 pounds).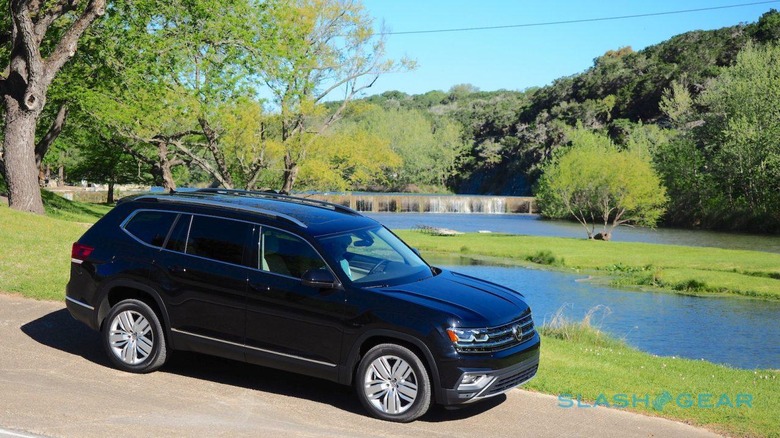 It also drives better than most of the 7-seat SUVs out there, and has a third-row actually usable by adults. While its lantern-jawed styling may not have the instant appeal of, say, the CX-9, I suspect it'll grow on you the longer it's on your driveway. I'd say the Atlas SE Technology in V6 AWD form, at $38,890, is probably the sweet spot for most, not to mention competitive with a similarly-equipped Ford Explorer.
While the Explorer may be the big seller in the 7-seat segment, I far prefer the Atlas' on-road dynamics. Volkswagen might be late to the big SUV party, but the 2018 Atlas proves you can teach an old category new tricks.