VW Atlas Cross Sport Concept teases 2019's 5-seat SUV hybrid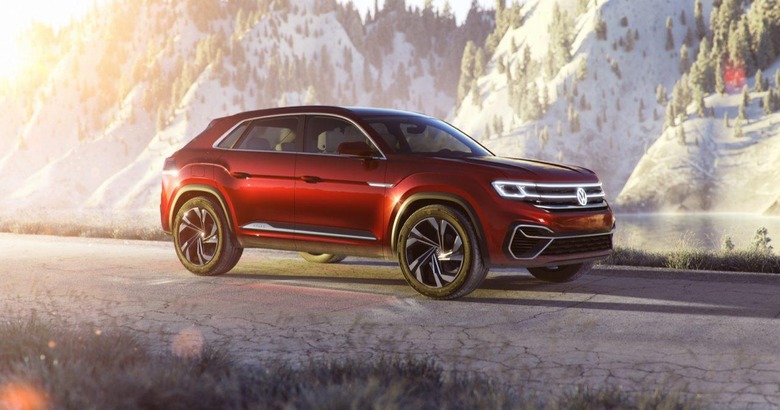 Volkswagen has a new, 5-seat SUV in the works, and it's previewing just what that will look like in 2019 with the Atlas Cross Sport Concept. Making its debut at the North America International Auto Show 2018, the concept car is a hybrid what-if that teases just what the production Atlas 5-seater might offer when it goes on sale next year.
So, there's plenty of nudging and winking as to how this "concept" might translate to a vehicle you see in dealerships. Compared to the current 7-seat Atlas it's 7.5-inches shorter in overall length. However, VW has kept the wheelbase the same, so that interior space isn't unduly affected.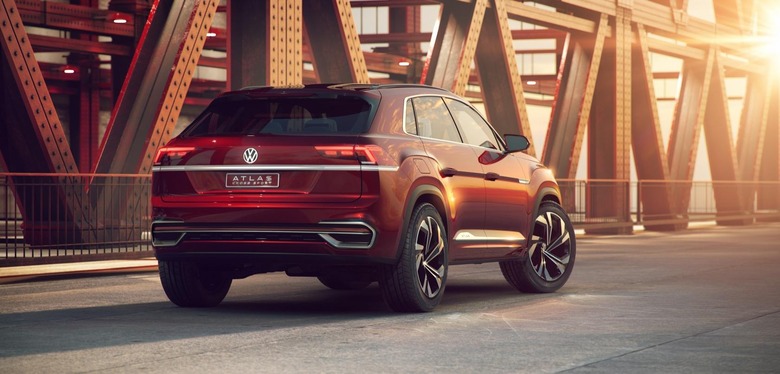 That's not to say it's a small SUV, mind. At almost 191 inches long, over 68 inches tall, and almost 80 inches wide it's lower but broader than a lot of other vehicles in its segment. At the front, there's a two-bar grille – down one bar versus the 7-seat Atlas – but that still encompasses the LED headlamps and daytime running lights. Like VW's recent I.D. family of all-electric cars, the Atlas Cross Sport Concept has illuminated strips that run right across the bars, too.
From the side, the C-pillars are more steeply raked, and the overhangs – where the bulk of the length has been lost – are noticeably shorter. There's a contrasting spoiler with black side fins. At the rear, aluminum accents pick up the side character lines, with LED lights above that. Exaggerated tailpipe surrounds echo the style of the rear lamps, but VW has made sure to keep the sill height a relatively low 33.3-inches for practical loading.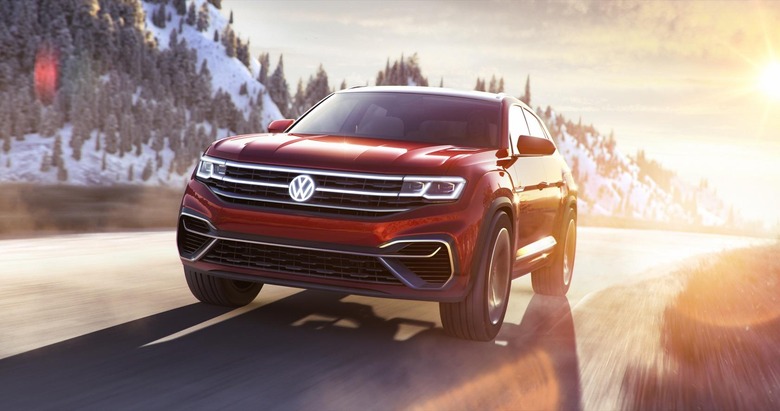 Inside, there's a 10.1-inch central touchscreen with proximity sensors and gesture control, integrated into the horizontal-themed dashboard. 3D graphics for the navigation system offer multiple layers of driver-selectable data, optionally floating points-of-interest atop the underlying route. The driver also gets a 12.3-inch Volkswagen Digital Cockpit rather than traditional analog dials, with the automaker promising better integration between what's on that and the center screen.
A lower touchscreen handles HVAC controls, along with seat heating and ventilation. VW has done away with a traditional shifter, replacing it with a smaller selector lever that handles gear changes. Behind it is a 4MOTION Active Control for the all-wheel drive system, with On-Road, Sport, and Snow profiles. It has an integrated HD display and "light pipe" illumination. Dedicated buttons for ESC, E-Mode, and GTE-Mode are also included.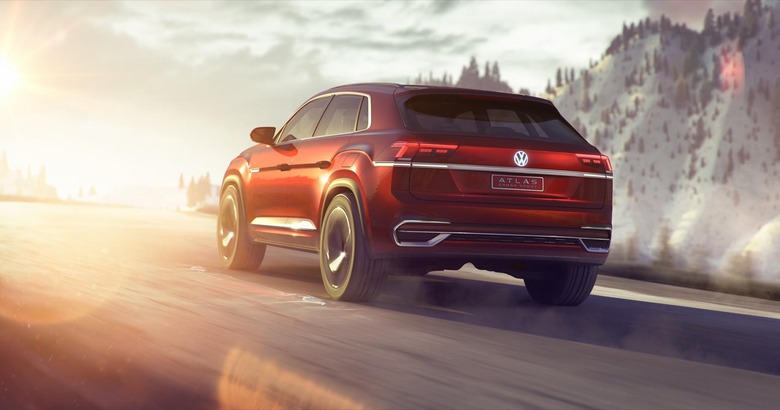 VW hasn't said exactly what drivetrain will be found inside the production 5-seat Atlas next year, but it's dropping some heavy hints now. The Atlas Cross Sport concept is a plug-in hybrid, with a 3.6-liter V6 engine that offers 276 horsepower and 266 lb-ft of torque being joined by two electric motors. At the front, that adds an extra 54 HP and 162 lb-ft; at the rear, there's another 114 HP and 199 lb-ft.
They're powered by an 18 kWh li-ion battery that VW has tricked away in the center tunnel, and altogether give the SUV 355 HP and 494 lb-ft of torque. That, the automaker suggests, could mean a 0-60 mph time of 5.4 seconds and a 130 mph top speed. Alternatively, a mild hybrid version – with a smaller, 2.0 kWh battery – could muster 310 HP and do 0-60 mph in 6.5 seconds.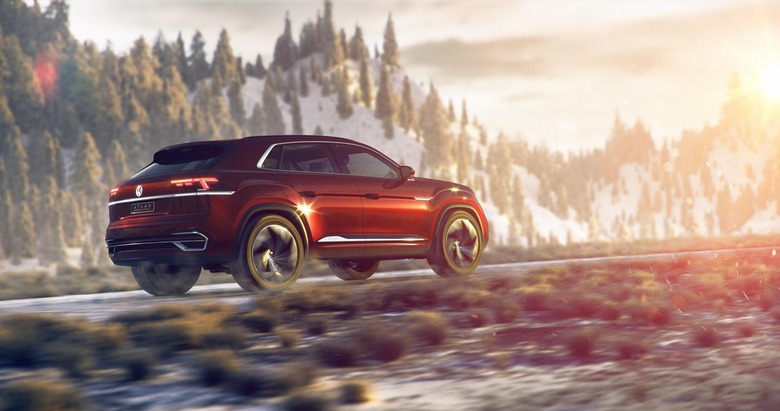 Even with the bigger battery, the hybrid's forte wouldn't be all-electric driving. Indeed, VW suggests you'd only see around 26 miles of EV range, and that's with only the rear axle motor in play. The gas engine, meanwhile, would drive the front wheels in Hybrid mode. An Off-Road mode would deliver AWD; that could also use the V6 to drive the front wheels and power the rear electric motor, if the battery was too low.
How much of this will make it from concept to production remains to be seen. Still, VW's keen to make it clear that it's serious about SUVs – and about the potential of its MQB platform to accommodate multiple drivetrain options, among other things – and has made tough EV commitments for the next few years. A hybrid SUV with space for five would certainly fit that roadmap nicely.