Vuzix and NEC scoop Google on cloud-connected Smart Glasses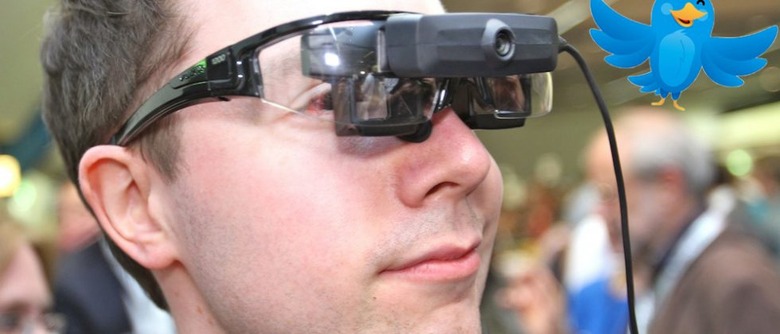 Vuzix and NEC BIGLOBE have partnered on cloud-connected Augmented Reality glasses, a wearable display that can identify people and match them with their Facebook and Twitter profiles, in an apparent attempt to get in ahead of Google's HUD Smart Glasses. Based on Vuzix's STAR series of AR video eyewear, which we made fools of ourselves wearing last September, the concept demo uses the headset's integrated camera and a persistent wireless web connection to NEC BIGLOBE's servers, though the potential applications go much further than simply showing you your neighbors latest tweets.
NEC BIGLOBE – a cloud content and ISP in Japan – says it expects the system to be useful in sports and hobbies, for instance "helping the user identify fish and fishing techniques right on the river." Alternatively it could be linked with GPS and knowledge of other users' locations, so that a skier could have their friends flagged up "by looking at icons that are geospatially correct inside the users view through the glasses."
Technical details on the platform are scant – we're still digging – though the STAR 1200 glasses Vuzix was showing off at IFA 2011 uses a pair of transparent 852 x 480 displays that together mimic a 16:9 aspect 60-inch display viewed from 10 feet away. They're paired with a front-facing 1080p Full HD camera and 6-axis motion tracking.
Vuzix STAR 1200 hands-on:
[vms 369e16ea3f9117ca4515]
As for the user-recognition, that's presumably a cloud-based process rather than being handled by a smartphone or other mobile device carried by the user. While the STAR 1200 glasses are decidedly clunky, Vuzix has more recently shown off a new set of Smart Glasses that manage to squeeze transparent displays into a more aesthetically-pleasing design.