VUDU Disc to Digital meant to leave Beta today [UPDATE]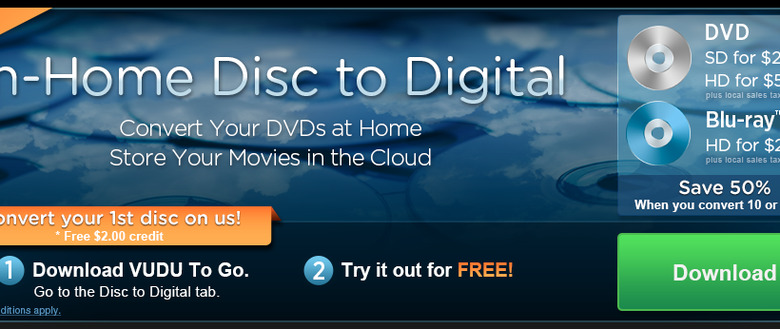 Though it seems like a bit of a strange headline to lead with, it would appear that VUDU's upgrade of their Disc to Digital software from Beta to full-fledged release may have hit a hiccup. That shouldn't be too much of deterrent from users working with this system, on the other hand, as the details remain the same: conversion of your DVD and Blu-ray disks into digital editions accessible from wherever you've got an internet connection. For a fee, of course.
This service allows users to convert the video from their already owned disks into SD or HD formats for $2.00 apiece or $5.00 if they're HD DVD. SD from DVDs costs the standard $2, as does the only format available for Blu-ray disks, HD. This system works with the UltraViolet video system so users will be able to watch on devices such as Roku, PlayStation 3 (and 4, we must assume), tablets, smartphones, Xbox 360 (and 720, more than likely), as well as your connected TV – and through the web, of course.
This system is currently working with mostly streaming services, allowing VUDU apps to stream via the web, but also with updates to iOS and Android in recent months making offline downloading a reality as well.
So what you've got here is a system where you put your DVD or Blu-ray into your computer, hit the "go" button, and allow this system to scan it. Once it's scanned, you'll have a virtual copy of that disk anywhere you can access VUDU's webpage and/or app. This system uses Gracenote technology to recognize the contents of the disk and UltraViolet for video in cloud web storage.

UPDATE: The system has now left Beta for real – make with the converting!
This system will immediately (if not soon) be working on both Windows and Mac OS X machines and requires an internet connection as well as a DVD / Blu-ray drive to scan.