Volvo V60 Cross Country first-drive - Because wagons are sexy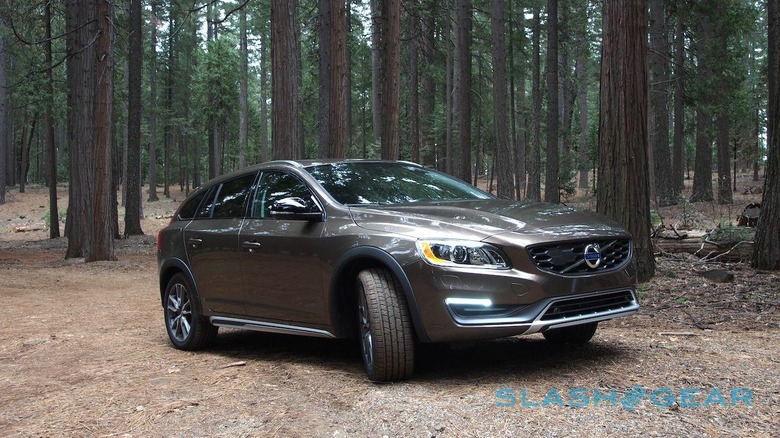 "Wagons are sexy," I insisted when I told people I was going to drive the new Volvo V60 Cross Country. Not everyone was convinced. While in my native Europe there's a long-standing affinity for the wagon – or, as I grew up saying, an "estate" – the wood panel hangover has been tougher to overcome in the US and, like diesel engines, its taken some clever branding to even get a foot in the door. The V60 Cross Country, then, picks up a nameplate that has served Volvo well for two decades, lifting the regular V60 and positioning itself as the de-facto "urban active" option for those not quite convinced with crossovers.
Volvo is in an unusual position right now. On the one hand, it has an ambitious roadmap ahead, undoubtedly starting with the all-new XC90 SUV, and building on fresh platforms from Chinese owner Geely. In fact, while the XC90 may be Volvo's big new launch for 2015, in four years time it will be the oldest car in the company's line-up.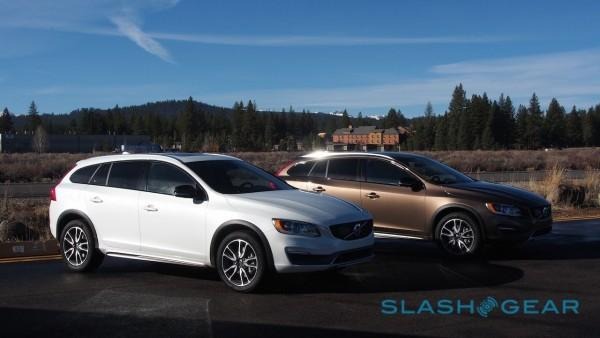 On the other hand, though, it puts Volvo in a tricky position. There's no such thing as treading water in the auto business today, and so the Swedes need to fill in the gap between now and the all-new cars. Preferably in such a way that doesn't cost too much, take too much time, or dilute any of the safety-centric legacy Volvo has capitalized upon.
The result is the V60 Cross Country. At first glance it's not far from the V60 it's based upon, no bad thing given I still think it's one of Volvo's most cohesive and effective designs. The broad, low fascia with its gaping grill leaves the front looking purposeful and surprisingly sporty (for a Volvo), while the tapering rear and the gently kinked shoulder-line that joins the two are aging far more gracefully than can be said for many of the crossovers out there.
Volvo's detailing is charming, too. The rear lights, pinstripes of red that run down through the clusters either side of the window, both look great and are very communicative to drivers behind. The lozenge-shaped side windows can leave the interior somewhat dark at the back – their tint doesn't help there much, either – but dilute some of the heft you'd otherwise have to accept in return for the luggage capacity.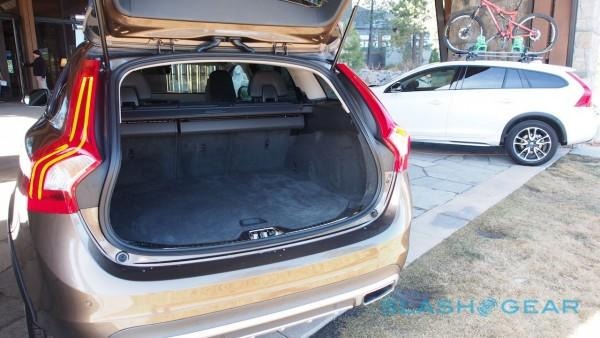 Compared to the regular V60, the Cross Country is 2.6-inches higher, for a total ground clearance of 7.9-inches. At the front, there's a new honeycomb grille – the three filled-in segments are for the radar system – and a redesigned lower skid plate. Side-on, you get new scuff plates and black fender extensions, along with gloss-black window and mirror trims. A new lower skid plate distinguishes the rear, and it sits on unique 18-inch alloy wheels as standard.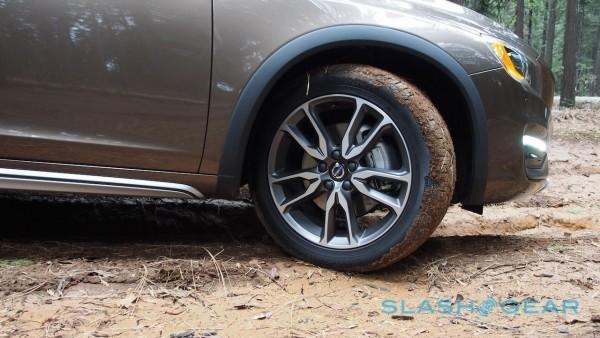 That might not sound like much on paper, but in practice the Cross Country carves an interesting niche alongside a crossover or SUV. It's clearly a little more butch than a regular V60, but it lacks the try-hard feel of a pseudo-SUV. While Volvo obviously already has the XC60 in its line-up, the company tells me there's no plans to kill the meatier model now that the Cross Country is here. Instead, they'll co-exist: Volvo customers clearly demand some granularity of choice in body-styles.
Well, except when it comes to power, that is. In the US there's a single engine option, the T5 turbocharged five-cylinder good for 250 HP and 266 lb-ft of torque. The latter comes through in full from just 1,800 rpm, for a fairly broad power band, and there's a six-speed automatic transmission with manual override option though no paddle shifters behind the chunky, comfortably gripped wheel with its glove-friendly buttons for cruise control and multimedia.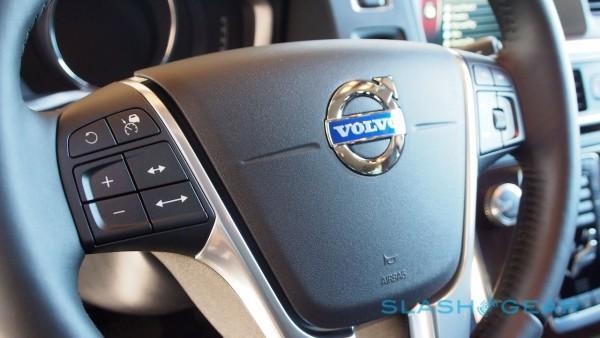 All-Wheel Drive comes as standard, using the same Haldex setup as on Volvo's other AWD cars. Typically, it pushes all of the power to the front wheels, but – with just 1/17th of a wheel-slip of warning – can push as much as 50-percent to the rear for improved traction. Then there are the electronic smarts, like Hill Descent Control, Dynamic Stability and Traction Control, Advanced Stability Control, and Torque Vectoring, which collectively work to keep the Cross Country pointing in the right direction even in slippery conditions.
Those laggards at the EPA are yet to do their final testing, but Volvo is expecting 20 mpg in the city, 28 mpg on the highway, and 23 mpg combined. In practice, with a mixture of highway driving plus some more aggressive mountain roads, the wagon delivered 22.9 mpg on average, though was in the low-teens at points when pushed hard.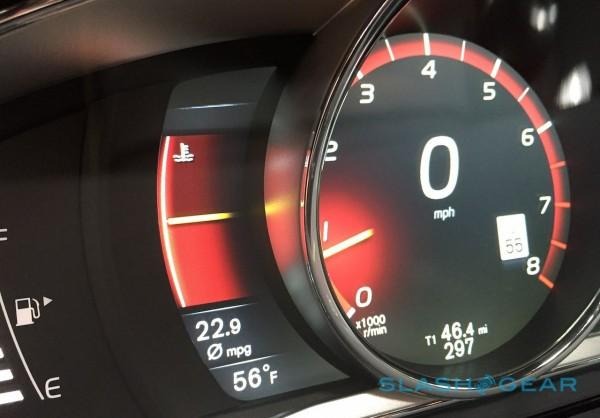 Volvo had planned to set me loose on an icy skid-pan to show just what the car is capable of, but plans were scuppered by unexpectedly good weather. The irony of a group of Swedes flying to California and then being angry at it being warm was not lost on me.
Instead, I threw the V60 Cross Country through some perhaps more typical maneuvers, like a high-speed slalom, and tested out the City Safety proactive anti-collision technology. The latter can automatically trigger the brakes at city driving speeds when the car believes you're about to crash into the vehicle in front, and although a little jarring, it works as promised.
Similarly, whether on the slalom or some of the more ambitious country roads, the Cross Country never felt less than sure-footed. That's not to say it's a sports wagon, irregardless of what Volvo's marketing might promise.
You're aware of the weight, even if there was never a moment when I doubted the V60 had the traction to carry it, while dropping a heavy right foot reveals a little more sluggishness to surge forward than you'd hope for from a car with sporting pretensions.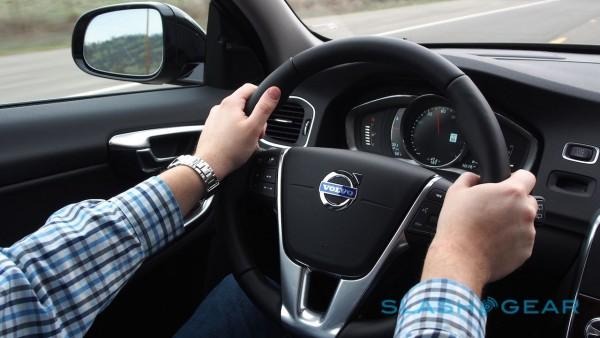 At low speeds, the quintet of cylinders chatters in a uniquely attention-grabbing way, but that progresses into a more toneless howl when the gearbox is provoked into kicking down a cog or two. Certainly you can build up a head of steam, but the Cross Country is happier with sweeping curves than cutting and dicing through mountain switchbacks. There, the extra clearance is surprisingly well hidden: there's no body roll or sway.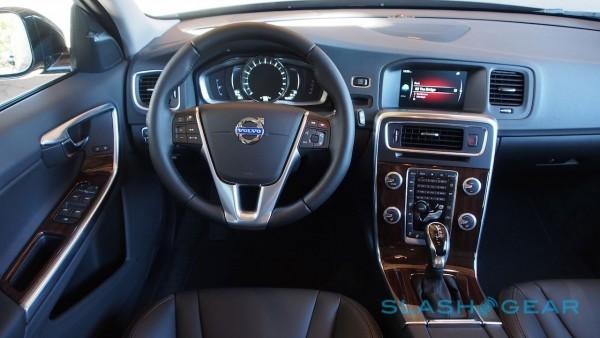 Inside, there's a new two-tone interior, but the design is otherwise the same. Volvo fits its excellent leather contour seats as standard, and they're both comfortable and supportive, while the fit and finish of the dashboard are admirable. So, too, is Volvo's standard-fit tech, like a 160W CD/HD radio system with Bluetooth and Sirius satellite radio, satellite navigation (with six monthly auto-updated mapping), and an AT&T 3G modem with WiFi hotspot for up to eight devices, and a bundle of apps like Glympse, Pandora, and Yelp.
Options include an excellent Harman Kardon sound system with five 130W channels, adaptive cruise control (which was noticeably smoother when auto-braking than other systems I've tried), blind-spot warnings and cross-traffic alerts, keyless entry, a heated windshield, and heated front and rear seats.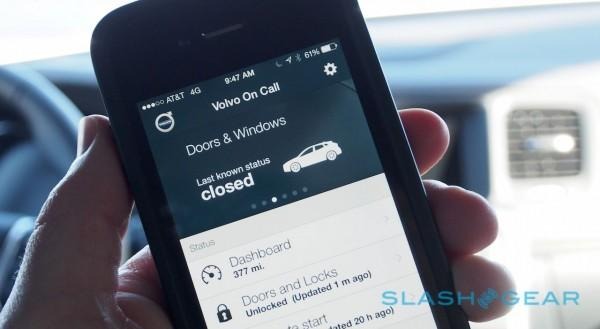 Volvo's omission of LTE rankles, but otherwise the V60 Cross Country's connectivity is impressive. There's six months of unlimited data included as standard, after which you can either sign up to a data plan or tether to your phone via Bluetooth or WiFi. The Volvo On Call app (for iOS and Android) does everything from remote lock/unlock; remote start; and status checks on windows, fuel and economy figures, car location, and odometer reading.
You can also search for and send a destination directly from your phone to the car's navigation system, so that it's ready and waiting for you when you next get behind the wheel. Volvo uses Nokia's HERE connected car technology for that, and you can also remotely program it via a browser-based interface on the desktop.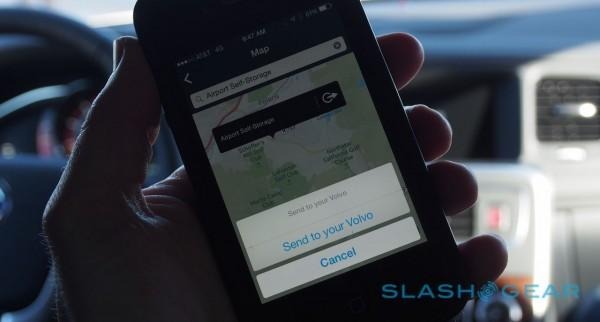 Volvo's app suite covers the essentials, like finding nearby gas stations, sharing your current location with contacts, streaming radio, live weather reports, and cashless parking. Since they'e baked into the dashboard, you can access them without having a smartphone on you.
Even if you've remembered your phone, what you don't get is either Apple's CarPlay or Google's Android Auto. Volvo may have been quick to jump onboard the iPhone-based system, and even responsible for what's probably the best example of CarPlay co-existing with native infotainment to-date, but that'll have to wait for the XC90. The Cross Country lacks either platform, and though Volvo tells me there's plenty of interest internally to adopt both, there's no sign of any sort of commitment to retroactively add them to this particular car.
Strange, then, to find a full web browser included, though it's only operational when the car is in park. It's not going to replace your phone or tablet – I checked out SlashGear, for instance, and there were some obvious layout issues – but it's certainly more than sufficient to look up a forgotten detail or distract yourself while you're waiting in the parking lot.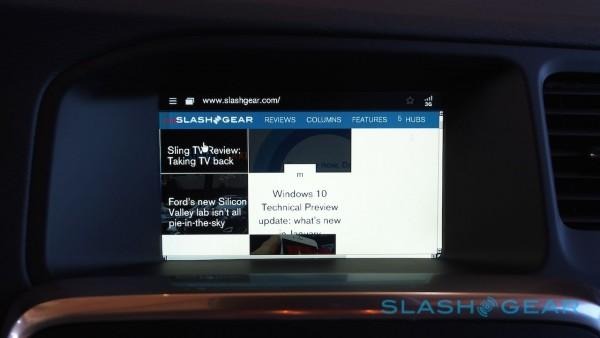 Some of my lingering frustrations from the V60 remain. The 7-inch display topping the center stack looks small compared to what rival cars are fitting (and, indeed, the tablet-style infotainment system in the XC90) though Volvo does at least make good use of what real-estate it has, squeezing navigation, multimedia, and car status information all onto the screen at once, and without it looking cluttered.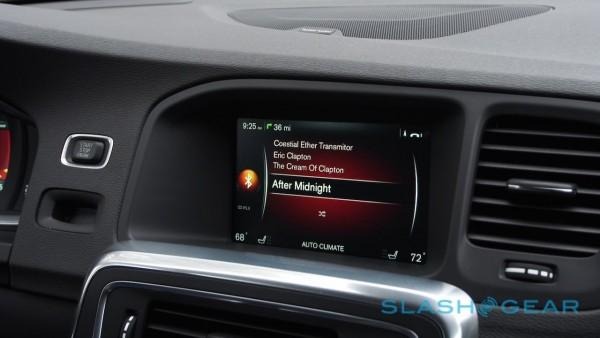 Volvo hasn't done away with physical buttons, to the delight of many, but the layout is confusing. Infotainment mode shortcuts run along the top edge, drooping like a handlebar mustache to meet the climate and finally the safety feature buttons. Altogether they encircle a dedicated numeric keypad – it was easier to sync my phone via Bluetooth and then use voice recognition to dial from the contacts – and more HVAC controls.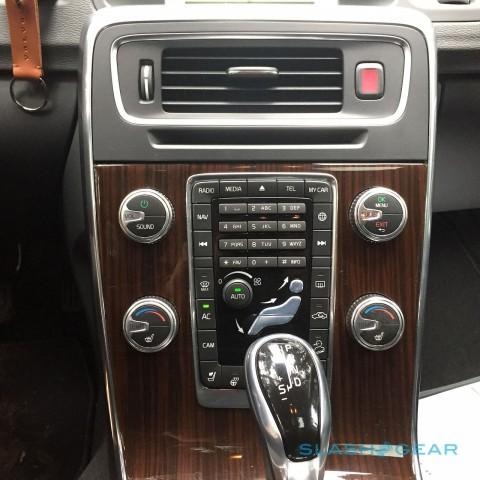 Flanking that complicated cluster are four dials, two for the dual-zone climate control, and then two for navigating the non-touchscreen infotainment. It's not a bad system by any stretch, but it could do with going on a button diet.
For me – and for Volvo's "pick up your friends and go do some extreme sports" marketing – it's the rear legroom that presents the biggest problem, though. Space there, especially if you're sitting behind someone six foot or taller, is noticeably tight.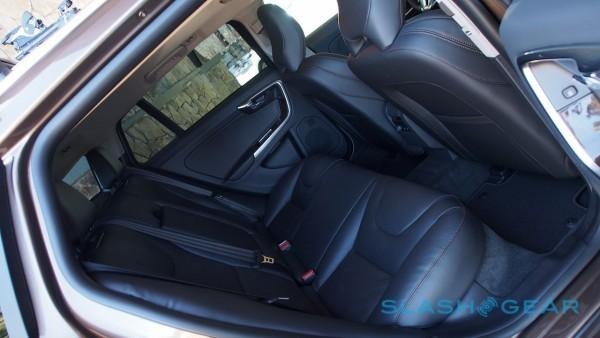 It's disappointing, because otherwise the V60 Cross Country so impressively ticks the most important of Volvo's boxes. Handsome, sure-footed, comfortable, and – at $41,000 for the well-equipped base model, or $44,650 for the Platinum, with niceties like the Harman Kardon stereo, adaptive cruise control, lane-departure warning (though not, it's worth noting, any sort of active help to bring you back in-line), keyless entry, and more – competitively priced, it's a compelling wagon.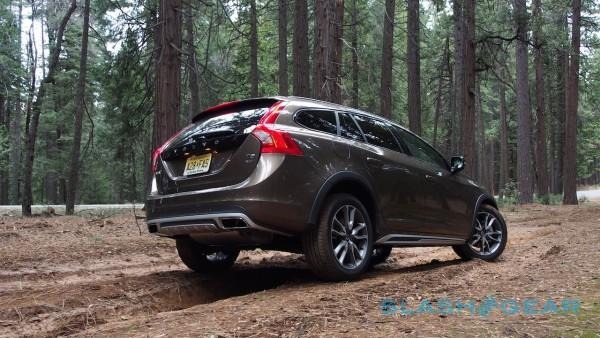 The rear space was never going to be addressed with this car, though: that's a platform issue, and thus something Volvo will have to wait a little longer to fix. It'll put a crimp in your style if you regularly carry four adults and their accompanying extreme sports gear, but then again an SUV is probably better suited to that anyway.
Instead, the V60 Cross Country is a palatable shot of safe excitement into a family wagon, with a confidence-boosting driving position that doesn't undermine an on-road manner that – if you're coming from a crossover – will impress with its eagerness.
It's also a sexy wagon, and I think we need more of those.