Vodafone UK getting Sony Ericsson XPERIA X10 in April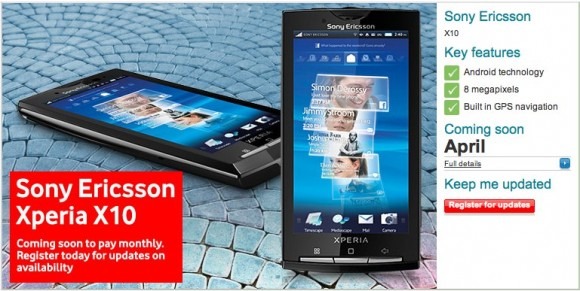 Vodafone UK have announced that they will be offering Sony Ericsson's first Android smartphone, the XPERIA X10, come April 2010.  The handset – which made its official debut back in November 2009 – has seen various suggested release dates, including one quickly-removed date on Sony Ericsson's own site, but until now nothing official.
There's plenty about the X10 to make it worth waiting for, though.  The Android handset has a 4-inch WVGA capacitive touchscreen together with UMTS/HSPA, WiFi, Bluetooth and GPS, along with an 8.1-megapixel camera.  Sony Ericsson have also loaded up their own UI and two new apps, Mediascape and Timescape, which aim to pull together local and online multimedia and social networking content.
No word on pricing or specific dates in April from Vodafone, but we're expecting the XPERIA X10 to be a premium device.  Sony Ericsson are likely to bring the latest version of the smartphone to Mobile World Congress 2010, so we'll hopefully have more news after that.
[vms 85b952b62c14a3a175a6]
[via Android Community]