Sony Ericsson XPERIA X10 coming Feb 2010 says official store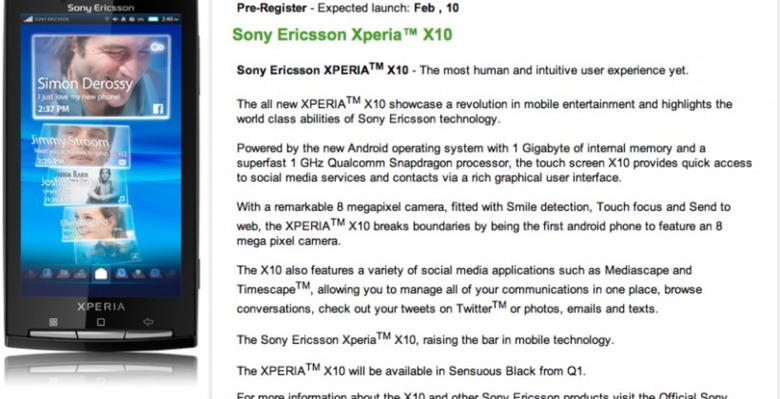 Sony Ericsson weren't, to be fair, being all that coy about their launch plans for the XPERIA X10 Android smartphone back at its launch a few weeks ago: asked when it was likely the touchscreen Snapdragon handset would arrive within its "Q1 2010" window, the SE exec told us "it's not going to be the beginning or the end of the quarter".  We presumed a February release, then, likely around or about Mobile World Congress, and sure enough Sony Ericsson's own online store are suggesting a February arrival for the X10.
It's possible to pre-register interest, though not preorder at this stage, which means we're still not entirely clear on how much the XPERIA X10 will cost.  Still, this is a premium handset and, as part of Sony Ericsson's XPERIA range, will be priced accordingly; online retailer Clove are saying £400 ($668) pre-tax, though we're guessing that's speculative rather than based on any solid figures.
More interesting than the general release is when the XPERIA X10 might make it to North American shores.  Sony Ericsson did express their intention to launch the smartphone there – complete with its nifty Timescape and Mediascape apps – but blamed carrier issues for what will likely be a release later in 2010.
[vms 85b952b62c14a3a175a6]
[via GSM Helpdesk]