Vodafone Mobile WiFi R201 Review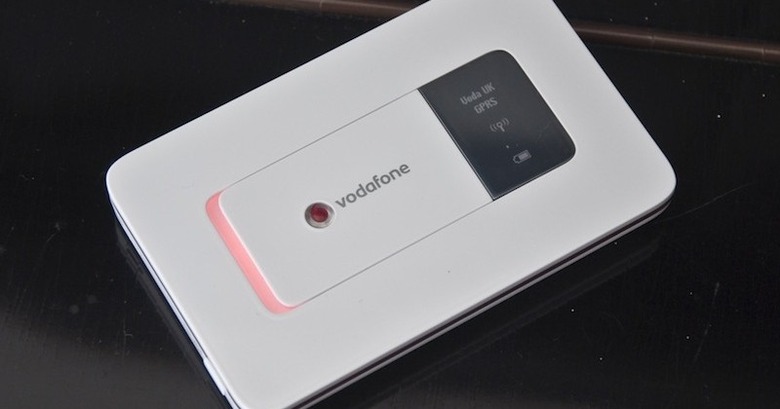 As more and more devices clamour for a network connection, mobile hotspots are increasingly shifting out of the briefcase and into the consumer mainstream.  Fresh to the market is the Vodafone Mobile WiFi R201, an OLED-toting way of sharing an HSPA connection with some DLNA goodness in the pipeline.  We've had the Vodafone R201 in our bag for a while now; check out the full SlashGear review after the cut.
If you've not come across the mobile hotspot concept, it's pretty straightforward.  Basically, rather than a one-modem-per-device strategy, a mobile hotspot allows you to take a single 3G (or 4G) connection and share it out via WiFi with a number of devices, generally five.  Common clients include Apple's iPad, portable games handhelds like the PSP and DSi, notebooks and netbooks, and even other smartphones.  Popularized by the Novatel Wireless MiFi, the market soon grew as other manufacturers – particularly Huawei – stepped in to grab a slice of the pie.
Vodafone Mobile WiFi R201 unboxing:
[vms 5a96a7da4d1105d584dd]
It's Huawei who are responsible for Vodafone's hardware, and the Mobile WiFi R201 ticks most of the boxes we've come to expect.  A palm-sized white plastic box with translucent red detailing, it's not exactly the most aesthetically inspiring of devices but neither will you worry much about dropping it into your bag.  On the top is a monochrome OLED display which shows status information – more on that later – together with a large power switch; on the side is a microUSB port for recharging the R201 or using it as a tethered modem, next to a button for WPS and turning on the display should it power down in the name of frugality.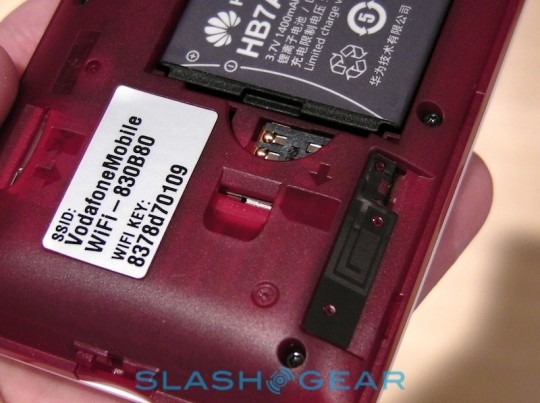 Underneath the back cover is the removable Li-Ion battery, a SIM card slot and a microSD card slot.  Compatible with up to 32GB cards, any of the wirelessly-connected clients can access the contents of the microSD via the web interface.  A promised firmware update will enable DLNA media streaming, turning the R201 into a portable jukebox of sorts.  In the box, Vodafone include a USB to microUSB cable and a USB power adapter, together with a brief user guide.
The instructions can afford to be brief, since using the Vodafone R201 is reasonably simple.  Under the back cover is a label with the default SSID and WPA2 PIN code; when you slide the power switch, the Mobile WiFi automatically logs onto the Vodafone network and starts accepting wireless clients.  The display shows network name, the type of connection you have – GPRS, EDGE, 3G or faster – battery and signal status, and WiFi status with a small number indicating how many clients are currently connected.  From that point on you can pretty much ignore the R201 until the battery goes flat.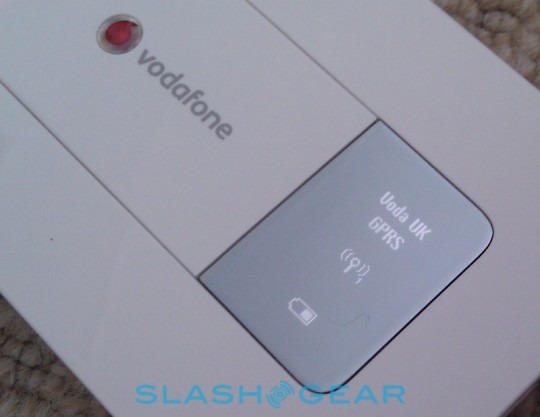 However, if you want to use some of the more complex functionality, that's accessed via the browser-based control panel.  Heading to 192.168.0.1 while connected to the R201 shows a status page, complete with network information, battery and signal condition and access to the microSD storage.  The latter uses simple folder navigation, and would be handy for sharing commonly-used documents among colleagues.  Logging into the admin section of the control panel allows you to change the defaults: you can choose your own SSID and WPA2 PIN; switch to WPA, WEP or no encryption at all; enable VPN pass-through and generally treat the R201 as the mini-router it is.  There's also SMS support, together with various counters for keeping track of data use.
Vodafone claim up to four hours active use from a full charge of the R201's battery, and in actual fact we found it managed more.  During one particularly tricky train journey – which kept the Mobile WiFi working hard as it flipped between 2.5G and 3G networks, plus reconnecting after tunnels – we saw almost 4.25hrs before the R201 expired.  Even after that, we could plug in the USB cord and use it as a tethered modem, though we needed to download the appropriate software from Vodafone's site first.  Speed, obviously, is entirely dependent on the quality of the network connection you have access to, and of course not every area will get Vodafone's fastest HSDPA/HSUPA service.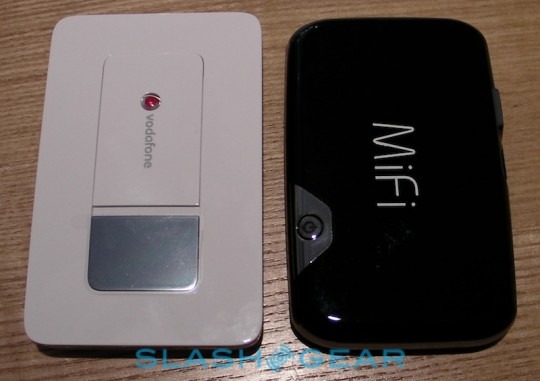 As it stands, then, the Vodafone Mobile WiFi R201 is much like any other MiFi-style device on the market: a handy way to get multiple devices online.  What may tip its hand is the upcoming DLNA functionality, something we're yet to see in a mobile hotspot.  With the right client software, you could forget about synchronizing every device to your latest media library, and instead just stream it from the R201.  While DLNA is well known for its media abilities, it's also handy for sharing documents in a minimal-config way, which could prove appealing to potential business users too.
The bottom line is pricing, and Vodafone has told us that they don't intend to compete with bargain-basement tariffs but instead let a combination of network coverage and sensible plans speak for themselves.  As said, whether that coverage is in the right place depends on where you live; price-wise, Vodafone will be offering the R201 free on a new, 18-month contract at £25 per month (for 5GB of data).  In contrast, rival network Three offer a different Huawei hotspot with 5GB of data for £17 or 15GB for £22.  We'd recommend checking Vodafone's coverage map, though that doesn't differentiate the faster speeds of 3G service.
We can't fault the Vodafone Mobile WiFi R201's performance – it does just what it promises to and, in the case of battery life, exceeds the claims – and the DLNA update should help it distinguish itself among an increasingly crowded market.  If Vodafone has the right coverage for you, then it's a reasonably affordable way to enjoy high speed data services on the move.