Vodafone HTC Tattoo dropping October 8th in UK from free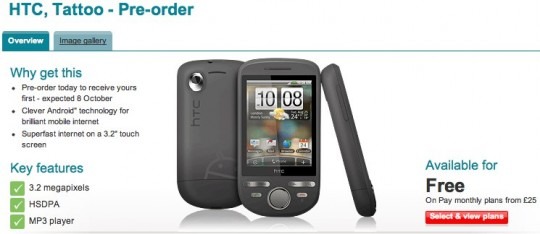 Having confirmed last month that it would be the first UK carrier to offer the entry-level HTC Tattoo, Vodafone UK have announced pricing and specific availability for the Android smartphone.  Available for preorder now, the Vodafone Tattoo is free on certain monthly contracts and will begin shipping for October 8th.
In fact, if you pre-order the Tattoo today, Vodafone will do their utmost to ensure their delivery gibbons have it poking through your letter box on the morning of the 8th.  Then you'll be free to enjoy the 3.2-inch resistive touchscreen, 3.2-megapixel fixed-focus camera, HSDPA connectivity and WiFi.
Vodafone are offering the HTC Tattoo free on 24-month contracts of £25 ($40) per month or above, including unlimited internet access.  Alternatively you can plump for an 18-month contract, but you'll need to pay £35 ($56) per month to get the Tattoo free.  More on the HTC Tattoo here.