Vodafone Germany release BlackBerry Storm 9500 OS update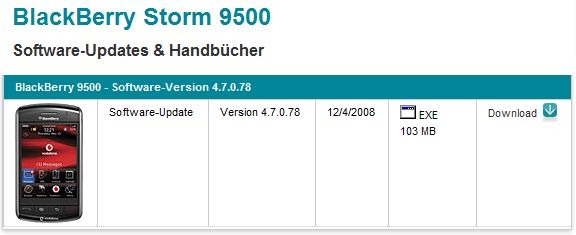 Vodafone Germany have released an update for European users of the BlackBerry Storm 9500, four days after Verizon Wireless pushed out a similar update for the 9530 in the US.  Taking the GSM version of the Storm to firmware v4.7.0.78, it apparently addresses accelerometer lag and touchscreen accuracy.
It's unclear whether the update will work on Storm 9500 models sourced from other European countries.  There's no suggestion of language support (in a worst-case scenario your English/Italian/French/etc. Storm could all of a sudden refuse to speak anything but German) and the download page itself says the firmware is solely for the use of Vodafone Germany customers.
Many BlackBerry Storm owners have found their devices to be buggy or glitchy, including keyboard problems, screen rotation issues and general instability.  According to previous leaks, Verizon Wireless has a second update in the works for the 9530 CDMA/GSM version of the RIM touchscreen smartphone.
[via BGR]