Vizio R-Series 3D Google TV HDTVs revealed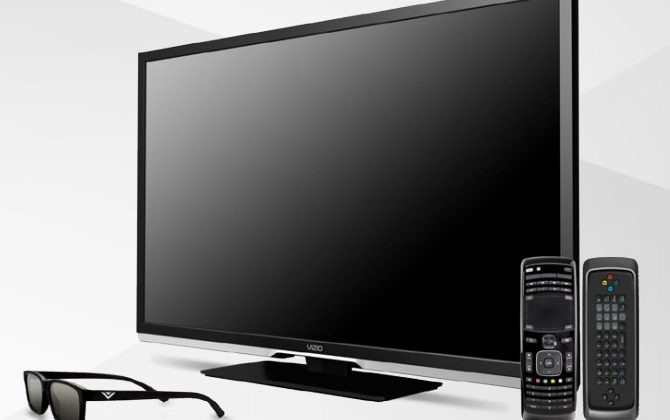 Vizio has revealed its new Google TV range of HDTVs for 2012, the R-Series, with the company's Vizio Internet Apps Plus reskin of the Google platform delivering apps, search and streaming media in your living room. Consisting of the 42-inch R3D420VS, 47-inch R3D470VS, 55-inch R3D550VS and 65-inch R3D650VS, the R-Series line-up includes a dual-sided Bluetooth remote with a QWERTY keyboard on one side and a touchpad on the other, for easier navigation.
All four sets run at 1920 x 1080 Full HD resolution, with 5.5ms response times. The 42-, 47- and 55-inch models have 240Hz refresh rates, while the 65-incher scales that back to 120Hz; each gets edge-lit LED backlighting and Smart Dimming. Ports across the line-up include four HDMI 1.4 inputs, one component/composite, one RF antenna, two USB and a PC input, along with optical and stereo audio outputs. WiFi b/g/n is built in, along with Bluetooth.
The 42- and 47-inch models have twin 10W stereo, while the two larger sets step up to 15W. There's SRS StudioSound HD support across the range, though you'll obviously get better results if you hook up a home theater surround sound system.
Vizio's Theater 3D system uses passive, battery-free glasses, which the company reckons result in a picture up to twice as bright as active-shutter systems. Up to four pairs are included in the box, and further sets are promised to be inexpensive.
Google TV is also found on Vizio's new 65-inch M3D650SV. No word on pricing for any of the new models at this stage.