Vizio Notebook and Thin + Light computers launch with class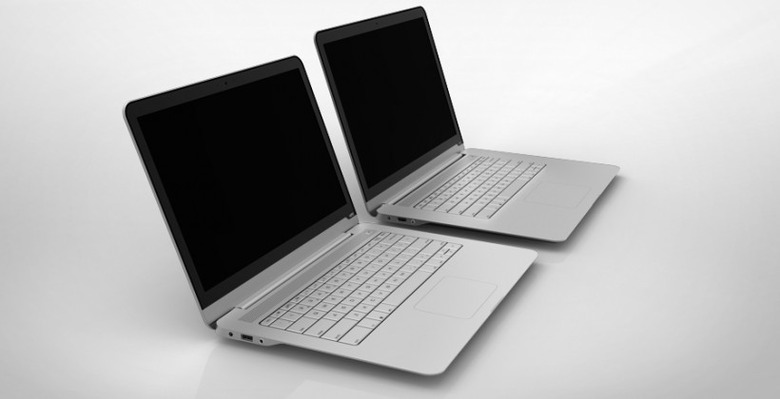 This week Vizio has come out swinging with several new models for their soon to be rather popular computing lineup with a couple of all-in-one models and no less than three notebooks. What you'll see here are the 15-inch Notebook, the 14-inch Thin + Light, and the 15-inch Thin + Light – each of these starting at a rather agreeable $898 USD. These notebooks come with Ivy Bridge and even though they could technically be classified as ultrabooks, Vizio is opting for their own "Thin-and-Light" nomenclature.
The Thin + Light models come with either a 14-inch panel with 1600 x 900 pixel resolution or a 15-inch panel with 1080p resolution. These models are created with a unibody construction, works with high-powered SRS Premium Sound HD for audio, and has a full-sized HDMI output for 1080p video on a larger screen. Both models also have Ivy Bridge processors as well as Intel HD 4000 graphics and battery life that Vizio says will bring you 7 hours of work time. USB 3.0 ports on both sides are included as well.
The "Notebook" computer is just a bit thicker than the "Thin" units and has a 15.6-inch panel at 1080p resolution and also has a lovely exterior with "beveled edges and a slip-free, soft-touch underside." This unit also has Ivy Bridge, SRS Premium Sound HD, and will bring many of the same features that the Thin + Light line has with a bit more of a "mainstream" feel.
The Notebook as well as the Thin + Light models have a "V Key" which connects to a set of pre-installed applications such as Hulu Plus, Vudu, and Netflix. These units will be available for purchase immediately if not soon – stick around for more details and the flow in!