VIZIO M-Series Razor LED Smart TVs line up to cover bulk of 2013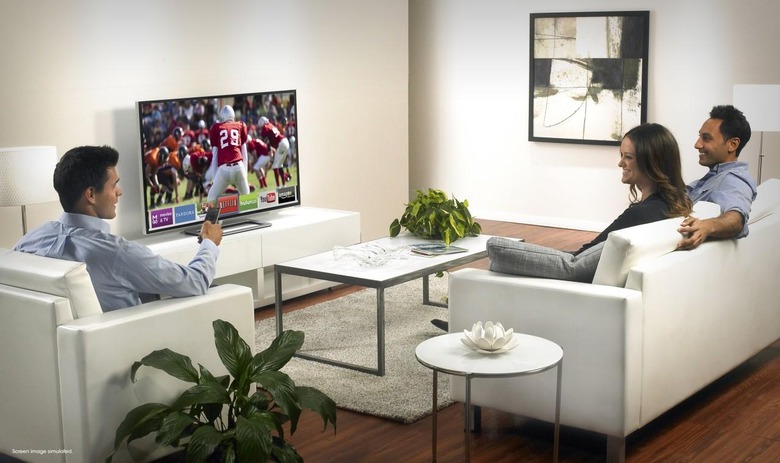 This week VIZIO has shown that they're still very much in the business of making televisions with their M-Series Razor LED Smart TV line for 2013. These televisions come in sizes from 30 all the way up to 80 inches and feature technologies like Smart Dimming and VIZIO Internet Apps Plus for high quality picture both locally and via the web. These machines come with what VIZIO notes is an "ultra-thin bezel" for a "near-borderless" TV experience.
While VIZIO has over the past year shown its ability to spread into the world of personal computing and mobile devices, the M-Series here shows their original home to still be a welcome one. Each television in this series works with full HD 1080p picture with up to 240Hz effective refresh rate.
Each of these televisions work with Smooth Motion technology enhanced with backlight scanning, while models 50-inches or larger gain added abilities. Every model at 50-inches or larger works with a "flicker-free" 3D picture viewable with VIZIO's implementation of Theater 3D technology.
The whole range works with VIZIO's newest Internet Apps Plus Smart TV platform, this allowing the user access to apps like Facebook, Pandora, VUDU, YouTube, M-GO, Amazon Instant Video, Hulu Plus, and Netflix. All of this will be accessible with each television's built-in Wifi connectivity or ethernet to keep you up on the internet.
Each M-Series television works with a new backlit Smart remote made specifically for ease in nighttime viewing. These remotes will have Wifi connectivity and new Universal remote features later this summer (2013), allowing the user to control all home entertainment devices. Each of the following: 32, 40, and 47-inch models will be costing between $399.99 and $729.99 MSRP, while models at or above 50-inches will begin at $799.99 ranging up to $3,999.99 USD for 80-inches of Razor LED Smart TV with Theater 3D abilities.
And for those users who want a bit more punch for sound, VIZIO has also introduced the VIZIO S4251w 5.1 Sound Bar which we've also reviewed in full earlier this month. Stay tuned as VIZIO continues to keep it sharp.