VIZIO Crave 360, Crave Pro speakers get some Spotify love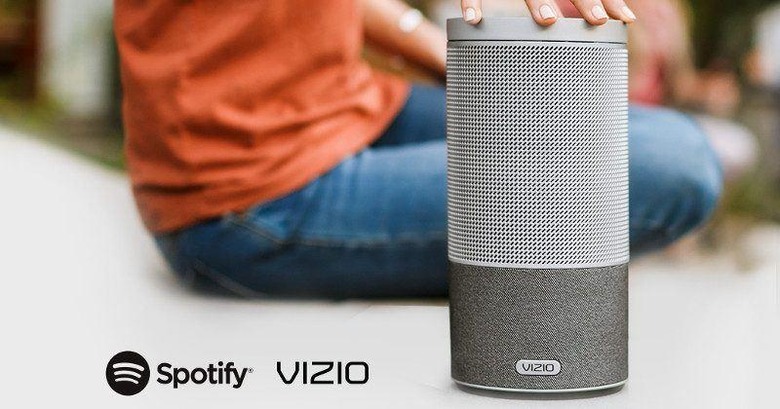 VIZIO is a brand better known for its TVs, both traditional and smart, but of late it has been making huge strides to leave a mark in the connect speaker market segment. Last September, it unveiled its Crave 360 and Crave Pro Cast-enabled multi-room speakers, encroaching on Sonos' territory. Now VIZIO, which is being acquired by Chinese tech giant LeEco, is stepping up its challenge by striking a partnership with Spotify. Starting today, actually starting last Christmas, owners of Crave 360 and Crave Pro speakers will be able to cast their Spotify tunes to the speakers just as easily as any Chromecast-enabled device.
The VIZIO Crave 360 and Crave Pro are more than just the company's stylish looking speakers. They have two abilities in particular that set them apart from VIZIO's other products. One is that they are part of VIZIO's SmartCast family, which means they have Chromecast functionality built-in. The other is that they are multi-room speakers, which means you can hook them up with other VIZIO Crave speakers to create an orchestra.
The Chromecast functionality is partly to thank for this new feature, though, of course, it wouldn't have been possible without Spotify's blessing. Now you'll be able to transfer playback of your Spotify music from your phone to your speakers, or to all your speakers in a multi-room scenario, with ease. The catch? You need a Spotify Premium account to do that, which is $9.99 a month after the 30-day free trial.
The firmware update that brings Spotify integration to the speakers already arrived after 25th December and VIZIO only flipped the switch. Those who already updated their speakers since then don't have to do anything else. The rest will have to update theirs via Wi-Fi or using a USB thumb drive.
SOURCE: VIZIO