VIZIO SmartCast Crave speakers venture into Sonos territory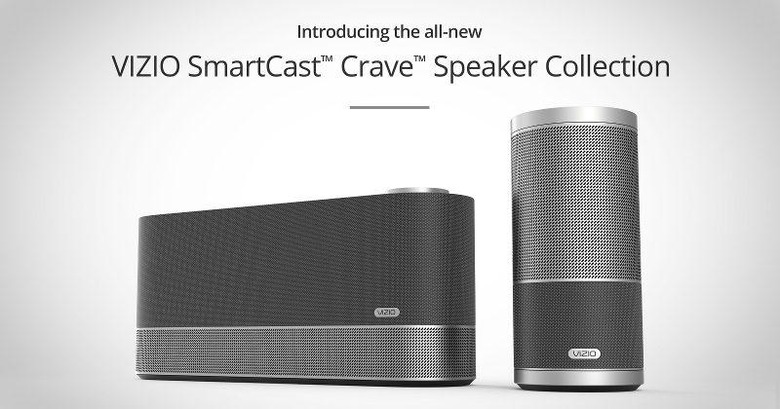 When talking with tech-savvy people about multi-room speakers, the brand that will probably pop up the most will be Sonos. Players in that market are still few, but the numbers are rising with the prevalence of IoT devices and platforms. Aiming to establish itself as early as now, VIZIO is announcing two new audio members of its SmartCast family, the Crave Pro and the Crave 360, both offering not just wireless audio streaming but also the ability to play the music all throughout the house. On other VIZIO Crave speakers, of course.
The VIZIO SmartCast Crave Pro is more your traditional idea of a wireless speaker, rectangular and unmoving. The larger build allows it to house drivers that deliver up to 102 decibels of sound and dual subwoofers with bass going as low as 40 Hz. It also means these speakers stay put in one place, though you can have as many of them around the house as you please or can afford.
Those who value a bit of mobility might prefer the VIZIO SmartCast Crave 360 instead. As the name sort of implies, this speaker takes on a more canister-like form, similar to the Amazon Echo or Google OnHub though larger, to make sure that every nook and cranny is reached by sound waves. More portable than the Pro version, the 360 speaker has a slightly lower output of 95 decibels and a higher bass of 50 Hz. A wireless charging base can juice the speaker up to 8 hours of use on a full charge. It also comes with a carrying strap, just to make it clear that you can carry the large speaker around if you like.
Both feature wireless connectivity naturally and you can stream your music from your smartphone to any or all speakers in the house, either via Bluetooth or Wi-Fi. Like any multi-room speaker, you can set it to either play the same song all over or set a different tune per speaker. Both are Google Cast enabled, so they are immediately compatible with any mobile app that supports it. And while you can control the speakers via VIZIO's SmartCast mobile app, you can still do so manually using fancy glass touch dials.
The VIZIO SmartCast Crave 360 is now available for purchase, from VIZIO's website as well as SamsClub, for $249.99. The VIZIO SmartCast Crave Pro, on the other hand, will go for $299.99 when it arrives later on.