Vizio 2016 M-Series TVs bring Android Tablet Remote with SmartCast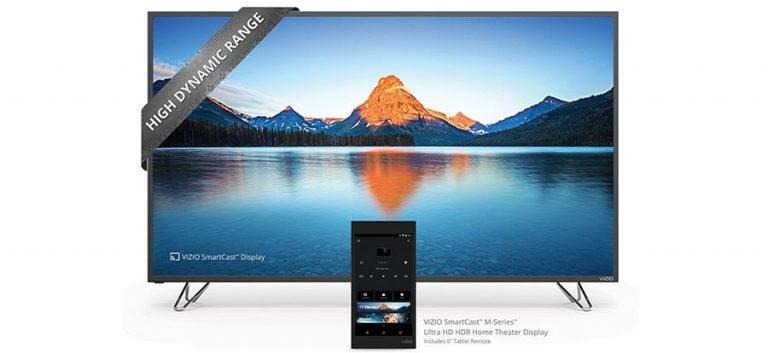 Vizio has taken the wraps off its new VIZIO SmartCast M-Series Ultra HD HDR Home Theater Display collection. In it, the maker offers TVs ranging from 50 to 80-inches in size, and they work with the Vizio Tablet Remote, a 6-inch Android tablet that runs the SmartCast app and works to control the television set. The new M-series of televisions, meanwhile, support both High Dynamic Range (HDR) video and Dolby Vision, making them compatible with the new content Netflix is rolling out.
This marks the latest expansion of Vizio's SmartCast — late last month, the company announced that it had partnered with Google to add Google Cast features to its newest TV sets...in that case, the P-Series. Those TVs likewise come with a tablet-remote running Android, and allow users to control their TV using the Vizio SmartCast app. That line included four models that were fairly substantial in price, starting at $999.99 and ranging up to $3,799.99 USD.
That put them out of the range of many consumers, and so it isn't surprising that Vizio's circled back around with a similarly-featured by less expensive line of SmartCast TVs. This time around, there are six television in the lineup, and they're a touch cheaper than the P-Series. The 50-inch model starts at $849.99 USD, with the 55-inch coming in at $999.99, the 60-inch at $1,249.99, the 65-inch at $1,499.99, the 70-inch at $1,999.99, and the 80-inch at $3,999.99.
Among the TVs' features is up to 64 Active LED Zones for high-quality images. With the SmartCast app, users can search for content on the Tablet Remote, the idea being that a tablet in your hand is easier to see than the TV across the room. Other features include dynamic adjustments for better black levels on the display, Clear Action 720 technology and 240Hz Effective Refresh Rate for smooth fast-moving scenes, and, in this case, a separate TV tuner for watching channels using an external antenna.