Visa Announces Mobile Payments Plan, Most Comprehensive Say Analysts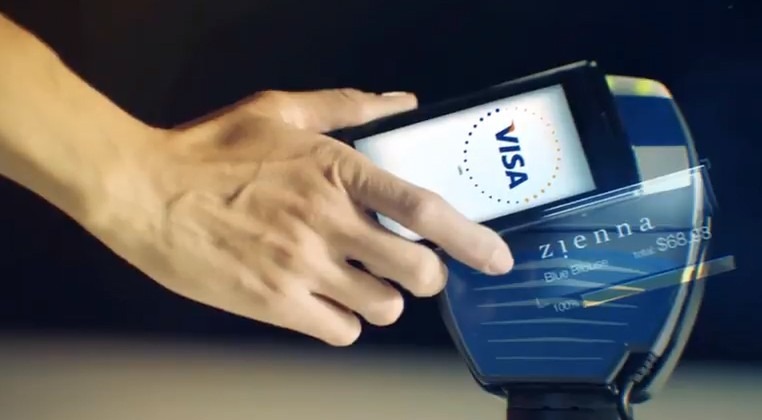 Last week, Visa revealed that they were set to make a big announcement soon regarding their mobile payments strategy, and indeed they have today. They intend to launch their cross-channel digital wallet system in the U.S. and Canada by this fall. Their strategy is ambitious, but also deemed most comprehensive of all the mobile payments contenders, including Google, ISIS, and Sprint.
Thanks to NFC (Near Field Communications) technology, which is seeing imminent deployment in new mobile devices, very soon you will be able to leave your credit cards at home and pay for store purchases with just the swipe of your smartphone or tablet. This type of transaction system is already widely used in Asia and abroad, but has been slow to pick up here in the U.S.
Several big companies are vying to be the first to launch a successful mobile payment network, but Visa certainly has the best advantage. They are already ranked number one as the most widely used credit card network with 1.8 billion card users, 16,000 banks, and is accepted by over 30 million stores and other merchants. Following Visa, in order of ranking, is MasterCard, American Express, and Discover.
However, being the biggest isn't their only advantage. They've also already been deploying NFC in the form of digital smartcards with its PayWave program. Their PayWave technology allows users to insert a microSD card into their smartphones to get the same NFC capabilities. The PayWave program already has 150,000 terminals deployed, including at McDonalds restaurants and in New York taxis.
Visa's announcement is "obviously the most comprehensive solution that's been announced to date," said Gartner analyst Mark Hung. "If anybody can make it happen, it would be Visa and [secondly] MasterCard. The fall 2011 availability date in North America is impressive. This is a significant step forward for the mobile wallet application."
But it's not all smooth sailing for Visa. Even though all new smartphones will be NFC-enabled, Visa still has to get phone makers to license and integrate their PayWave technology for their system to work. On top of this, if Visa charges merchants additional fees or requires the purchasing of additional equipment or software, adoption of their system could also be hindered.
Nonetheless, Visa may still be well ahead of the competition. Google has been pushing for NFC, with NFC chips to come in all future Android devices. They've been modest in their approach, using NFC first for their Places and coupons programs, although recent reports indicate they are actively recruiting to further expand into mobile payments.
The ISIS initiative, a venture formed by AT&T, T-Mobile, and Verizon have recently scaled back their NFC plans. Originally touting to completely replace traditional payment networks such as Visa, ISIS now will work more like a digital copy of your existing Visa credit card.
Sprint, on the other hand, has made an ambitious announcement to be the first to launch a mobile system later this year, that will make revenue from advertising partnerships rather than merchant transaction fees.
The full details of their new system should be revealed in a webcast scheduled for later today. We'll keep you updated.
[via ComputerWorld]