Virtual Reality Done Wrong: Making it Look Terrible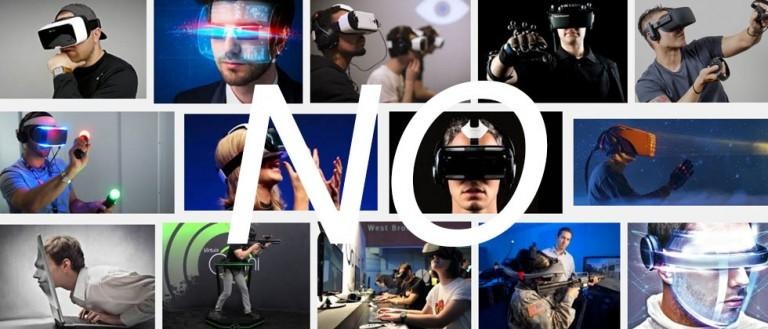 Today we're going to discuss how not to present virtual reality to the public. The images you see at the top of this article are wrong. They're bad. Skeptics of this platform see these images and remain skeptical. People who love virtual reality look at these images and see how goofy they look when they have virtual reality headsets on. It may have worked in the 1980s when ads were extremely strange – but it's not going to work here in the present.
Manufacturers
Below you'll see a collection of photos of vintage computer advertisements. They're all aiming to sell readers a computer, a brand new innovation that'll revolutionize the way you look like a nerd! Look at how absurd they all look. Revel in how insane it would be to see an advertisement showing something similar today.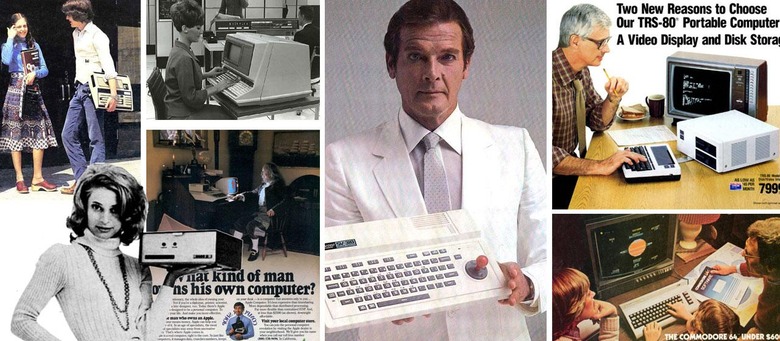 Compared to the sleek, simple images we see of PCs and desktops today, these look dated. They look dated because they were tried, and designers today know they wouldn't work save through parody.
Now consider how crazy it is that we're seeing images like these, today, delivered by Samsung and Oculus: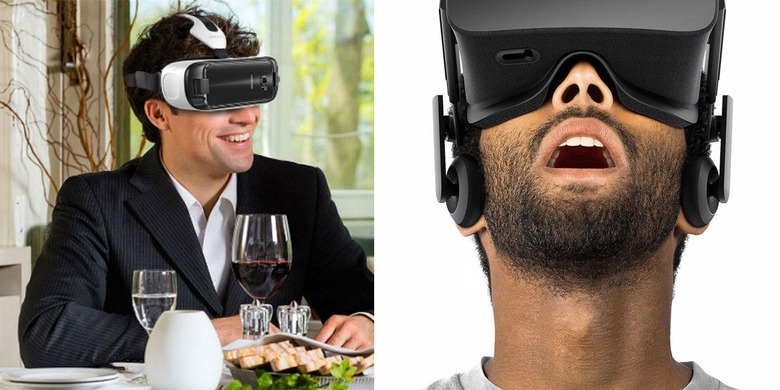 Oh my god why?
The image on the left comes from a press image sent out by Samsung for a Gear VR dining experience. The image on the right is the first thing you see when you head to Oculus' Rift homepage at the time this article is being posted.
Below you'll see the only images of these devices that Samsung and Oculus should ever be sharing. Ever.

The only presentation of the hardware here that any manufacturer should be making is of the quality of the hardware itself, not of a person looking like a goofball wearing one on their face. Make sure people understand that your VR headset is the best because it's comfortable to wear, it has the best display inside, it's the most versatile.
It is not the job of the VR headset manufacturer to teach the public what virtual reality is. That's what the instructions manual is for. It is the job of the manufacturer to make an awesome headset for this market, and sell it as the best headset for the job.
Maybe that sort of method will have to wait for the second wave, once it's become clear that virtual reality is better understood amongst the masses.
Developers
If you have a virtual reality game or app, if you are a developer, you need to find a way to show what you've made without relying on the VR headset itself. Have a peek at this presentation from Notch called "Unmandelboxing".
You can view this page in webVR if you wish, provided you have the right browser installed on your VR-friendly machine. You don't need a VR headset, however, to watch this video of the experience full-screen.
It's low-res, obviously, but it gets the point across. This is as simple as it gets in demonstrating what it's like to enter virtual reality.
It's not the same, obviously – you can't look up or down or left or right, but it begins to trick the mind in the same way a VR headset does.
The key in selling the world a virtual reality experience is trust. You need to trust that the people out there who'll be buying your game or VR app already know what virtual reality is like. Trust that they are that intelligent.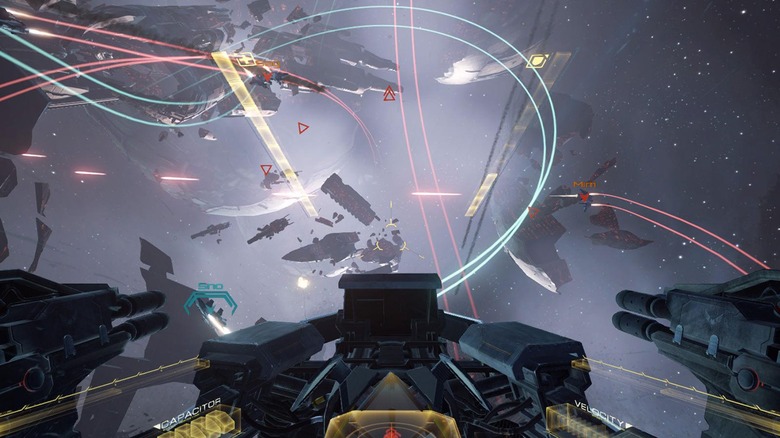 The image above comes from the VR game EVE: Valkyrie. You get the idea, right? No explanation needed.
If you treat users like they know what they're getting into, they'll figure it out. Whether they've spent hundreds of dollars on an Oculus Rift or they've gotten a Samsung GearVR to amp up their Galaxy smartphone experience – even if they're just using a free Google Cardboard headset – they already know what VR is all about.
We're already past the point of no return here with consumer-level VR. Now let's see some top-tier VR experiences with a bit of confidence in the end user!