Virgin Mobile Presents The LG Optimus Slider And HTC Wildfire

The folks at the Virgin Mobile offices in Canada must be having a big American party today because they've once again secured some fairly awesome Android phones to deal another wave of damage to the rest of the market share competition in the USA. That may be a bit of a stretch, but compared to past offerings, the LG Optimus Slider and the HTC Wildfire are certainly contenders for their ever-greatening Android team. The LG Optimus Slider is not the same as the LG Optimus Note we saw a few weeks ago, but it does have a full QWERTY keyboard sliding out from under it – the HTC Wildfire S, on the other hand is basically the same version we've seen in England and on T-Mobile.
You can head back to our reviews of the Wildfire S to see everything you need to know about this first HTC device to be released on Virgin Mobile – Chris Davies and Cory Gunther present, or you can just check out this rundown: color options include the white you see here in the USA already or the silver you saw abroad, the first now coming from RadioShack and the second from Best Buy. This device has a 3.2-inch HVGA touchscreen, 5 megapixel camera, 3G and Wi-fi, and Android 2.3 Gingerbread. It's also got a single-core 600MHz processor and HTC Sense (not the newest version, mind you, but certainly within reason for the price you'll pay.)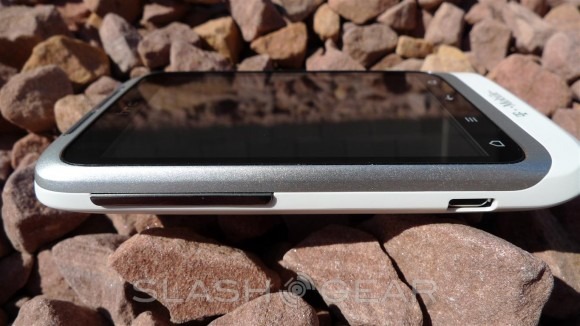 Then there's the LG Optimus Slider, a device which has a 3.2-inch touchscreen with a slide-out QWERTY keyboard and what they're saying is a "bright screen." That's a bit unsettling, but LG devices generally do come correct when it comes to displays, so we'll just have to see when we get the device in-hand. UPDATE: it's actually a HVGA Capacitive Touch Display, so that's fair. This device will come with Android 2.3, microSD slot for up to 32GB card, a tiny 3.2 megapixel camera on the back, and Bluetooth 3.0. Sound like a solid device to you?
Virgin Mobile's current talk and data plans are in flux – have a look at some details below, then head to our post from earlier today entitled Virgin Mobile postpones data throttling until 2012. Red and pink for the win!
Virgin Mobile USA Beyond Talk plans start at just $35 a month for 300 minutes of voice and include unlimited messaging and data. For those looking for a bit more talk time the $45 plan offers 1,200 minutes of voice, and the $55 plan offers unlimited voice minutes each month. All plans include unlimited messaging and data.