Virgin Mobile Helio Ocean 2 gets unboxed; coming Feb 12th?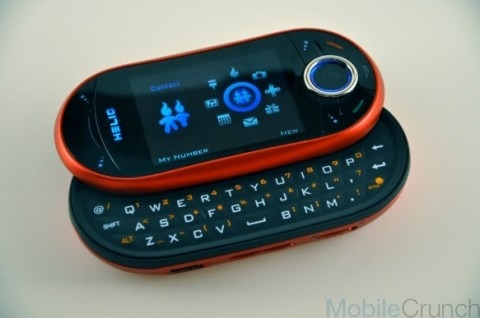 Late, and still luminous orange, the handset formerly known as the Helio Ocean 2 and now as the Virgin Mobile Helio Ocean 2 has showed up for a pre-release unboxing.  While a precise launch date for the dual-sliding smartphone is unclear, given the apparently production-ready state of the device and packaging pictured, plus Virgin Mobile's announcement that the phone will be going with Britney Spears on her Circus tour, it's expected by the time that kicks off in March at the latest.
Aside from launch dates, what do we know?  Well, the same dual-keyboard arrangement is here, with the Ocean 2 sliding vertically to reveal a numeric keypad and horizontally for a QWERTY version, together with a GUI that looks little changed from the early prototypes we've seen.  Accessories in the box look to amount to a charger, USB sync cable, wired headset and some form of Helio-branded keychain.
Actual pricing and service plans are unknown at this point, but a lot of speculation is suggesting a February 12th release date.  Whether that's soon enough for the chunky smartphone is uncertain; what looked great early last year might have lost some of its shine in the face of the Palm Pre, iPhone 3G and Sidekick LX 2009.
[via SlashPhone]