Sidekick LX 2009 details emerge?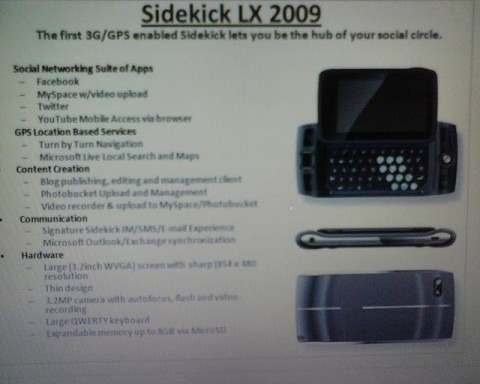 A leaked document purporting to detail the Sidekick LX 2009 has appeared in an online survey.  According to the image, the Sidekick LX 2009 will add 3G for high-speed internet access, a 3.2-megapixel camera with autofocus, flash and video recording, and YouTube mobile access via the handset's browser.  It will of course keep the traditional Sidekick full QWERTY keyboard, together with a slide-up 3.2-inch WVGA display running at 854 x 480 resolution.Full-sized image and some cleaned-up shots of the Sidekick LX 2009 itself after the cut
Other specs include a new social networking app suite, with Facebook, Twitter, MySpace (including video upload support) and the aforementioned YouTube Mobile access, in-built GPS with turn-by-turn navigation and Microsoft Live Local Search and Maps, and the "signature" Sidekick IM/SMS/email access.  There'll also be Microsoft Exchange and Outlook synchronization.
Recognizing that more people are wanting to access content-creation tools on the move, the Sidekick LX 2009 will also have a blog publishing, editing and management client, the ability to upload images to Photobucket, and to record and upload video to both MySpace and Photobucket.  Onboard storage can be expanded up to 8GB via microSD card.
Although there's no guaranteeing that this is the eventual device we'll see on shelves this year, the combination of Sidekick LX evolutionary features and greater focus on apps and services from Danger-owner Microsoft seem to suggest that it's an authentic leak.