Virgin Hyperloop One wants to replace cargo planes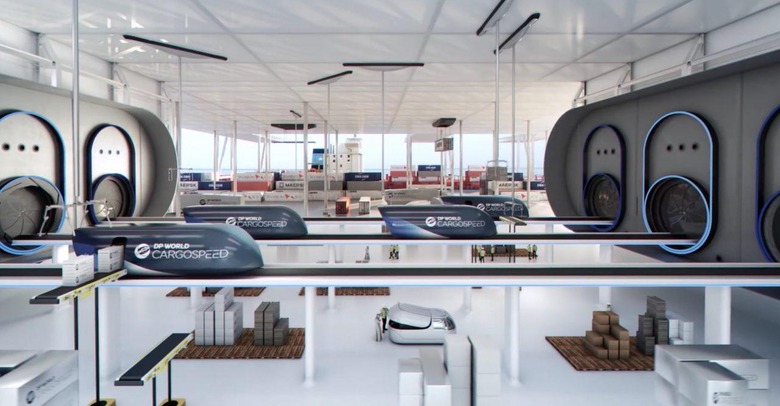 Hyperloop's transportation promises may have focused on bussing passengers until now, but two big players are expecting the high speed pod-in-a-pipe technology to have an even bigger impact on cargo transportation. Virgin Hyperloop One and logistics firm DP World have teamed up to create DP World Cargospeed, a new supply system for high-priority shipments.
That, they suggest, is set to grow to an industry worth more than $516bn by 2025, and air freight is unlikely to be able to keep up. DP World Cargospeed aims to replace planes with hyperloops instead. Pallets of cargo would be transported at speeds in excess of 600 mph, it's suggested.
Much like airports dealing with freight transportation today, the hyperloops the two companies have in mind would link hubs together. Indeed, the idea is that it would complement – rather than outright replace – existing air, rail, road, and sea transport. What would currently require a 23 hour flight, or a four day truck journey could be completed in 16 hours, it's suggested.
Target markets include fresh food, medical supplies, and electronics. However, the system wouldn't necessarily require its own, dedicated hyperloop network. DP World Cargospeed envisages a mixed-use approach, in which both passengers and cargo would share the infrastructure.
"Two elements control freight transport: cost and speed," Virgin Hyperloop One's Richard Branson says of the collaboration. "If you want something fast, be prepared to pay a high multiple. If you can wait several days, ship it via ground transportation, and it will be cheaper. We're looking to change that equation."
Branson took the helm at the firm back in December 2017, after Virgin Group invested in the company formerly known as Hyperloop One. That investment was followed by $50m in funding from DP World. The company revealed its first passenger pod design at CES 2018 in January, while testing at its full-scale site, DevLoop, continued ahead of any production rollout.
Of course, we're still some way from a commercially operated hyperloop network, whether from Virgin Hyperloop One or any of the other companies working on the technology. Exactly when this new cargo system could actually begin lifting some of the weight from more traditional logistics methods, therefore, is unclear.