Viliv X70 and S5 MID video comparison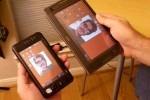 Attention for the MID platform seems to be increasing every day, and the poster-children of the new ultraportable revolution are Viliv's S5 and X70.  The 4.8-inch S5 paved the way, and now even hitherto-doubtful people seem to be paying attention to the 7-inch X70, not least because of its $599 starting price.  jkOnTheRun's James Kendrick is one of the few people with both Viliv models on hand, and he's been answering questions about the pair in a video which you can see after the cut.
Video comparison of S5 and X70 after the cut
Both displays run at 1024 x 600, and each machine is based on an Intel Atom processor – a choice of Z515 or Z520 in the X70, just the Z520 in the S5 – with 1GB of RAM.  As for storage, the X70 gets a choice of 16 or 32GB SSDs, while the S5 has a 60GB HDD; the X70 also squeezes in a webcam and will have a 3G option soon too.  Importers don't seem to be so quick to offer Viliv's S5 3G version.
James' overall opinion seems to be that if he's at home, he'll reach for the X70, whereas if he's out it's the S5 that's more likely to accompany him; still, if there's more serious work to do during that time, he'll wish he had the bigger Viliv.  More impressions of the X70 here.
[wpvideo BFO4sETH]