Viliv X70 7-inch UMPC gets video first-impressions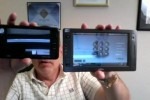 For the past few months, nobody even vaguely interested in MIDs could've escaped hearing about Viliv's S5.  Now, the company is obviously hoping to drum up the same enthusiasm about their X70, another Atom-based device but this time with a larger, 7-inch WSVGA touchscreen.  The first review device has landed over at jkOnTheRun, and that can only mean one thing: a first-impressions video.
Video after the cut
Specs of this review unit include a 1.33GHz Intel Atom CPU, paired with 1GB of RAM and a 32GB SSD.  It also has integrated 3G, a webcam and both USB ports and an SD card slot.  The GUI is the same as on the S5, with Viliv's own stacked-sphere launcher and on-screen keyboard.
It also comes with a clever flip-case, with a mount which allows the Viliv to rotate and use the case as a stand.  No word on pricing nor release date; this unit came direct from Viliv themselves; check out our hands-on photos of the X70 here.
[wpvideo sgGrFydA]