Viewsonic VOT 132 NVIDIA Ion nettop heads new product range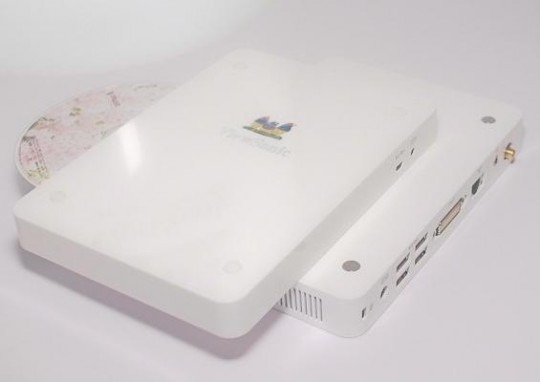 What the world needs now, sang Viewsonic, is Ion, sweet Ion, and so they gave us this.  The Viewsonic VOT 130/132 nettop may look like a pale VHS cassette but it's actually one of the items in the company's new product range, accompanied by two other compact desktops, two netbooks and a PMP.  Of the lot, though, it's the VOT 130/132 that's most interesting, having as it does optional NVIDIA Ion graphics.
Buyers will have a choice of the VOT 130, which has an Atom N270 processor paired with Intel GMA950 graphics, up to 2GB of RAM and a 160GB hard-drive, or the VOT 132, with a 1.6GHz dual-core Intel Atom 330 CPU, NVIDIA Ion GeForce 9400M graphics, up to 3GB of RAM and a 250GB hard-drive.  There's also WiFi b/g/n, Bluetooth 2.1 and a DVD burner.  Ports include six USB 2.0, a DVI and ethernet, together with HDMI on the VOT 132.  They'll apparently retail for the equivalent of $333 for the VOT 130 or $514 for the VOT 132.
As for the rest of the range, that includes the VOT 120 and VOT 121 nettops, with Atom N270 or 1.3GHz CULV SU2700 processors respectively, GS40 graphics, up to 2GB of RAM and 160GB HDD, and a design for hanging off the back of your flatscreen monitor.  The VOT 120 will have an eSATA port, while the VOT 121 will have a multi-format card reader, and be priced at $301 and $423 respectively.
The final nettop, the VOT 530 and VOT 550, each use Intel's 2.1GHz Core 2 Duo CPU with up to 4GB of RAM and GMA 4500MHD graphics; HDD is up to 320GB, as they nettops are intended for HTPC use.  They have optional Blu-ray (standard DVD) and an optional media center remote, plus WiFi b/g/n and Bluetooth 2.1, and will retail for around $821 and $1,123 respectively.
Viewsonic's two netbooks, the VNB 100 and VNB 101 have N270 and N280 Atom CPUs respectively, 10.2-inch displays running at 1024 x 600 and GMA950 graphics. RAM is up to 2GB, HDD 160GB and Bluetooth 2.0 and WiFi b/g are standard.  Finally, the VPD 400 and VPD 500 PMPs are 4.3 and 5-inch media players each running at 800 x 480, with either 8GB or 16GB storage and a microSD card slot.  A TV out port allows them to hook up to an external display.  More specs at Engadget Chinese.