ViewSonic ViewPhone 4s Hands-on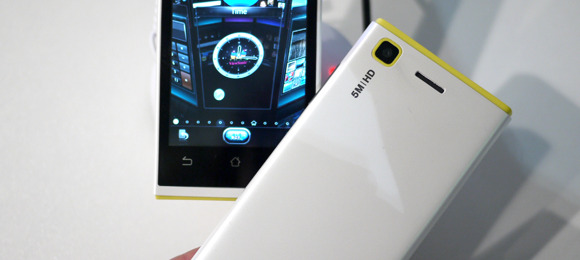 Mobile World Congress 2012 has already proven itself as one massive draw to manufacturers ability to announce a massive amount of smartphones at once this year, and ViewSonic is no exception to the rule, starting here with the ViewPhone 4s. This device is one of three dual-sim smartphones announced this week by the company, the others being the ViewPhone 5e with a few rounded edges and slightly lower-tiered specs, and the ViewPhone 4e, which essentially replicates the case of the 4s in most ways. The ViewPhone 4s has a Android 4.0 Ice Cream Sandwich, a cool two-tone set of casings, and a lovely 3.5-inch display running at 960 x 640 pixels resolution, this matching the iPhone's 326ppi IPS display.
The device is extremely light, has a plastic case which makes the device feel nearly "cheap" but not quite, and has a display that will utterly blow you away. The viewing angles aren't quite what you'd hope for if you're comparing to the iPhone 4S, but they're certainly OK if you're really going for the same resolution on a non-iPhone devices. The display is showing here ViewSonic's own ViewScene 3D which ViewSonic has worked with SPB Shell 3D to create.
In the gallery below you'll also see the ViewPhone 4s, identifiable by its one-tone coloration instead of two-tone device. Both are great!
This isn't the first time we've seen this user interface, but it's certainly the first time it's working with Android 4.0 ICS. The device is capable of using two SIM cards, one at a time, and is prepared to do all this without breaking your bank. This device is set to be released SOON in Europe, but no release date has been announced for it in the USA as of yet. Have a peek at our hands-on photos here and prepare for a hands-on video later today.