ViewSonic ViewPad 7 hands-on [Video]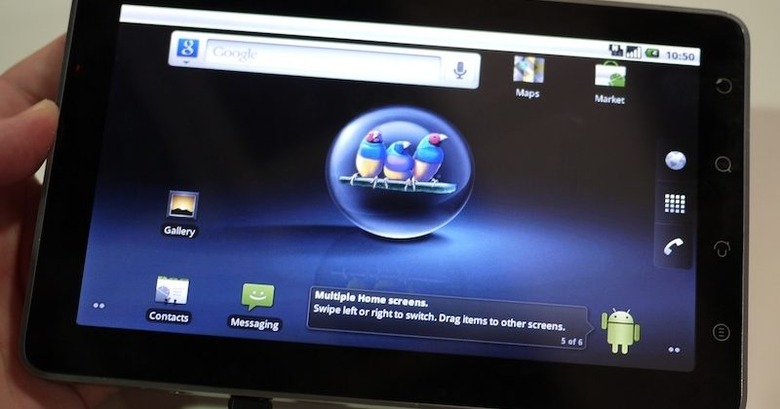 With a sub-£350 price tag for a 7-inch Android 2.2 Froyo tablet, with 3G voice and data, a capacitive touchscreen and digital camera, we were wondering where the catch was with the ViewSonic ViewPad 7. Having used the compact slate at IFA 2010 this morning, we're still left searching for the compromise: on the face of it, you're getting much of what Samsung is delivering with the Galaxy Tab, only at (perhaps) half the price.
Despite the budget tag, the ViewPad 7 feels solid and well made. The rear panel is glossy, fingerprint-loving plastic (and had already acquired a few scratches) but the metal-effect surround seems sturdy and the capacitive touchscreen itself was reasonable responsive. A 3-megapixel camera is the only thing on the back, aside from the company's logo, and lacks any sort of flash, but there's also a second camera, on the front, for UMTS video calls.
ViewSonic ViewPad 7 hands-on:
[vms c05c16873b05ec425cba]
Like the Galaxy Tab, you'll be able to use the ViewPad 7 as a phone – Samsung told us yesterday that around 70-percent of people they questioned said they'd like to use their tablet as a cellphone too, so it seems a sensible feature-addition for ViewSonic to make. It's worth noting that the sub-£350 price is unsubsidised and unlocked, so if ViewSonic can find a carrier partner then it might easily drop down to free with a new contract.
Viewsonic have sensibly left Google's own UI to do its thing, rather than mess with customisations, though they couldn't tell us what Gingerbread 3.0 plans they might have. The 600MHz Qualcomm Snapdragon processor isn't as speedy as some of the 1GHz slates we've been seeing at IFA this year, but Android itself doesn't appear to have suffered too greatly. Page rendering in the browser was quick, and games played with no lag.
It may be a rebadge of the OlivePad, but that doesn't appear to have hurt ViewSonic too much. There'll be plenty of competition by the time they reach the market later in a month or two, but given the price and the recent version of Android they'll likely find plenty of buyers.