ViewSonic Viewpad 7 gets official: sub-£350 Android 2.2 tablet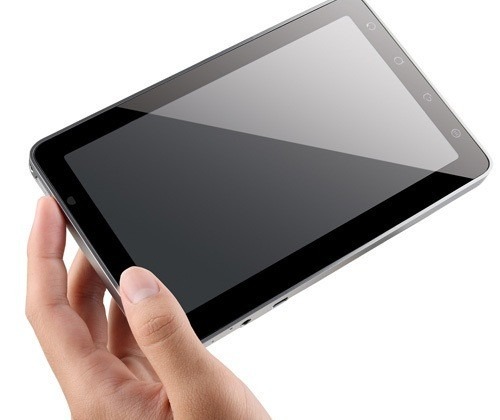 ViewSonic has come clean on its first Android tablet, the 7-inch ViewSonic Viewpad 7.  Running Android 2.2 on a capacitive touchscreen, the Viewpad 7 has an integrated GSM/3G modem for phone and data connectivity, a front-facing VGA webcam and a 3-megapixel rear camera.  It can be used as a regular Android phone – albeit a big one – but of course it's really intended to replace your iPad.
To that end there's WiFi and 3G, along with A-GPS , USB and Bluetooth.  A g-sensor flips screen orientation automatically, while you also get access to the Android Market; ViewSonic are preloading an ereader app, though there are obviously plenty of alternatives on Android these days.  Storage is via microSD (supporting up to 32GB).
ViewSonic will be bringing the Viewpad 7 along to IFA 2010 this week, so we'll be checking the slate out there.  It's expected to cost under £350 ($541) in the UK.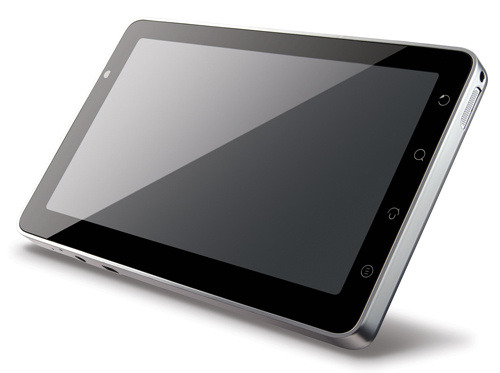 Press Release:
ViewSonic Europe ushers in a new product category to its portfolio with the introduction of a premium capacitive multi-touch screen 7" tablet.

Viewpad 7

The ViewPad 7 is a world's first 7" Android 2.2 (Froyo) tablet with phone functionality, multi-tasking capabilities and front and back-facing cameras, VGA and 3MP, resolutions respectively.

Within a lightweight, pocket-sized design, this device is ideal for anyone who needs a mobile connection to the world via email and video and wants to enjoy a wide-range of applications.

With full 3G and phone functionality, a full size SIM card slot and integrated Bluetooth connectivity the ViewPad 7 will support instant messaging, text/mms messaging, VOIP and standard voice calls all in a single device.

It features an easy to use familiar interface with a G-sensor that reorients the screen depending on how the device is held and access to the Google Android app store featuring over 100,000 applications.

Additional features includes a Micro SD slot for up to 32GB of storage; Wi-Fi and 3G functionality for web browsing and USB connectivity. It also boasts advanced features including Assisted GPS and an office document reader, along with the capability for hand-written note taking. There is also an e-book reader, when combined with the crystal clear LED screen, makes the ViewPad 7 an invaluable travelling companion.

Superior to other tablet offerings with resistive touch technology the ViewPad 7 incorporates a capacitive multi-touch screen and is a portable, easy-to-use and competitively priced device that will transform the way that consumers read, watch, listen to and interact with media in a mobile environment.

"We are proud to announce another world first at Viewsonic. 3G phone functionality combined with dual cameras gives the ability for use of Android apps to use augmented reality or video calling on the move with the benefit of an excellent 7" screen" says Derek Wright, European Product Marketing Manager. "The ViewPad 7 is aimed at users who require the 'always on' connectivity they are used to from a mobile phone with a more agreeable screen size for longer term use."

ViewSonic will be showing the ViewPad 7 at its stand at IFA 2010, in Berlin, Hall 14.1 stand 107.

Pricing and availability

The Viewpad 7 will be available from approved resellers. Pricing will be subject to the supplier's method of sale, but is anticipated that the estimated SRP will be no more than £350 Inc Vat